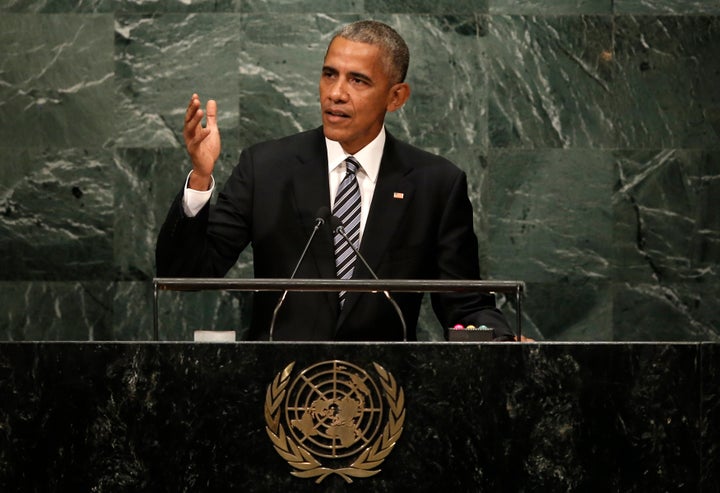 UNITED NATIONS ― In his final speech at the United Nations General Assembly, President Barack Obama hailed progress on the world stage while warning against the perilous forces that seek to dismantle peace and prosperity.
Referencing various global crises ― including the war in Syria, the plight of refugees, nuclear tests in North Korea and the self-described Islamic State ― Obama highlighted the need to promote inclusive governance. He also cautioned about a looming choice between future integration and conflict:
"This is the paradox that defines our world today. A quarter century after the end of the Cold War, the world is, by many measures, less violent and more prosperous than ever before, yet our society is filled with unease and strife. Despite enormous progress in institutions, governing becomes more difficult. Tensions between nations [have] become more quick to surface. So I believe that, at this moment, we all face a choice. We can choose to press forward with a better model of integration, or we can retreat into a world sharply divided and in conflict."
That statement, and a number of others Obama made before the U.N. ― grouping "aggressive nationalism" and "crude populism" into the same category as religious fundamentalism ― could be interpreted as swipes at U.S. Republican presidential nominee Donald Trump. 
"Today, a nation ringed in by walls would only imprison itself," Obama said, in apparent reference to Trump's proposal to build a wall on the U.S.-Mexico border. "Our identities do not have to be defined by putting someone else down, but can be enhanced by lifting someone else up."
While Trump has also made offensive comments about Mexican immigrants and said he wanted to ban Muslims from entering the United States, Obama urged compassion for the 65 million people who are currently displaced from their homes due to conflict and persecution. "In the eyes of innocent men and women and children who, through no fault of their own, have had to leave everything they've known and loved, we have to have the empathy to see ourselves," Obama said.
"We have to imagine what it would be like for our family, our children, if the unspeakable happened to us. Ultimately, our world is more secure if we are prepared to help those in need."
That message fits in well with the theme of this year's U.N. general debate, titled "Sustainable Development Goals: a universal push to transform our world." The SDGs, launched a year ago by the international community, lay out a 15-year blueprint designed to eliminate extreme poverty around the globe.
"I am more convinced than ever [that we can] end war, poverty and persecution," U.N. Secretary-General Ban Ki-moon said in his own opening remarks. "We have the means to prevent conflict, we have the potential to close the gap between rich and poor."
Ultimately, our world is more secure if we are prepared to help those in need.

President Barack Obama
Yet it also seems that little has progressed on the world stage since Obama's last General Assembly speech. A year ago, the president referenced an "epic" refugee problem caused by failing states, as well as the "brutal networks of terror [that] have stepped into the vacuum." He denounced Russian President Vladimir Putin's support for Syrian leader Bashar Assad, "who drops barrel bombs to massacre innocent children." 
Obama has been criticized himself for not doing more to curb the civil war in Syria and the rise of ISIS. Meanwhile, U.S. troops are still active in Iraq and Afghanistan, another crack at negotiating peace between Israel and Palestine fell apart and North Korea is allegedly running nuclear tests.
While the president said we've made progress in facilitating economic development, democracy and the collective fight against climate change (namely, by signing the Paris climate agreement last December), he singled out the "wasteland" of North Korea and the continued Israeli occupation of Palestinian territory as issues that demand attention.
"The enduring appeal of ethnic and sectarian identities have left international institutions underfunded and unequipped to handle transnational challenges," he said.
Obama did highlight some major foreign policy wins that have occurred during his time in office. Last year, the U.S. led the charge on a nuclear deal with Iran, which would curb the country's nuclear program in exchange for sanction relief. Supporters of the deal viewed it as a pathway to a possible restoration of relations between the two countries. Obama also spearheaded the restoration of diplomatic relations with Cuba.
Obama plans to speak again on Tuesday during the Leaders' Summit on the Global Refugee Crisis, a meeting the U.S. is hosting with Canada, Ethiopia, Germany, Jordan, Mexico, Sweden and the U.N. Secretary-General. It will build on Monday's first-ever Summit on Large Movements of Migrants and Refugees, which resulted in a nonbinding declaration asking countries to commit to more support.
The president will also host a meeting with 35 business leaders and philanthropists who have made commitments to improving the lives of refugees. George Soros pledged to donate $500 million to the cause on Tuesday.
And in light of the collapse of the U.S.-Russia negotiated ceasefire in Syria, Obama will meet with representatives from Saudi Arabia, Iran and Russia. 
That meeting is bound to be fraught. Tensions escalated Monday after Russian or Syrian warplanes bombed U.N. aid convoys destined for the besieged city of Aleppo, killing 12 aid workers and destroying food and supplies that could have helped thousands of stranded people.
Calling all HuffPost superfans!
Sign up for membership to become a founding member and help shape HuffPost's next chapter
BEFORE YOU GO
PHOTO GALLERY
World Leaders Speak At UNGA