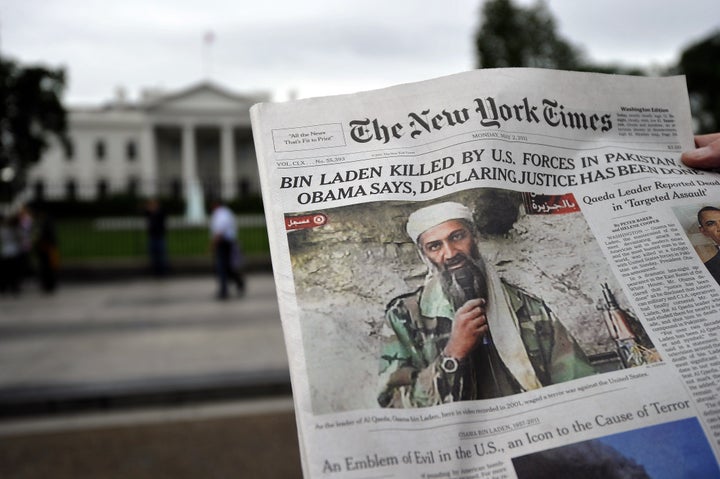 WASHINGTON -- President Barack Obama's administration is working hard to kill the leader of the self-described Islamic State group before the president leaves the White House in January, Jeffrey Goldberg suggests in a detailed report published Thursday in The Atlantic.
Goldberg makes the revelation, based on long interviews with the president and his inner circle, near the end of his opus on Obama's views of the world. 
Inside the West Wing, officials say that Obama, as a president who inherited a financial crisis and two active wars from his predecessor, is keen to leave "a clean barn" to whoever succeeds him. This is why the fight against ISIS, a group he considers to be a direct, though not existential, threat to the U.S., is his most urgent priority for the remainder of his presidency; killing the so-called caliph of the Islamic State, Abu Bakr al-Baghdadi, is one of the top goals of the American national-security apparatus in Obama's last year.
When contacted by The Huffington Post, a White House spokeswoman declined to confirm that the hit is a "top goal."
But the claim that Obama has his sights set on Baghdadi comes as no surprise, as the president has shown he prizes hitting high-value targets -- most clearly by focusing on killing al Qaeda leader Osama bin Laden, a goal he achieved on May 2, 2011. He now often speaks of that incident as a top foreign policy accomplishment. Additionally, the U.S.-led coalition against the Islamic State has repeatedly struck top leaders of the terror group -- although it has also captured ISIS figures who may be valuable, like a chemical weapons expert picked up in February.
The president believes, per Goldberg, that successfully striking Baghdadi would vindicate his argument that a policy of very limited action abroad is the best way to keep Americans safe. The article suggests that Obama would like to show it's possible to weaken terror organizations without playing a large role in trying to end Middle East conflicts, and wants to keep Americans from becoming too hyperbolic about threats posed by ISIS and other militant groups.
"Several years ago, he expressed to me his admiration for Israelis' 'resilience' in the face of constant terrorism, and it is clear that he would like to see resilience replace panic in American society," Goldberg wrote.
Critics of that approach note that tyrants in the Middle East often provide just the right conditions for Islamic extremism to grow -- as Syrian President Bashar Assad has done for ISIS -- and that the president has a responsibility to appreciate rather than dismiss Americans' concerns.
In any case, it's unclear how much killing Baghdadi would actually matter. Past rumors about his death haven't significantly damaged the group, of which he is the self-proclaimed caliph. ISIS is a tightly structured organization that would likely be prepared to push others up the ranks, as al Qaeda did after bin Laden's death or the Taliban did after losing leader Mullah Omar.
In more than 15,000 words, the Goldberg piece provides a strong sense of the president's thinking and why he feels vindicated, seven years in, in the calls that he has made in the Middle East and elsewhere. Read the full story here.