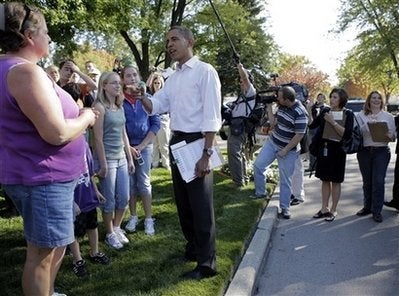 Early last week, as the country was coping with a massive financial crisis, the presidential campaign witnessed the second of its three debates. With the nation's economic woes firmly on their minds, John McCain and Barack Obama engaged on topics ranging from job creation, tax relief, and the utility of the market bailout.
Indeed, as economic observers fret that the ripple effects of the market meltdown could result in greater numbers of underemployed and unemployed, the focus of the campaign remains firmly on businesses and the middle class. During the first debate, when the financial crisis was first coming into focus, "poverty" went similarly unmentioned.
It is, in many ways, regrettable. Not simply because the number of those living in poverty - 37.3 million in 2007, according to the U.S. Census Bureau - demands more attention. But because those who have studied poverty-eradication programs say that Barack Obama has a plan that could be historic in its reach and innovation.
"There is, in Obama's policy, a lot that go directly to the governance side of the notion 'yes we can,'" said Harry Boyte, founder and co-director of the Institute's Center for Democracy and Citizenship at the University of Minnesota. "When people talk about the lack of specifics it's that his message hasn't fully developed. But his actual policies would be really innovative. And he would really represent a break with the liberal tradition."
As Boyte defines it, there are certain historical threads that have marked prior efforts to combat poverty. The iconic liberal framework is to see poverty as an individual problem "in which the poor need resources and services." The government, in this instance, pursues social policy meant to meet those needs.
In contrast, there is the traditionally Republican approach which points to enterprise and tax incentives in poor communities as the best way to create jobs and lift those neighborhoods out of economic duress. Government involvement, in this case, is seen as an intrusion more than a buoy.
Somewhere in the middle lies Obama, who as a former community organizer brings more experience to the topic than any recent presidential nominee. The Illinois Democrat, as Boyte sees it, wants to move "urban policy and poverty policy" beyond "dependency creating programs." He sees a need for "catalytic government that enables citizen action rather than displacing citizen initiative."
Among other initiatives, Obama has called for the government to invest $1 billion over five years in transitional job creation; the expansion of the earned income tax credit; the raising of the minimum wage; community development block grants; and political actions that encourage responsible fatherhood. He has also pushed for an investment program in rural small businesses; and community-based development institutions that can coordinate and finance small businesses in inner cities.

Taken together, these efforts constitute an anything-and-everything approach when it comes to fighting poverty.
The novelty, observers say, is found in the details. As several cities have done across the country, Obama is pushing to meld environmental technological innovation with inner city ingenuity. He has called for the creation of a "green jobs corps" to "engage disadvantaged youth in energy efficiency." Additionally, he has proposed increased Internet access in urban areas.
He is also taking a page from the streets of New York. Buried on the Obama website's poverty page is a note that the Senator will "establish 20 promise neighborhoods in areas that have high levels of poverty and crime and low levels of student academic achievement." The idea is lifted from the Harlem Children's Zone, which uses 'free-market' solutions to decrease youth violence and encourage after-school activities.
That unorthodox approach towards tackling poverty is the child of Geoffrey Canada, an urban policy guru who, in 1999, plotted out a unique way to turn around a 24-block zone in the city. Canada created a "safety net" or "conveyor belt" that has helped map approximately 10,000 children through adolescence, relying on a variety of social service programs: a nine-week parenting program; education reforms, such as after-school tutoring and intensive K-12 charter schools (with no union contract); and even improvised techniques - for instance, once handing out cash to kids with perfect attendance.
"[Canada] realized it is not just money that is keeping poor children in the situation they are in. They are not learning the tools that will help them get out of poverty," said Paul Tough, the New York Times reporter who documented the Harlem program in his book, Whatever It Takes: Geoffrey Canada's Quest to Change Harlem and America. "It is about getting a neighborhood to a tipping point where you are affecting 50 to 60 percent of the kids. Where the idea of hard work and studying isn't viewed as a negative anymore."
In many regards, Tough noted, Canada's work presaged what Obama has designed for the national stage. And, as such, it was hardly unexpected when the Democratic nominee held Harlem up as a model for other cities to pursue.
We need "a cultural change in education in inner-city communities and low-income communities across the country -- not just inner-city, but also rural," the Senator told the editorial board of The Milwaukee Journal Sentinel. In many low-income communities, he added, "there's this sense that education is somehow a passive activity, and you tip your head over and pour education in somebody's ear. And that's not how it works. So we're going to have to work with parents."
Obama invited Canada to take part in his competitiveness summit at Carnegie Melon University last June and has proposed applying his program to 20 cities across the country once in office. It is part of what he is calling "an all-hands-on-deck anti-poverty effort that is literally saving a generation of children."
There is some question as to whether the Canada model will work in communities outside Harlem. Each case, says Tough, will be different. And the war on poverty is littered with well-intentioned efforts that have failed to meet their objectives. As Boyte argues, Obama's approach is in many regards an extension of the policies adopted by Geno Baroni, the assistant secretary of the Housing and Urban Development for Neighborhood Development during the Carter administration, whose work was largely dismantled by Ronald Reagan.
But it is the Illinois Democrat's willingness to experiment (or, alternatively, his lack of ideological rigidity when it comes to poverty) that has people who have followed the issue excited. Even if topic is rarely mentioned on the trail and current economic trends portend a more difficult challenge.
"Obama has a strategy that focuses on the kids as well as the parents, giving them the resources they need," said Tough. "I think it is a very new way of looking at poverty and very reflective of a new kind of thinking about poverty developed over the last ten to twenty years."
REAL LIFE. REAL NEWS. REAL VOICES.
Help us tell more of the stories that matter from voices that too often remain unheard.