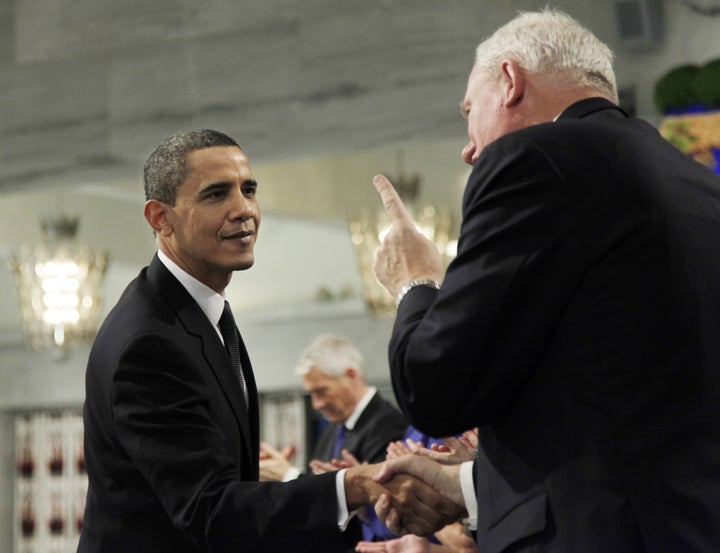 Barack Obama's speech accepting the Nobel Prize for Peace, delivered in Oslo, on December 10, 2009, elicited a good deal of appreciative and bewildered comment. The speech presents itself as a meditation by a benevolent man of power on questions of war and peace. Yet, before a world audience on an international occasion, Obama made the most overtly nationalist declarations of his career in politics thus far. In explaining his interpretation of a prize for peace, he made the broadest defense he has yet offered of American military action throughout the world. There is internal evidence that major portions of the speech were written by Obama. Boldface headings in the abridgment below are mine; excerpts under the headings are quoted verbatim. Wars are better when we kill as few civilians as possible.
Over time, as codes of law sought to control violence within groups, so did philosophers, clerics, and statesmen seek to regulate the destructive power of war. The concept of a "just war" emerged, suggesting that war is justified only when it meets certain preconditions: if it is waged as a last resort or in self-defense; if the force used is proportional, and if, whenever possible, civilians are spared from violence.
The U.S. won the Cold War and made many people rejoice. The result: free trade the world over, and greater world unity.
The Cold War ended with jubilant crowds dismantling a wall. Commerce has stitched much of the world together.
The terrorism of non-state actors is unique in the scale of the violence it inflicts on civilians.
Terrorism has long been a tactic, but modern technology allows a few small men with outsized rage to murder innocents on a horrific scale.
The practices of Woodrow Wilson on the one hand, and Gandhi and King on the other, can to some extent be reconciled.
I do not bring with me today a definitive solution to the problems of war. What I do know is that meeting these challenges will require the same vision, hard work, and persistence of those men and women who acted so boldly decades ago [to form the League of Nations]. And it will require us to think in new ways about the notions of just war and the imperatives of a just peace.

We must begin by acknowledging the hard truth that we will not eradicate violent conflict in our lifetimes. There will be times when nations - acting individually or in concert - will find the use of force not only necessary but morally justified.

I make this statement mindful of what Martin Luther King said in this same ceremony years ago - "Violence never brings permanent peace. It solves no social problem: it merely creates new and more complicated ones." As someone who stands here as a direct consequence of Dr. King's life's work, I am living testimony to the moral force of non-violence. I know there is nothing weak - nothing passive - nothing naïve - in the creed and lives of Gandhi and King.

But as a head of state sworn to protect and defend my nation, I cannot be guided by their examples alone. I face the world as it is, and cannot stand idle in the face of threats to the American people. For make no mistake: evil does exist in the world.
Historically, America has not sought to impose its will on other countries. The service of our armed forces throughout the world has been uniquely important to the happiness of people everywhere.
The service and sacrifice of our men and women in uniform has promoted peace and prosperity from Germany to Korea, and enabled democracy to take hold in places like the Balkans. We have borne this burden not because we seek to impose our will. We have done so out of enlightened self-interest - because we seek a better future for our children and grandchildren, and we believe that their lives will be better if other peoples' children and grandchildren can live in freedom and prosperity.
The world of nations supported the U.S. in our just wars in Afghanistan and the Gulf.
I believe that all nations - strong and weak alike - must adhere to standards that govern the use of force. I - like any head of state - reserve the right to act unilaterally if necessary to defend my nation. Nevertheless, I am convinced that adhering to standards strengthens those who do, and isolates - and weakens - those who don't.

The world rallied around America after the 9/11 attacks, and continues to support our efforts in Afghanistan, because of the horror of those senseless attacks and the recognized principle of self-defense. Likewise, the world recognized the need to confront Saddam Hussein when he invaded Kuwait - a consensus that sent a clear message to all about the cost of aggression.
The NATO bombing of Yugoslavia was a moral and political success, and co-operative interventions on that model must be pursued so long as instability exists in the world.
I believe that force can be justified on humanitarian grounds, as it was in the Balkans, or in other places that have been scarred by war. Inaction tears at our conscience and can lead to more costly intervention later. That is why all responsible nations must embrace the role that militaries with a clear mandate can play to keep the peace.

America's commitment to global security will never waiver. But in a world in which threats are more diffuse, and missions more complex, America cannot act alone. This is true in Afghanistan. This is true in failed states like Somalia, where terrorism and piracy is joined by famine and human suffering. And sadly, it will continue to be true in unstable regions for years to come.
The perpetuation of NATO is essential to the pursuit of peace.
I understand why war is not popular. But I also know this: the belief that peace is desirable is rarely enough to achieve it. Peace requires responsibility. Peace entails sacrifice. That is why NATO continues to be indispensable.
The U.S. must continue to fight more wars than any other country, and we must be exemplary in fighting our wars justly.
I believe that the United States of America must remain a standard bearer in the conduct of war. That is what makes us different from those whom we fight. That is a source of our strength. That is why I prohibited torture. That is why I ordered the prison at Guantanamo Bay closed. And that is why I have reaffirmed America's commitment to abide by the Geneva Conventions. We lose ourselves when we compromise the very ideals that we fight to defend. And we honor those ideals by upholding them not just when it is easy, but when it is hard.
Harsh sanctions, such as those now in contemplation against Iran, are a necessary weapon, short of war, to reduce the threat of states that endanger the stability of a region.
Those regimes that break the rules must be held accountable. Sanctions must exact a real price. Intransigence must be met with increased pressure - and such pressure exists only when the world stands together as one.

One urgent example is the effort to prevent the spread of nuclear weapons, and to seek a world without them. In the middle of the last century, nations agreed to be bound by a treaty whose bargain is clear: all will have access to peaceful nuclear power; those without nuclear weapons will forsake them; and those with nuclear weapons will work toward disarmament.
Authoritarian despotisms, and even totalitarian regimes, may be reformed in the long run by diplomatic ventures like that of Nixon with China and Reagan with the Soviet Union.
Let me also say this: the promotion of human rights cannot be about exhortation alone. At times, it must be coupled with painstaking diplomacy. I know that engagement with repressive regimes lacks the satisfying purity of indignation. But I also know that sanctions without outreach - and condemnation without discussion - can carry forward a crippling status quo. No repressive regime can move down a new path unless it has the choice of an open door.

In light of the Cultural Revolution's horrors, Nixon's meeting with Mao appeared inexcusable - and yet it surely helped set China on a path where millions of its citizens have been lifted from poverty, and connected to open societies. Pope John Paul's engagement with Poland created space not just for the Catholic Church, but for labor leaders like Lech Walesa. Ronald Reagan's efforts on arms control and embrace of perestroika not only improved relations with the Soviet Union, but empowered dissidents throughout Eastern Europe. There is no simple formula here. But we must try as best we can to balance isolation and engagement; pressure and incentives, so that human rights and dignity are advanced over time.
As Reinhold Niebuhr taught us (on my reading of him): we know that we cannot always practice non-violence, yet we will be improved in all that we do practice if, in doing whatever we do, we have love in our hearts.
Adhering to this law of love has always been the core struggle of human nature. We are fallible. We make mistakes, and fall victim to the temptations of pride, and power, and sometimes evil. Even those of us with the best intentions will at times fail to right the wrongs before us.

But we do not have to think that human nature is perfect for us to still believe that the human condition can be perfected. We do not have to live in an idealized world to still reach for those ideals that will make it a better place. The non-violence practiced by men like Gandhi and King may not have been practical or possible in every circumstance, but the love that they preached - their faith in human progress - must always be the North Star that guides us on our journey.

For if we lose that faith - if we dismiss it as silly or naïve; if we divorce it from the decisions that we make on issues of war and peace - then we lose what is best about humanity. We lose our sense of possibility. We lose our moral compass.
Though I hold an office and, in some degree, continue policies that make me the successor of George W. Bush, I stand before you as the successor of Martin Luther King. The paradigm of the combination of these roles is the UN peacekeeper who, from an isolated and exposed position, risks his life by shooting a gunman who would break the peace.
Like generations have before us, we must reject that future. As Dr. King said at this occasion so many years ago, "I refuse to accept despair as the final response to the ambiguities of history. I refuse to accept the idea that the 'isness' of man's present nature makes him morally incapable of reaching up for the eternal 'oughtness' that forever confronts him."

So let us reach for the world that ought to be - that spark of the divine that still stirs within each of our souls. Somewhere today, in the here and now, a soldier sees he's outgunned but stands firm to keep the peace. Somewhere today, in this world, a young protestor awaits the brutality of her government, but has the courage to march on. Somewhere today, a mother facing punishing poverty still takes the time to teach her child, who believes that a cruel world still has a place for his dreams.
Related
Popular in the Community