"Barack you held my grandson in your arms and felt the comfort and warmth of the baby. Let us feel the same from your kind act and words. Remember you promised to help us all." ~~M. Jay Cook Cheyenne River Sioux Tribe

Standing Rock Indian Reservation, Cannonball South Dakota--August clouds are stacked in three-dimensional layers over the Great Plains. Gentle slopes west of the Missouri River are interrupted by low ridges, buttes and a stray boulder here and there --all gifts left by the glaciers eons ago. A few miles south of Bismarck on the road to Cannonball, local authorities have erected another kind of stone, one not indigenous to this sacred area. Concrete barricades, capable of stopping an ISIS attack, block direct access to reservation land and more importantly, the peaceful gathering of up to 2000 (at one time) Native Americans and supporters trying to stop the Dakota Access Pipeline at the Sacred Stones Camp.

It seems that if you are a writer you can talk your way through. A polite warning was issued to be careful of "Indians all over the roads."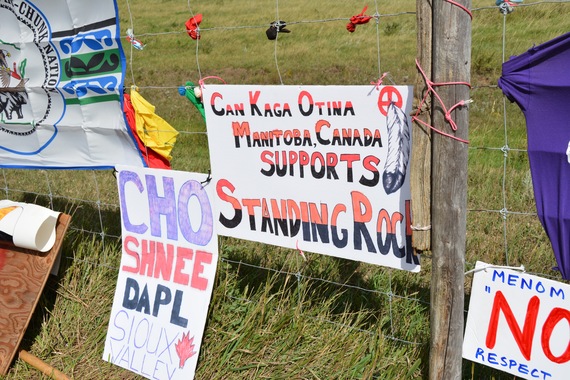 Within a few miles there were indeed people and flags; hundreds and hundred of flags representing Indian Nations from all over the continent. Pockets of people gathered along a fence with more flags, and prayers bundles were tied to the wire.
A man waved me over with great purpose in his demeanor. His name is M. Jay Cook of the Cheyenne River Sioux. A child was near, her name is Precious, and she is his granddaughter. Her mother died when she was 8 months old and Jay has been raising her ever since. He told me she "is the motivation of his life." Precious had been breast-feeding when her mother passed, and literally clung to her Grandfather for life itself.
M. Jay Cook was eager to show me signs he had made. On two poster boards, there were photos of Michelle and Barack Obama, each holding his grandson, Wakiyan Topa, for a photo-op. In June of 2014 the President and his wife visited Standing Rock with promises of support and aid. 40 percent of the residents live in poverty and two-thirds are unemployed.
"My administration is determined to partner with tribes," Obama said in 2014. "It takes place every day on just about every issue that touches your lives."
In the space of two years, Standing Rock has gone from the promise of Presidential empathy to faded pictures of an Indian child used as a Presidential prop pasted to cardboard that threatened to rip in the stiff headwinds.
Make sure you write, "Lala (grandfather) Barack promised to help us, M. Jay said. "Kiksuye Wokiksuye (Remember we remember). "
"Barack you held my grandson in your arms and felt the comfort and warmth of the baby. Let us feel the same from your kind act and words. Remember you promised to help us all."
Barack, hear this man's words.
(DAPL) was literally foisted on tribal authorities shortly after activists led by Winona LaDuke, Honor the Earth and others forced Enbridge to seemingly abandon plans for the Sandpiper Pipeline. Everyone's guard was down. Coincidence? Sandpiper would have run Bakken crude in and around treaty lands and wild rice beds in Minnesota, but the Canadian company wants to wring every spare drop of oil out of what is left of the Bakken boom. With the current price of crude seeking bottom on world markets, production is low, wells are shut down, and there are significantly fewer "bomb trains" plying the tracks of the heartland. The Dakota Access Pipeline would effectively replace the Keystone XL, which was shut down by the Obama administration. Was there a quid pro quo? Who knows, but there seems to be quite a few quids and pros littering the American political landscape these days.
Dakota Access is owned by Energy Transfer Crude Oil Company, LLC based in Dallas, Texas. Enbridge and Marathon recently bought minority shares in the pipeline.
"Mni Wiconi" is Dakota/Lakota for "water is life." Water is the ultimate gift for the Creator for Native People. The proposed DAPL would move 570,000 barrels of crude across four states and crisscross the Missouri River on its way to southern Illinois. Safe? In 2012-2013 there were 300 spills in North Dakota and none were reported to the public.
The DAPL would cross treaty lands and ancestral burial grounds. Within site of the reservation boundary, the proposed route crosses the Missouri River and threatens water supplies for the reservation and local farming and ranching operations.
In an impassioned op-ed for the New York Times, tribal Chairman David Archambault addresses treaties and many broken promises; calling out the Army Corps of Engineers for lack of coordination and communication. Given the recent failures of the Corps in Louisiana and epic mismanagement and subterfuge during the great flood of Katrina, it is about time the Corps is removed from its responsibilities.
Our tribe has opposed the Dakota Access pipeline since we first learned about it in 2014. Although federal law requires the Corps of Engineers to consult with the tribe about its sovereign interests, permits for the project were approved and construction began without meaningful consultation. The Environmental Protection Agency, the Department of the Interior and the National Advisory Council on Historic Preservation supported more protection of the tribe's cultural heritage, but the Corps of Engineers and Energy Transfer Partners turned a blind eye to our rights. The first draft of the company's assessment of the planned route through our treaty and ancestral lands did not even mention our tribe.
On that note, no decision was made yesterday in federal court regarding the fate of the DAPL. Judge James E. Boarsberg will make a decision by September 9, while considering the lack of consultation between Tribes and the Army Corps of Engineers. An appeal is already set for September 14 if the Tribes or Corps of Engineers is unhappy with the decision.
M. Jay Cook sent me a text this morning. He is still holding his signs and thinks he might have to drive up to Bismarck to get some laminate for the vulnerable poster board. His message was for Barack and Michelle Obama.
"Hihanni wasteyelo--good morning. Watch the sun come over the horizon and be thankful for a new day lala-grandpa and unci-grandma."
Let's hope that the Obama's get the message and guarantee that their poster child, Wakiyan Topa, who offered them the warmth of his body and the purity of his soul, gets to live a long life blessed with the spirit of clean water and air.
REAL LIFE. REAL NEWS. REAL VOICES.
Help us tell more of the stories that matter from voices that too often remain unheard.