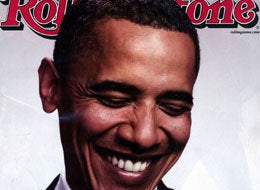 It was just two hours after Barack Obama accepted the Democratic nomination for President and I was standing inside Mile High Stadium with a few hundred other people. Barack was there shaking hands and thanking supporters. I carved my way forward and reached out my hand to give him a copy of my music: the first Maricopa album. I told him, "You've been running. I've been recording." He looked at me, nodded and took my CD. At that moment, the only two people with a copy of those recordings were Barack Obama and myself.

Since I began the recording process, I felt an ideological connection between my album and the Obama candidacy. The record is about the divisions in our families and local communities; within our country and between our nations. The songs deal with the experience of these divisions, the interconnectedness between them and the endless hope and possibility of repair.

After that night at the convention, I was charged with a freshly invigorated sense of responsibility. Obama is not just inspiring, he's motivating. I needed to find a way to use my creativity to help make a bigger impact on the election. My father suggested that I release one of my songs as a fundraiser for the campaign. It was a great idea and I knew just the song to use. It's called "Daytime," and it follows the experience of division and the endless possibility of finding unity amidst a fractured social landscape.

I went into action immediately and began calling everyone I knew who could help me in the effort. When I brought the idea to my friend and web producer Andrew Ackermann, he matched my enthusiasm and upped the ante. "Great!" he told me, "But this has to be bigger than just one musician and one song."

A week later, Andrew and I started I Wrote You a Song and launched our first campaign: http://BarackRock.org - a website dedicated to providing free music and design while encouraging support for the Obama campaign. Our goal is three fold: raise funds, build excitement and encourage participation. The response has been overwhelming.

If the campaign's strategy is rooted in the grassroots movement, then http://BarackRock.org is proof of concept. Musicians and designers from around the world are contributing their creative work to help the cause. The result is a grassroots effort that started with an idea and evolved into a full-fledged movement based on creative collaboration. We now receive submissions from all types of artists and are on pace to post a new song and design everyday leading up to the election.

My father often reminds me of an old piece of wisdom, one that I've heard Obama refer to throughout his campaign as well. It is a call for responsibility and action: "If not now, when? If not me, who?" My music, my song and our website, http://BarackRock.org, are answers to that call and a reiteration of the call itself. We all have an opportunity to make an impact on our lives and the lives of others in a way that is unique to each of us. It's just a matter of finding that opportunity and taking it.