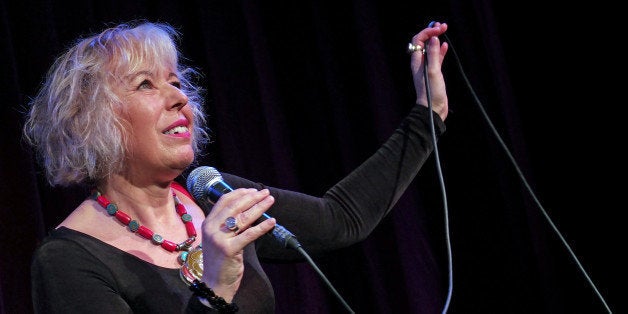 Barb Jungr likens her show, "Mad About The Boy And No Regrets," to the act of renewal and, more specifically, "shedding one's skin," so it's only appropriate that her New York engagement kick off at the start of 2015.
When she hits the stage of venerable Manhattan nightspot 54 Below on Jan. 2, the British singer-songwriter, 60, will tackle songs by Bruce Springsteen, Noel Coward, Bob Dylan and Leonard Cohen, among others. Still, she says anyone seeking inspiration as far as resolutions or explicit messages are concerned would be better served elsewhere.
"I don't ever want to feel that I've become a message bearer, other than…I would like there to be joy in the world through the medium of what I do as a musician and an artist," Jungr told The Huffington Post in an interview. "By excavating what we excavate, we allow the possibility that we can see the whole landscape. "
Jungr, who is of both Czech and German descent, has been labeled a chansonnière in Europe, but her musical interpretations often defy classification stateside. While she was hailed as the "high priestess of cabaret" by Time Out New York, Jungr makes it clear that her aspirations extend into other genres, too.
"I think I'm a cabaret artist and a jazz singer," she said. "Because I improvise, re-harmonize [and] I deal with music in a certain way, my feet are in jazz. But my sensibility is in cabaret."
In November 2014, Jungr brought another show, "Hard Rain," to New York's 59E59 Theater. Jungr says she sees that show, hailed by The New York Times for its "astounding emotional range," and her album of the same name as the politically-edged counterparts to "Mad About The Boy," which was conceived prior to "Hard Rain" and features a fearlessly romantic, though unsentimental, tone.
As both shows evidence, Jungr is perhaps best known for her interpretations of Dylan's songs. Regarding her tendency to emphasize material written by male singer-songwriters, she noted, "I get to understand things that I don't necessarily understand. It's the word made fresh. It's a revelation to me."
Above all, Jungr, who says she's a fan of Eliza Carthy, Gillian Welch and Meghan Trainor among other contemporary female performers, favors material with an edge, even if she doesn't like to "intellectualize" her set lists too much beforehand.
"I like songs that strip away the stuff, so that when you're singing them, you access something that goes beyond words and people can also access within themselves -- who knows what it is? It's best we don't ever try and nail that down," she said. "But I like a bit of bite to the work. I want a little bit of kicking, a little bit of irreverence. I want a little bit of knickers off and here's my backside."
Barb Jungr's "Mad About The Boy And No Regrets" plays New York's 54 Below on Jan. 2-4. Head here for more information.

Related
Popular in the Community