Barbados is the good-time Island. This easternmost Caribbean isle is south of the hurricane belt (good weather), has average 84-88 degree temperatures (warm sun), and is inhabited by friendly people (fraternizing with locals is a joy). Tony resorts (from boutique to big) are plentiful, cultural sites abound (steeped in history), a variety of sports are accessible (you don't watch, you participate) and superb restaurants (world-class) mean you'll have a good time in Barbados.
It's Easy to Get Around and There's a Lot to See!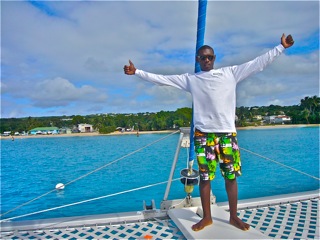 Barbados, a former British colony and now an independent country largely populated by people of African descent, boasts one of the best infrastructures in the Caribbean. You can breeze around the 21-mile long, 14-mile wide isle, on a fairly extensive highway system, over rolling green hills through 11 parishes. Surfers migrate to the rough Atlantic waters on the east coast. Tourists flock to the western side where the tranquil Caribbean shore is lined with swank resorts.
As you drive past kids playing cricket, through neat and tidy neighborhoods, you'll notice cinder block foundations on a number of properties. Bajans don't believe in mortgages. First they buy land. Then they build a foundation. Later they'll add walls, then a roof, and when they can afford it, they'll finish the home and move in--owing no debt! It's genius!
Lancaster Great House, in St. James Parish, is an arts center. It has exhibited Barbadian furniture dating from the 1700s to the present, along with an array of outdoor sculptures. Barbadians proudly say they invented rum (affectionately called "Kill-Devil" back around 1640), and these days St. Nicholas Abbey, built in 1660 and possibly Barbados' oldest building, still uses a traditional distillery to make its exquisite, aged rum that's as fine as expensive Cognac. Other points of interest include: George Washington's house (circa 1751); Holetown (oldest landing/town, circa 1625); St. James Parish Church (one of the island's oldest,1696).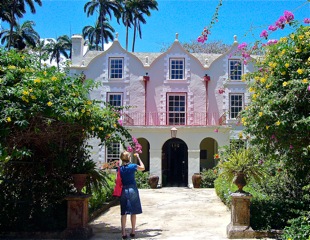 The Sporting Life
At Lion Castle, one of Barbados's four polo fields, players on horseback charge up and down the expansive lawn, pushing, shoving and hitting a ball to score a goal. Those who are inspired can take a polo lesson at Rugby Plantation, with guidance by noted equestrian and polo player Jeff Evelyn, who teaches equestrians and novices how to hold the long-stemmed mallet and hit like a pro on top of some of the most intuitive, responsive horses you'll ever ride.
A half-day trip on Good Times Catamaran Cruises takes you aboard a well-stocked catamaran (rum punch, wine, beer) that sails up and down the west coast, past mansions owned by Rolling Stone Keith Richards and singer Cliff Richard, with dramatic views of verdant hillsides. You can snorkel with exotic fish, explore coral reefs and swim with turtles - and a catered buffet lunch features local Caribbean cuisine and delectable flying fish.
Daphne's, an open-air, Zagat-rated Italian restaurant that sits just feet away from the beach in St. James, is the hot restaurant in Barbados. Start with the Pan-Fried Foie Gras with Caramelized Mango and Vin Santo Sauce, segue to Pumpkin and Amaretti Ravioli with Butter and Sage, the Lobster with Hand Cut Chips and Spicy Mayonnaise is perfect for the entrée and the Lemon Pie with Meringue and Brandy Caramel Sauce is the just the right blend of sweet and tart.
Or head over to Oistins in Christ Church Parish for a more casual experience. Fishing village by day, a hot party place by night, hungry tourists and locals chow-down at Oistins' fish shacks: Try the Grilled Dolphin (mahi mahi) at Uncle Georges or Fried Kingfish at Roslin's Fish Fry and wash it down with a bottle of ice-cold Banks beer. Then hit the bars, mingle, people watch and dance under the stars.
A Place to Call Home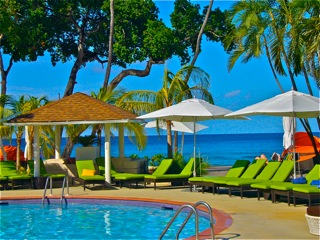 The 104-room and suite, pale yellow Tamarind Hotel has that perfect blend of Mediterranean and Caribbean styling. It has three sections, three pools, a spa and Caribbean Sea view that would make seagulls envious. The main bar and restaurant, dubbed "246" (the Watermelon martinis are bliss), sits so close to the shore, water almost touches your toes. Though the hotel is family friendly (there are programs for children and teens), there is an adults-only section. Most Bajan hotels have a classic, stodgy design, which makes the pop-art colorful feel of this unique hotel thoroughly refreshing.

As part of the Elegant Hotels group, which includes four other island properties, Tamarind offers a dine-around program and free water taxi transportation to the other hotels that offer amenities like tennis. Golfers can work on their swings at the Royal Westmoreland Golf Course & Country Club. Tamarind's charm grows on you like a smile on a Cheshire cat.
For a Caribbean vacation that is a sure-thing - warm weather, culture, sports, fine dining, socializing, and elegant accommodations - Barbados will show you a good time.
Visit Travel Writer Dwight Brown at: www.DwightBrownInk.com.

Popular in the Community