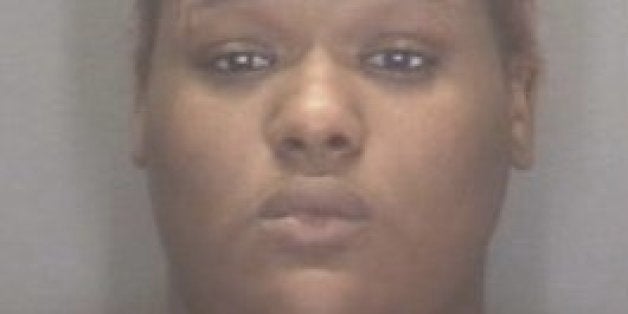 Barbara Banks killed a drunken man she did not know after he called her ugly and hit her repeatedly, authorities said Thursday as Banks pleaded guilty.
Banks, 21, initially was charged with second-degree murder of Keon J. Robinson, but she pleaded guilty in Richmond Circuit Court to voluntary manslaughter. The lesser charge implies she killed Robinson in the heat of passion after she was provoked.
The stabbing took place Feb. 9 outside the Coalter Street Apartments in the 1300 block of Coalter Street in the city's East End. Neither Banks nor Robinson lived in those apartments, though Banks was visiting someone there.
Authorities said Banks was walking outside the apartments about
1 p.m. when Robinson called her ugly and struck her in the head.
Robinson, who had a blood alcohol concentration more than three times the legal limit for drivers, insulted Banks a second time and struck her again, authorities said.
"Wait right there," Banks told her assailant.
Banks has told police that she then went inside an apartment, grabbed a knife from the dishwasher and returned outside.
When Robinson struck her yet again, she lunged and stabbed him in the chest, causing him to die at the scene of blood loss, said Richmond prosecutor Anne Lloyd.
The stab wound was only 1 inch deep, but Robinson was so slim at 146 pounds that the shallow wound was enough to pierce his aortic artery, authorities said.
Banks later told Richmond police Detective Jeffrey Crewell that after she stabbed Robinson, he said: "You stabbed me. I should shoot you."
Banks also told Crewell that she had been looking to get even when she stabbed Robinson.
Banks' attorney, John W. Luxton, pointed out in court Thursday that his client was cooperative with police. Luxton also said Robinson, 27, had a history of assault arrests.
Banks will face up to 10 years in prison when sentenced Feb. 26.
"The commonwealth," Lloyd said, "will be seeking substantial jail time." ___
(c)2013 the Richmond Times-Dispatch (Richmond, Va.)
Distributed by MCT Information Services
Calling all HuffPost superfans!
Sign up for membership to become a founding member and help shape HuffPost's next chapter