Sen. Barbara Boxer (D-Calif.) gave her farewell address on the Senate floor Wednesday morning, reflecting on her 24 years in the chamber and giving a special mention to a woman who helped her get there. 
"I also need to pay tribute to Anita Hill, because without her, I never would have been elected to the Senate. Anita Hill courageously told her story to the all-male U.S. Senate Judiciary Committee, breaking the silence on this painful issue," Boxer said, in reference to the law professor testifying that Clarence Thomas, then a Supreme Court nominee, had sexually harassed her.
"In addition, people saw there were only two women in the Senate," she continued.
"Anita Hill, you showed us all that we must never be afraid to take on the powerful. It certainly isn't easy. But if you learn to be tough in the right way, you can find the sweet spot, even in this atmosphere where the parties have grown so far apart."
Boxer was one of three women elected to the Senate in 1992, along with Sens. Dianne Feinstein (D-Calif.), Carol Moseley Braun (D-Ill.) and Patty Murray (D-Wash.). They joined fellow Democrat Barbara Mikulski from Maryland and Republican Nancy Kassebaum of Kansas, who were already in the Senate. It was dubbed the "Year of the Woman" for the historic gains.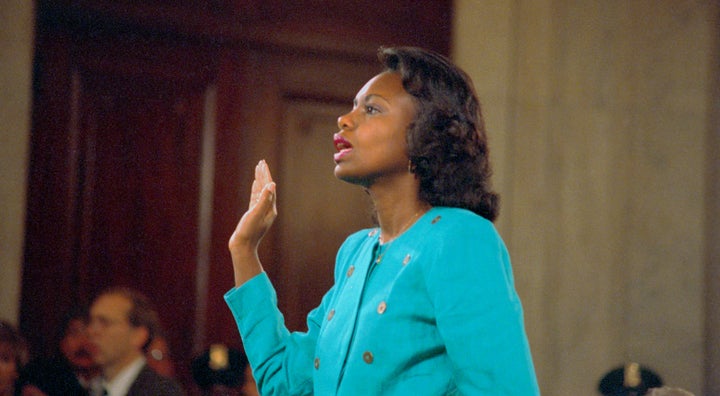 Hill's testimony before the all-male Senate Judiciary Committee was a wake-up call to women around the country about the lack of representation they had in Congress. 
"It electrified the country ― I don't think there's any question about it," Rep. Louise Slaughter (D-N.Y.) told The Huffington Post in the summer. 
Women watched Hill face a hostile panel of all white men, many of whom seemed unable to understand why what Hill said she faced from Thomas ― who was eventually approved by the Senate ― was such a serious issue. 
Sen. Howard Metzenbaum (D-Ohio) may have summed up the reaction on the Hill best when he reportedly declared, "If that's sexual harassment, half the senators on Capitol Hill could be accused."
EMILY's List Founder Ellen Malcolm said that no one had ever discussed sexual harassment until then. "So it was like 'Mad Men,'" she said. "The behavior in the workplace ― men had one set of rules, and women had to cope. And women would have all these strategies to deal with it and never could talk about it. It was a forbidden subject. So Anita Hill basically opened pandora's box and said, this behavior was inappropriate. And men had a very different perspective on what was appropriate workplace behavior than women." 
Both Boxer and Mikulski are retiring after the end of this session. Feinstein will be the ranking member of the Senate Judiciary Committee in the new year, the first woman to ever hold that job.
Calling all HuffPost superfans!
Sign up for membership to become a founding member and help shape HuffPost's next chapter
BEFORE YOU GO
PHOTO GALLERY
Women In The U.S. Senate