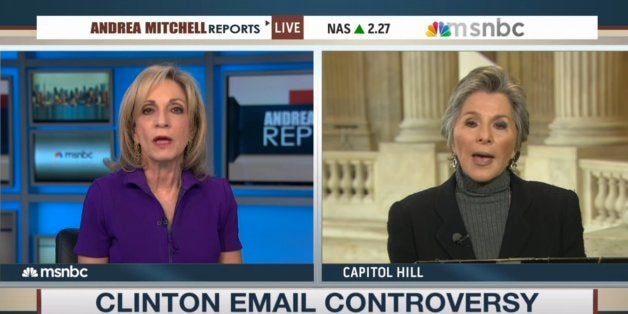 Sen. Barbara Boxer (D-Calif.) said Wednesday that it's time to move on with the controversy surrounding Hillary Clinton and her use of a private email account while working in the State Department.
"Either you're going to listen to her and believe her that, in fact, she complied with the spirit and the letter of the law or you're not going to trust anything she says," she told MSNBC's Andrea Mitchell during an interview. "All of this is politics. I think it is sad."
She took particular aim at reporters who she said "love confrontation" and will try to "talk about it forever."
"The bottom line is, and I know you know this, no law was broken," she said. "Let's get on with it!"
Following the interview, Mitchell also got called out for appearing to maybe, kind of, sort of say that she is a long-time Clinton supporter.
"I wanted to ask you about Hillary Clinton," she said to Boxer toward the start of the interview, "a former colleague of yours and someone I, uh, you have supported over the years."
Calling all HuffPost superfans!
Sign up for membership to become a founding member and help shape HuffPost's next chapter