WASHINGTON -- Sen. Barbara Boxer (D-Calif.) said Thursday she will not run for re-election in 2016, after months of speculation over what her plans would be.
Boxer, 74, made the announcement in a video that was sent to supporters Thursday morning. The four-term senator appeared in the video alongside her eldest grandson, Zach. She said that neither her age nor the fighting in the Senate played any role in her decision, and she will continue working on the issues that matter most to her through her political action committee.
"I'm going to continue working on the issues that I love," Boxer said. "I'll have more time to help other people through my PAC For A Change community, I have to make sure the Senate seat stays progressive -- that is so critical -- and I want to help our Democratic candidate for president make history. But you know what? I want to come home."
Boxer was first elected to the Senate in 1992 -- the last time the state had an open Senate seat -- and she served in the House of Representatives for a decade before that.
In the Senate, she rose to chair the powerful Environment and Public Works Committee and was a leading voice on environmental rights. She spearheaded efforts to cap climate-changing emissions and focused her work on pollutants, chemicals and nuclear power.
She was also one of the staunchest advocates of women's reproductive freedom and helped battle back relentless encroachments on Roe v. Wade.
In a conference call with reporters Thursday afternoon, Boxer said her greatest disappointments centered around failing to pass climate change legislation, coming up short on legislation to take military sexual assault cases out of the chain of command and failing to prevent the U.S. from going to war in Iraq. Boxer voted against the war, but said she wished she had done more to stop it.
"It just weighs on me," she said. "I'm so happy I didn't vote for the war, but I just wasn't able to gather enough support in the Senate [against it]. It took us a long time. We finally got there. So that's a regret."
Boxer also said she regretted voting against Ben Bernanke to chair the Federal Reserve.
"I voted 'no' to send a message that the Fed was asleep at the wheel during the Great Recession, but at the end of the day, I personally think ... he really helped save the economy," she said.
In her weekly press conference with reporters Thursday, House Minority Leader Nancy Pelosi (D-Calif.) said that when she received a call from Boxer that morning, she'd assumed it was just about dinner plans. Pelosi praised her longtime colleague, choking up during her remarks.
"She is one of the most unselfish politicians I've ever known of," said Pelosi. "She has always shared her ideas, she has always shared the credit, always tried to help people to succeed with their ideas. Her leaving will be a great loss to the Congress of the United States."
"Senator Barbara Boxer is one of the finest public officials the state of California has seen," added Senate Minority Leader Harry Reid (D-Nev.) in a statement. "Her efforts to combat climate change and ensure we have clean air and clean water will be remembered long past her retirement."
Boxer said on the conference call that she had spoken with not only Pelosi and Reid Thursday, but also President Barack Obama, Environmental Protection Agency Administrator Gina McCarthy, California Gov. Jerry Brown (D) and Sens. Dick Durbin (D-Ill.), Dianne Feinstein (D-Calif.), Patty Murray (D-Wash.) and Chuck Schumer (D-N.Y.).
Obama and Vice President Joe Biden both offered praise for their former Senate colleague in statements released later Thursday.
"Barbara Boxer is more than a Senator -- she's an institution," Obama said. "Thanks to Barbara, more Americans breathe clean air and drink clean water. More women have access to healthcare. More children have safe places to go after school. More public lands have been protected for future generations. More Americans travel on safe roads and bridges. And more young women have been inspired to achieve their biggest dreams, having Barbara as an incredible role model."
Biden, who served alongside Boxer for 16 years, praised the senator's work on the Violence Against Women Act.
"Barbara Boxer has been my soul mate in the Senate for a long time," Biden said. "You always knew in the Senate if you had Barbara on your side, you didn't need much more."
Possible Democratic candidates to replace Boxer include California Lt. Gov. Gavin Newson, Attorney General Kamala Harris, former Los Angeles Mayor Antonio Villaraigosa, Los Angeles Mayor Eric Garcetti, Assembly Speaker Toni Atkins and billionaire environmental activist Tom Steyer. On the Republican side, San Diego Mayor Kevin Faulconer and former gubernatorial candidate Neel Kashkari have been mentioned as possible candidates.
Boxer told reporters she announced her retirement plans this far in advance in order to give candidates a time to get their campaigns together and look at whether they want to run. She also warned against writing her off during her final two years in office.
"I don't believe in lame duck-ism, and I think that Barack Obama's proven that, and Bill Clinton proved it and I'm going to prove it," she said. "I have very important positions in the Senate that I'm going to continue to have."
Igor Bobic contributed reporting.
This article has been updated to include comments from Obama and Biden.

Want more updates from Amanda? Sign up for her newsletter, Piping Hot Truth.
Before You Go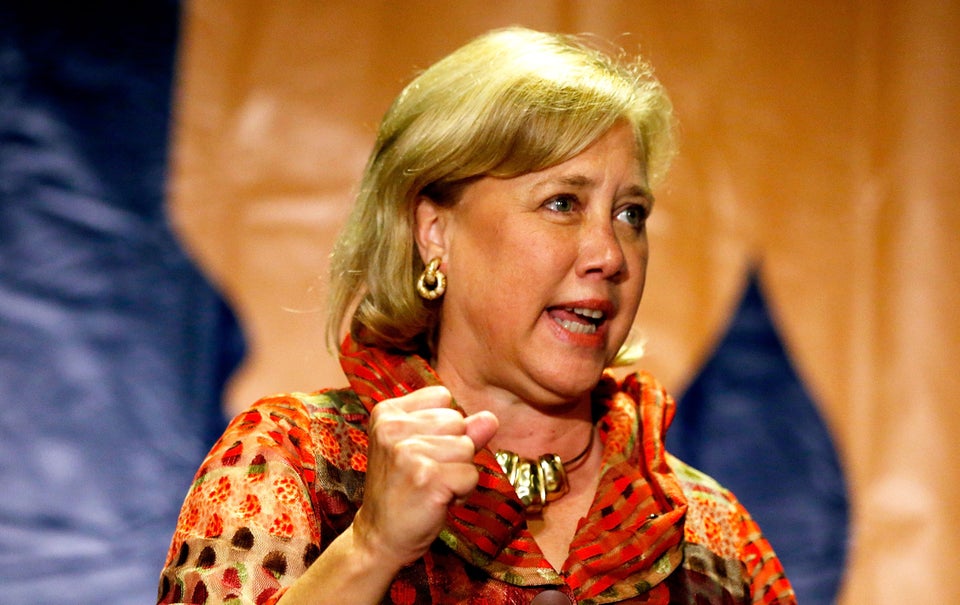 2014 Election Results: Winners & Losers
Popular in the Community