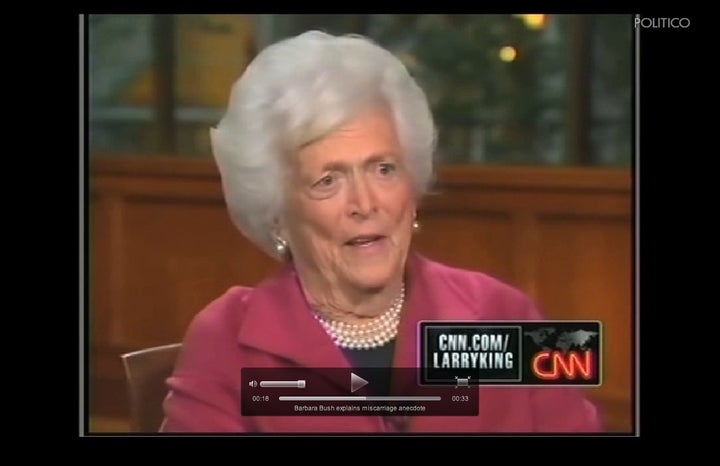 Former First Lady Barbara Bush said Monday that she had never, as her son George W. Bush intimated in his new book, placed her stillborn fetus in a jar -- but her housekeeper had.
Bush made the claim during an interview on CNN's "Larry King Live," in which she sat with her husband, former President George H. W. Bush, and explained the situation.
"I didn't put it in the jar," Bush said, clarifying that it wasn't as if it was "in the library" on display.
"Paula [the housekeeper] put it in the jar. And I was shocked when she gave it to him to -- but, you know, memories dim a little bit but, anyway."
George W. Bush had written in Decision Points that his mother had showed him the dead fetus of a potential brother or sister when he was a teenager, and that the incident had helped implant in his mind the belief that abortion was fundamentally wrong.
Barbara Bush, for her part, has stated before that she believes abortion to be a personal matter, while her friends have reported that she privately believes in a woman's right to choose.
REAL LIFE. REAL NEWS. REAL VOICES.
Help us tell more of the stories that matter from voices that too often remain unheard.