Former first daughter Barbara Bush is now a married woman after tying the knot with fiancé screenwriter Craig Coyne on Sunday.
Bush, wearing a custom, ivory silk crepe Vera Wang gown, walked down the aisle at the Bush family compound in Kennebunkport, Maine, on the arm of her father, former President George W. Bush, who shared a photo on Instagram of the proud moment.
"Barbara Bush is named for a unique and strong woman ― and rightly so, because she is unique and strong," her father stated, referencing the bride's namesake, former first lady Barbara Bush, who died in April at the age of 92. "Laura Bush and I are so proud of our compassionate, daring, fierce, kind, intelligent, loving daughter. And we're thrilled to welcome Craig Coyne to our family."
It was an intimate ceremony, with approximately 20 family members attending, People reported. Among those in attendance was Barbara's grandfather, former President George H.W. Bush, who was seen seated beside former first lady Laura Bush, who wore a baby blue dress that matched her husband's tie.
Barbara's stunning attire included cherished pieces from her family, she told People.
"The 'something borrowed' that I'm wearing is this bracelet that my grandfather gave to my grandmother on their 70th anniversary," she said. Her "something blue" was a pair of earrings from her twin sister, Jenna Bush Hager, 36, who served as matron of honor.
Jenna's two daughters, Margaret, 5, and Poppy, 3, served as flower girls along with Coyne's 5-year-old niece, Emma. Poppy also served as the ring bearer. The wedding was officiated by the bride's aunt, Dorothy Bush Koch, the Bush family said.
Jenna, sharing a little about the speech she gave, said she read a love letter that her grandfather wrote to her grandmother, Barbara Bush, whom he was married to for 73 years. They were the longest-married couple in presidential history.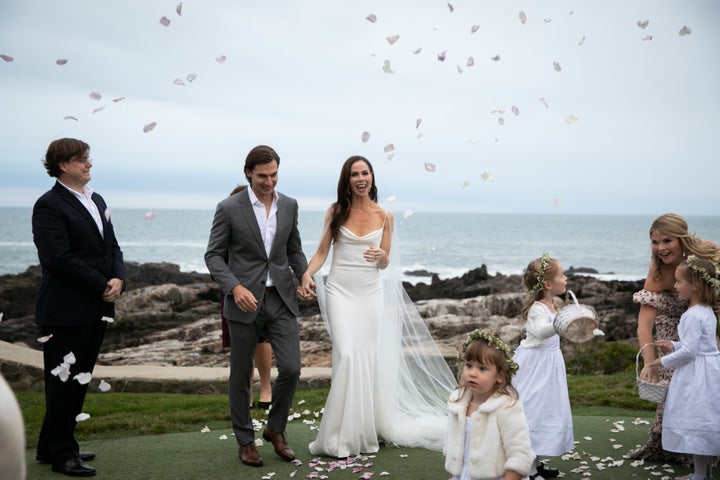 "Because I searched all the romantics and Shakespeare just wasn't doing it. He was sitting right next to me as I read it," she said of her grandfather.
Jenna described the family's Kennebunkport compound to the Today Show as "a place that means family love."
The happy couple reportedly met in November, after being set up by friends on a blind date. Coyne proposed to Barbara this summer at the same place in Maine where Barbara's grandparents were engaged.
Details on the secret ceremony had long been kept under the radar, though on Sunday George H.W. Bush's service dog, Sully, gave a hint about the weekend festivities with a photo on his Instagram page. That photo showed the yellow lab appearing to sit beside the bride while wearing a boutonniere on his collar. The photo's caption read: "Always the bridesmaid, never the bride. I've never seen my best friend so happy." It included the hashtag #newfamilymember.