CHICAGO -- The former head of the nation's third-largest school district was indicted on federal fraud charges Thursday that accuse her of taking bribes and kickbacks for steering more than $23 million in no-bid contracts to a former employer.
Barbara Byrd-Bennett, 66, the former Chicago Public Schools CEO and superintendent, was charged with 15 counts of mail fraud and five counts of wire fraud. She was cooperating with prosecutors and has agreed to plead guilty, U.S. Attorney Zachary Fardon said during a press briefing.
Fardon said Byrd-Bennett abused her position "to line her own pockets and those of her co-defendants." The indictment says the scheme netted Byrd-Bennett and her two co-defendants about $2 million in cash and other valuables, which prosecutors will seek to recover.
Byrd-Bennett helped her former employer, an educational training and consulting collective, secure lucrative no-bid contracts for city schools, according to the indictment. In exchange, Byrd-Bennett received hundreds of thousands of dollars in kickbacks, which the collective disguised by funneling them into bank accounts set up under the names of Byrd-Bennett's relatives, the indictment alleges.
The educational collective lavished the former schools chief with perks, including meals, travel and sports tickets, and promised her another job with more kickbacks disguised as a signing bonus after she stepped down from from the superintendent's post, the indictment says.
"As part of accepting full responsibility for her conduct, she will continue to cooperate with the government, including testifying truthfully if called upon to do so," Scudder said in a statement.
Also indicted were Gary Solomon, 47, and Tom Vranas, 34. The men co-owned and operated the suburban Chicago SUPES Academy and Synesi Associates. SUPES Academy provided training and professional development for principals and other school administrators. Synesi offered educational consulting, performance analysis and turnaround programs.
The 43-page indictment alleges Byrd-Bennet her co-defendants began scheming almost immediately after she was hired for Chicago's top schools spot in 2012.
"Graft and corruption in our city's public school system tears at the fabric of a vital resource for the children of Chicago," Fardon said in a statement. "School officials and city vendors who abuse the public trust will be held accountable."
Mayor Rahm Emanuel, who hand-picked Byrd-Bennett as schools chief, said Thursday he was "saddened and disappointed."
"Our students, parents, teachers and principals deserve better," Emanuel said in statement.
The hiring of Byrd-Bennett, who had years of experience as an educator and administrator under her belt, was initially hailed as a hopeful compromise between City Hall and the teacher's union. Some of her predecessors had little experience in education.
If convicted, Byrd-Bennett faces up to 20 years in prison, mandatory restitution, and a maximum fine of $250,000 for each count of mail and wire fraud.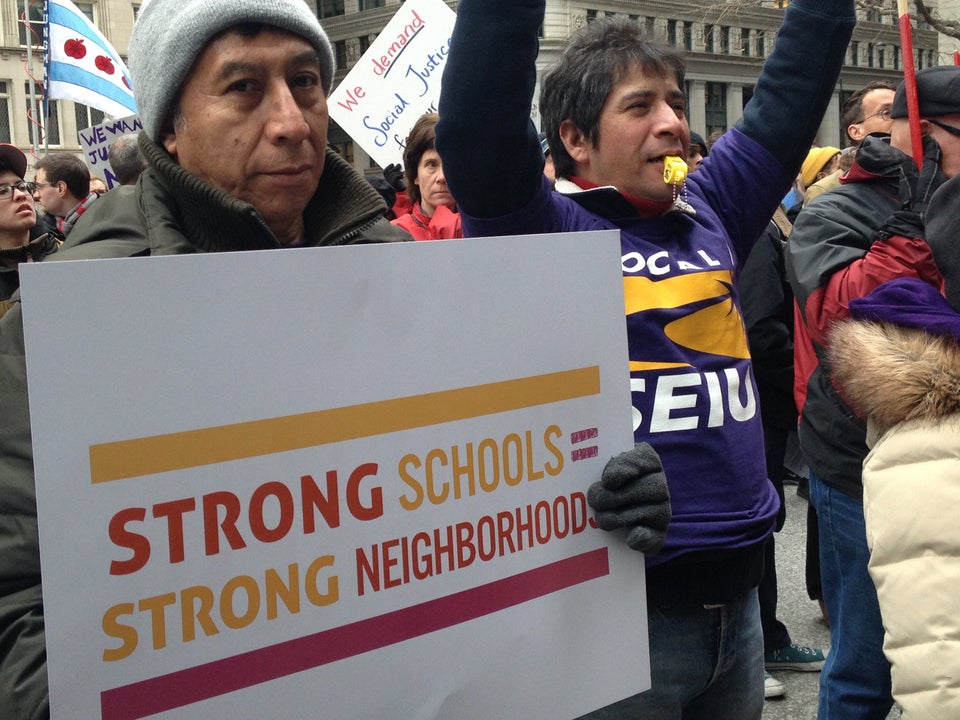 Protest Of Chicago Public School Closings
Popular in the Community