Rep. Barbara Comstock (R-Va.) held a telephone town hall for her constituents on Tuesday ― and boy, was the first question more of a softball than Republican lawmakers tend to field these days.
A caller introduced as Dr. Gary Maloney simply wanted confirmation that Republicans like Comstock have no intention of doing away with the Affordable Care Act's protections for people with pre-existing medical conditions.
"There seems to be a lot of noise about changes that are being yelled about, but really isn't it true that there's not a big movement, even among Republicans, to change things like pre-existing conditions and that sort of thing, that in fact, it is probably going to go in a different direction, as far as the likely final bill that's going to emerge?" the caller asked.
"Well, in fact, you're right on ― thank you, Gary ― particularly on the pre-existing conditions issue," Comstock responded. "When Republicans had passed a repeal and replace bill in the last Congress, we protected people with pre-existing conditions in that bill. And that is a principle and a commitment that we are going to continue to make. That's a promise that's in all of our working documents, that's what [Health] Secretary [Tom] Price has made clear, and the administration has, and our leadership has."
"So that's something there is bipartisan agreement on," she added. "So for those who keep saying that that's not the case, I would just ask, please take 'yes' for an answer."
The problem Republicans like Comstock face ― and that she didn't address at the time ― is that there is virtually no way to maintain coverage and reduce costs without preserving the individual mandate and continuing income-based subsidies for individuals to buy private insurance on the exchanges. Those are the same features of the law that Republicans most oppose.
It is also unclear how private insurers would distribute the cost of covering people with pre-existing conditions if Americans were no longer required to purchase insurance.
Gary Maloney is the name of a veteran Republican political consultant who donated $350 to Comstock's 2016 re-election campaign. His Northern Virginia consulting firm, Jackson-Alvarez, took in over $250,000 from advising Republican candidates and groups in the 2016 cycle, although Comstock's campaign was not one of their clients.
A biography on the website of the Leadership Institute, a conservative group for which this Maloney was once a guest speaker, indicates that he has a Ph.D. in politics from the University of Oxford but not a medical degree. 
When The Huffington Post called Jackson-Alvarez to inquire about the town hall call, the man who picked up said, "not interested" and hung up. Comstock's staff did not respond to multiple requests for comment on the identity of the caller.
Comstock is one of several Republicans for whom outrage over President Donald Trump and the Republican agenda could prove a political liability in the 2018 midterm elections. Democrats tried mightily last year to unseat Comstock, who represents a swing district that includes many Democratic-leaning suburbs of Washington, D.C. She ultimately won by nearly 6 percentage points. 
Comstock did not show up to two scheduled in-person constituent meetings earlier this month, angering some of the more liberal residents of her district. Her office did not respond to a request for information on her next in-person town hall. 
Just 19 Republican members of Congress scheduled traditional town hall meetings for the congressional recess this week, according to Town Hall Project, a site that publicizes information about the meetings.
The decision not to hold the public events or conduct them by phone comes amid a wave of activists using town halls to aggressively confront members, particularly over their plans to replace Obamacare and investigate Trump's ties to Russia. 
Indeed, the two questions Comstock got immediately after Maloney's query were about these two issues.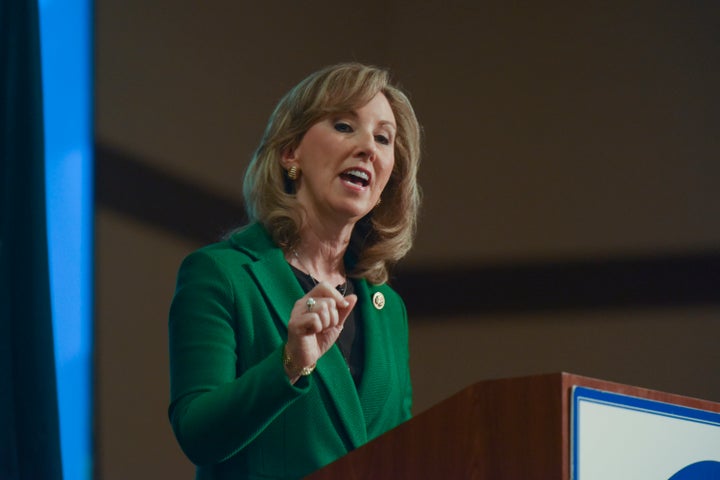 A caller who identified herself as Amy said she was a small business owner who wanted to know why Comstock wanted to repeal, rather than fix, the Affordable Care Act.
"Every major bill has to have a couple of changes. Why do you think we need to just scrap it and not keep what we have?" Amy asked.
Comstock emphasized that she was most interested in repealing aspects of Obamacare that are unpopular among members of both parties, like the tax on so-called "Cadillac" health care plans and the medical device tax.
She suggested those features of the law could be stripped without limiting people's access to affordable health insurance plans.
"We want to actually increase those plans for small businesses, have, you know, more risk pooling, buying across state lines, making it easier for small businesses to maybe get lower deductible plans or at least have the flexibility of that," Comstock said. "That's why we are carefully working on this and transitioning to a new system, get that up and running, but protect people and talk to people."
Suggesting that consumers should be allowed to buy insurance in states other than where they live is a common Republican proposal. But it would likely to lead to a race to the bottom among states, leaving sicker people especially vulnerable. And it is so impractical, even insurers are not clamoring for it.
Neither the White House nor Republican leaders in Congress have proposed a comprehensive plan to replace Obamacare. Both Trump and House Speaker Paul Ryan (R-Wis.) announced last week that they would unveil a proposal in March.
Listen to Comstock's entire town hall below:
Calling all HuffPost superfans!
Sign up for membership to become a founding member and help shape HuffPost's next chapter
BEFORE YOU GO
PHOTO GALLERY
Trump's First 100 Days