I don't know about you, but couldn't we really use a genie right about now? Imagine the things that could change with a blink of the eyes. (Actually, the thought of the Kardashians disappearing from the television landscape sounds quite inviting but there is more pressing business -- you know, things like world peace and the environment, so ...)
In the meantime, I'll settle for Jeannie a la Barbara Eden, which really isn't settling at all.
The iconic actress who became famous for appearing in a cloud of smoke from that lovely bottle on the hit NBC TV series I Dream of Jeannie resurfaced earlier this year with the release of her memoir Jeannie Out of a Bottle. It's a captivating read that chronicles, among other things, her years struggling as a studio player -- she captured interest playing opposite the likes of Elvis Presley, Clint Eastwood, Paul Newman and Warren Beatty -- and behind-the-scenes musings about her professional relationship with TV co-star Larry Hagman. But the book also dives into deep emotional waters as she opens up about several personal tragedies she's had to weather.
Now in her seventies, Eden has been on a wild book tour, which found her trotting the globe to places like Australia. She hits San Francisco this weekend for a tribute launched by Marc Huestis. I recently caught up with Eden for a magical chat. Dive in:

You've had a stellar career so when you look back on things now, what are some insights that come to mind?
What it is, for me, is just a working actor's life. That's what it is. One thing sort of rolled into another.
Do you feel that writing the book was cathartic? What are some of things you learned about yourself?
No. It wasn't cathartic. It was extremely difficult.
I love that you just admitted that.
It's really tough if you're going to write a book and be honest. And there's no point in doing it ... if you're going to tell you're life story, you may as well be honest about it. I'm glad I did it. Several people had asked me to do it before ...
I didn't want to do it -- at all!
You know ... it's my life. It wasn't really for public consumption. I don't think anyone's life really is. You don't need to know how many times a person goes to the laundry or how many times they brush their teeth. It was almost similar to that, to me. It's not quite that far, but almost. I think, perhaps, a few things I said will be of value to women who have been in the position I was in.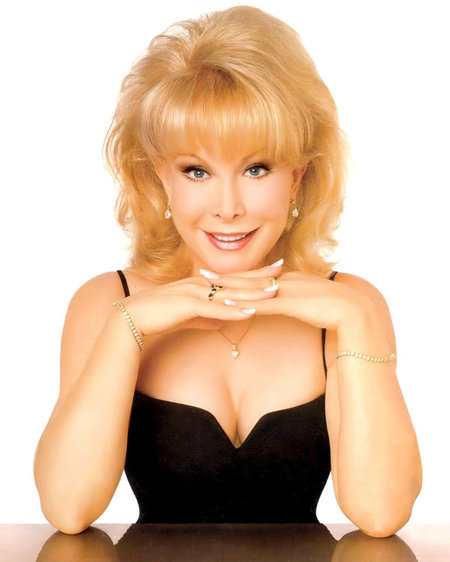 Photo courtesy Marc Huestis Presents
So ... the show. You three (including Larry Hagman and Bill Daly) were a great trio.

We just worked really hard. I knew that I loved working with Larry. He had his problems. He was not easy for the crew and the director. But for me, it was a dream. He's a fine actor. Our rhythms were the same -- we fit. And of course, Bill was adorable. We had a good, good cast.
Were you surprised by the longevity of the show and the success?
Oh yeah. I didn't really surface until a few years ago. I had been working on other things and I was driving along Sunset Boulevard and I looked up and there's this huge picture on the side of a building -- this huge replica of Jeannie and I went, Holy Mackerel! It was from TV Land I think. And it hit me -- it's [the show] still there. And of course, I've gone to Europe [with my husband] and I walked into the airport in Rome and there it was on the television screen in the waiting room. It's fun. I like her [Jeannie]. She's easy to live with.
What do you think it is -- about that character, that show -- that people really resonated with?
I have no idea. Fantasy is a big draw. But there have been a lot of shows with fantasy. And still are. Maybe because of the space program. Most of the time, they were all in uniform so it isn't as dated. And it does keep people from their everyday lives. It's goofy and silly and fun. One day, when my family was still living in San Francisco, I flew up to visit for the weekend and I was sitting in the airport and a gentleman came over from a group he was sitting with and said, 'If you don't mind, I'd like to take care of you; I'd like to tell you we enjoy your show and how grateful we are that it's there for us.' I said thank you. He said, 'But first, you have to know what we do. We're at Stanford; we're psychiatrists. We're really really grateful to have that show at the end of the day.'
Tell me what you love most about performing and acting, and being in that space?
Well, I loved the freedom to be someone other than myself. [Laughs]. It's wonderful to have someone else give you the lines -- the words. You sort of crawl into them and perform them. No other responsibility other than truthful to the writer's words. I like that.
I imagine there would be some liberation in that?
There really is. Your self is gone. Little pieces of you go into the character but you're free. You're free.
Early in your career, and certainly growing up, who were your more interesting life influences? Who helped shape who you became?
My family, of course. My mother. But I had a great support system. We didn't have much money -- we had none actually. My dad worked for the telephone company in San Francisco and didn't even make ends meet. They were young parents and had a good time, and I was part of it. They couldn't afford a babysitter so they took me with them everywhere. I learned, early on, to sit in a corner and read my books. I loved to read. But my aunt and mother and my grandmother really influenced me a lot. They'd walk me to the library to get a library card when I was 2. And that was a big deal to me. I didn't know how to read, but I loved checking out the books and they read to me. Consequently, I am now addicted to reading.
The belly-button issue -- on the show? Are you tired about being asked this question?
It's amazing to me. It started out as a joke. A reporter from the Hollywood Reporter came on the set and we'd kid around and he said, 'I don't believe you have a navel. Where's your belly button?' And he began to write about it and the stringers across the country picked up on it, and it snowballed into a cause celeb. Then George Slatter, who was producing Laugh In, decided that he'd like to premiere my navel. Well that caused the world to collapse at NBC. He said he walked into this meeting and that he had never seen so many, quote -- suits -- unquote, sitting around a big walnut table discussing someone's belly button. He said it was the most ridiculous meeting he ever had. And of course, they told him no.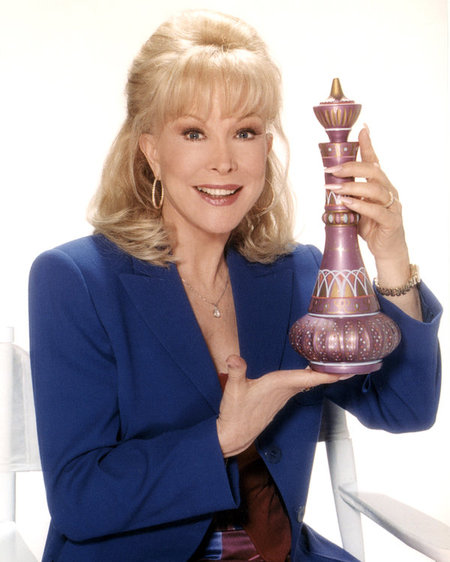 Courtesy of Marc Huestis Presents
I have to ask -- the bottle. That was a trip. Did you get to keep anything from it?
Not the "big" bottle [on the set], but I do have the little one. And it's going on its way to the Smithsonian this fall. I am giving it them. I didn't realize how valuable it was until recently. And it survived a couple of earthquakes.
Well ... it magical bottle. It would have to, right?
You have a big gay following, too. Do you think if Jeannie were around today she could, or would, you know ... just make same-sex marriage legal?
[Laughs]. She would do it in a blink!
What's some of the best advice you have been given about life?
Don't sweat the small stuff. Just forge ahead.

I found a few fun Jeannie moments. Which is your favorite? (Below)
PHOTO GALLERY
Jeannie's Best?
Calling all HuffPost superfans!
Sign up for membership to become a founding member and help shape HuffPost's next chapter