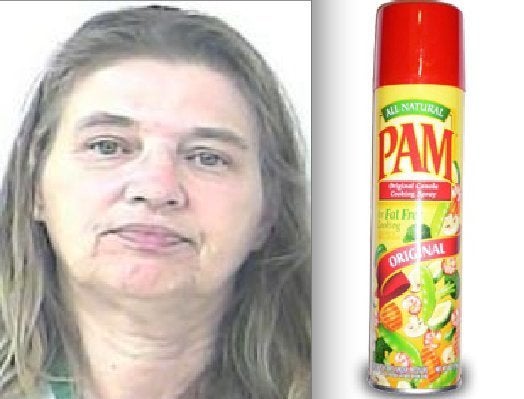 She was lubed up, then locked up.
A Florida woman was fine with bringing olive oil, and even PAM cooking spray, into the bedroom. But when her boyfriend brought up his former fling named Pam, she wasn't having it.
When Barbara Hall, 60, asked her 45-year-old boyfriend to go to the kitchen for some "sexual lubricant," he obliged, according to police reports obtained by TC Palm.
"Barbara asked if he had also brought the PAM cooking spray," the report states. "Barbara believed [the victim] misunderstood what she had said, and commented on a girl named Pam. ... [He] admitted to having sex with Pam recently on her boat."
Hall then allegedly flew into a violent rage, punching her boyfriend repeatedly and then chucking the olive oil bottle, a keg cup and a flashlight at his head. She told cops that she had no recollection of the assault.
She was arrested on a domestic battery charge and taken to jail. Her boyfriend went home.
Popular in the Community