Barbara Kruger made a name for herself in the 70s through subverting the powers of print media. After working in design at Conde Nast and Mademoiselle, Kruger performed an amateur X-ray on the magazine machine, exposing how the merger of text and image can manipulate identity, desire and sanity. In "Belief+Doubt," Kruger's new installation in the lower lobby of the Hirschhorn Museum in D.C., Kruger proves she is familiar not only with the language of print but of the digital world as well.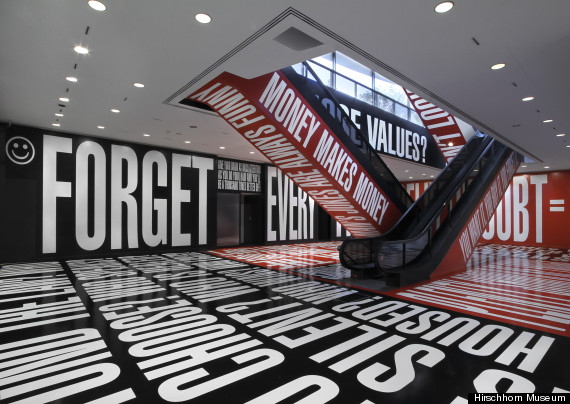 Kruger's latest work swallows the museum space whole, with massive vinyl text up to 12 feet high wrapped around every inch of ceiling, floor and escalator like a gaudy unwanted gift. The space feels like an alternate dystopian future, where the language of power and commerce become literally inescapable. The aggressive chants feel like mantras gone haywire, with terse orders from no one in particular stating, "You Want It. You Buy It. You Forget It." Working in her signature color scheme of red, white and black, Kruger's imagery makes literal the dangerous effects of thinking in simplistic terms. It looks as if the popping reds are the violent consequence of thinking in black and white.
"Belief+Doubt" invites big questions to invade the certain values that define our daily lives, especially in Washington D.C., where the installation is erected. Questions such as "WHO IS BEYOND THE LAW? WHO SPEAKS? WHO IS SILENT?" poke gaping holes into the ideas that structure our understandings of our government and ourselves. And just to prove she is down with the digital age, Kruger also throws some emoticons in there, the happy faces adding a wry dash of humor to the daunting, Orwellian atmosphere.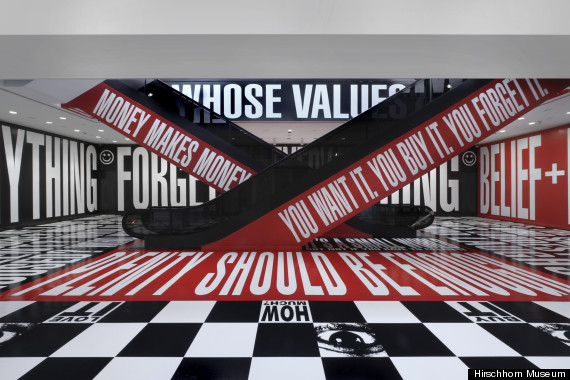 When flipping through a magazine or scrolling through a website, words quickly disappear as we make our way down the page. Yet in Kruger's installation the words are gargantuan, omnipresent and permanent (at least until the installation closes in 2014). Some of her messages read like warnings to heed, others like the dark propaganda to avoid and a couple seem to function as paranoid ravings. Aggressive mandates like "Admit Nothing. Blame Everyone" don't take aim at either political party, but rather the dangerous role values play in establishing political certainty. Ron Rosenbaum described this tactic in Smithsonian Magazine as "both sides refusing to admit the slightest doubt about their position, about their values, about the claim to have all the answers."
The words on rampage extend to the museum store, bringing museum-goers face to face with their consumerist desires. "Hoard It," "Crave It," "Break It" and "Return It" adorn the checkerboard floor, a move curator Melissa Ho said "initially raised some eyebrows with officials." But the museum director Richard Koshalek makes a great case for the choice in the press release, stating: "Kruger's work interrogates the way power and money flow in contemporary society. Having her intervene in a part of the building that is at once a social site and a place of commerce amplifies both her concerns and those of the Hirshhorn."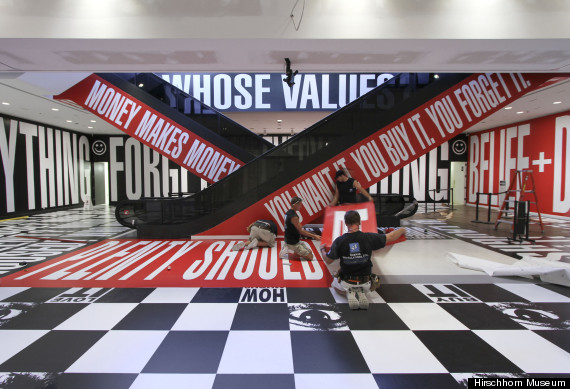 Kruger's textual occupation gains additional significance in light of her recent resignation from the Board of Trustees at MOCA, the Los Angeles institution recently undergoing a wave of transformation and criticism. After holding a retrospective there in 1999 and serving on the Board for years, Kruger left in July, citing the "changing role of museums in a culture where visual art is marginalized except for the buzz around secondary market sales." Issues of art, money, power and communication, pulsing invisibly through museum politics, are finally addressed in Futura Bold Oblique font.
Whether the exhibition transforms your understanding of consumerism, value or even the conventional bounds of a museum space, Kruger will undoubtably poke doubt in something you thought to be true, which is no easy feat. As the artist told the Wall Street Journal: "At election time, questions come in handy, right?"
Barbara Kruger's installation is on view at the Hirshhorn Museum in Washington D.C. until 2014.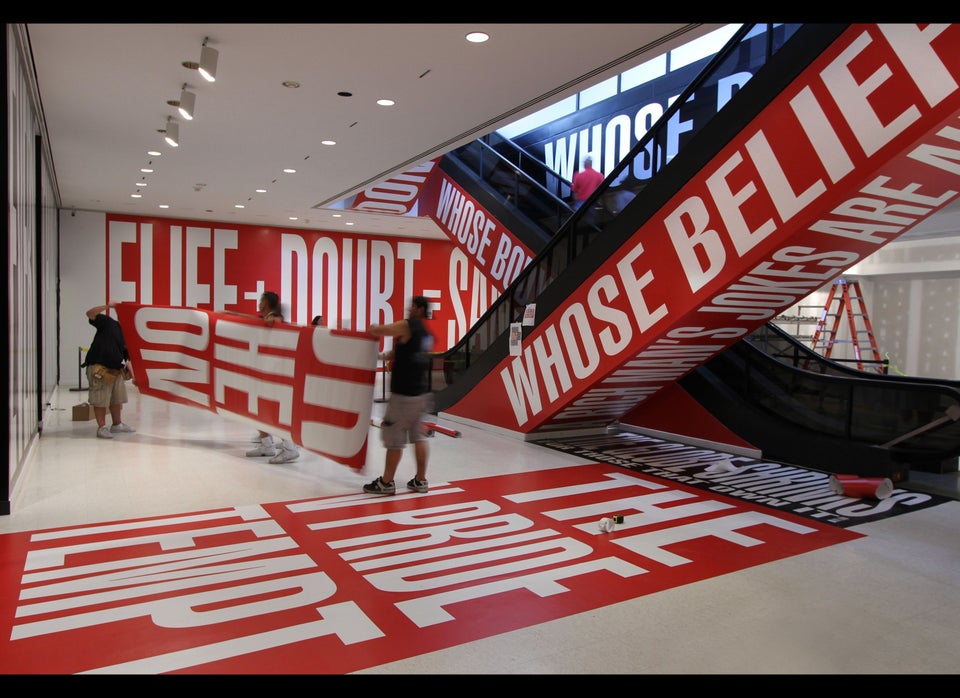 Barbara Kruger
Correction: A previous edition of this article misspelled Hirshhorn Museum. We regret the mistake.
Support HuffPost
The Stakes Have Never Been Higher
Related
Popular in the Community