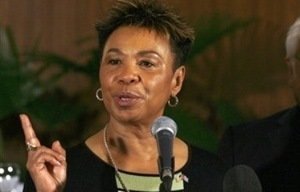 Barbara Lee turned out to be 100% right about the wrongful wars launched on Afghanistan and Iraq and she is certainly right again -- to try and stop an even more catastrophic and illegal preemptive war on Iran!
Give Diplomacy a Chance with Iran

From: The Honorable Barbara Lee

Bill: H.R. 4173

Date: 4/17/2012

Dear Colleague,

Last weekend, the United States joined with the five permanent Members of the U.N. Security Council plus Germany in diplomatic talks with Iran over Iran's nuclear weapons program.
I invite you to read the analysis below from the Friend's Committee on National Legislation, and to become a cosponsor of my bill, H.R. 4173, which supports robust efforts to seek a diplomatic resolution in preventing Iran from acquiring a nuclear weapon.
To become a co-sponsor, or if you have any questions, contact Teddy Miller in my office.

Thank you,
Barbara Lee
Member of Congress
In the last month, "No War on Iran" groups in Minnesota have personally visited the district offices of Congresspersons Betty McCollum, John Kline, Keith Ellison, Tim Walz and Chip Cravaack, as well as Senator Al Franken's office. We have collected signatures in support of Barbara Lee's bill and have delivered the message (in the form of postcards and petitions) that constituents naturally and overwhelmingly favor diplomacy over preemptive war on Iran.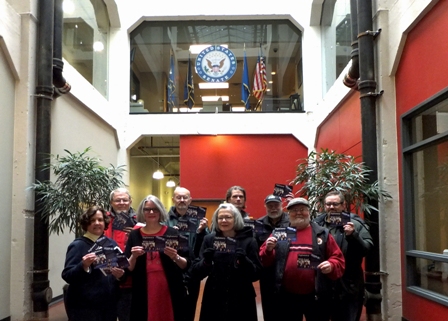 (This "No War on Iran" group delivered "Diplomacy Not War" postcards to Senator Franken's District Office on Feb 24, 2012.)

Unfortunately, despite 25 different peace groups imploring Senator Klobuchar not to sign the Graham-Lieberman-Casey "Anti-Containment" Senate Resolution (S.R. 380) that basically curtails diplomatic efforts and makes war the only option, Klobuchar went ahead and signed the pro-war resolution in the first week of April. Despite the continual actions of John McCain, Joe Lieberman and Lindsey Graham (nicknamed the "three war-crazed amigos") attempting to undercut Obama's foreign policy and institute their own, she signed onto their pro-war resolution. 70 senators have signed S.R. 380 thus far and as Kate Gould of the Friends Committee on National Legislation explains in her excellent analysis below, the Senate was poised to even further undercut the recent promising talks with Iran (under last section "Will Congress Kill Talks?").
What A Difference A Day of Iran Talks Makes

By Kate Gould on 04/16/2012 @ 02:40 PM

After ten hours of talks with Iran, opportunities for a diplomatic resolution of the standoff over Iran 's nuclear program have dramatically improved, and Congress gears up to vote on yet another attempt to kill diplomacy before the next round of talks.

After the first talks in more than a year, the parties have agreed to meet again on May 23 for an additional round of talks. Considering the high stakes involved, hitting the 'snooze' button on the proverbial 'alarm clock of confrontation', as journalist Tony Karon put it, is a real achievement.

Agreeing to more talks signals a commitment from all parties at the table to hold off on war -- at least for now.

10 Hours of Talks: the Highlights

The most notable accomplishment of the talks were that negotiators agreed to adopt a framework for ensuring Iran's nuclear program is solely used for peaceful purposes which is endorsed by virtually every diplomat, arms control expert, government official, citizen activist, or anyone else who is serious in preventing a nuclear-armed Iran and a catastrophic war: the Nuclear Non-Proliferation Treaty (NPT).
Agreeing to the NPT framework is a win-win-win-win-win-win-win decision for all seven parties involved. Iran 'wins' because under the NPT, Iran , as a signatory, has the right to a civilian nuclear program under strict international safeguards. This agreement demonstrates that the P5+1 (The U.S., U.K. , France , China , Russia , and Germany ) acknowledges that Iran will continue to enrich uranium for peaceful purposes. This decision is a flat out rejection of the demand, that many in Congress have made, for Iran to surrender its entire nuclear program.

The P5+1 parties 'wins' because the NPT also requires that Iran fully cooperates with the International Atomic Energy Agency, the U.N.'s nuclear watchdog. The NPT also provides a more detailed framework called the "Additional Protocols", which would ensure even more intrusive inspections and other guarantees against any attempt by Iran to weaponize nuclear material.

Unfortunately, the talks were immediately denounced by Israeli Prime Minister Bibi Netanyahu, who has pushed for a more aggressive policy toward Iran, which directly contradicts a wide swath of the Israeli military and intelligence establishment, and the Israeli population at large. In a clearly symbolic move, Senator Joe Lieberman (CT), the principal architect of legislation pressing the administration to abandon diplomacy and push toward war, stood next to Netanyahu while he blasted the talks.

While critics argue that the talks haven't produced an instantaneous solution, it's rather astonishing to see how ten hours of talks dramatically diminished the drumbeat for war. It's all the more impressive when considering that in real terms, as the Guardian reported, the ten hours of Saturday's talks boiled down to a lot less than five hours, because the negotiations were conducted in English, requiring Farsi translation for the Iranian negotiator.

Those ten hours also included an awkward lunch break, that illustrated just how much work ahead there is to build trust between the parties. According to one diplomat's account of the buffet lunch at Istanbul 's conference center, the P5+1 team sat on one end of the room, and Iran 's negotiating team sat at another. As if the two teams represented opposite genders at a middle school dance, there was reportedly, "no contact at all".

Yet, with all these complications, progress the parties were still able to agree on a common framework for the talks, and to commit to further negotiations. While hawks have long insisted that anything less than an immediate solution spells failure, U.S. national security experts agree that for diplomacy to be effective, it must be sustained.

In fact, the very reason why diplomacy hasn't yielded more results is because there has never been sustained U.S.-Iran diplomacy since the countries severed diplomatic relations in 1980. Ambassador Thomas Pickering, the former U.S. Ambassador to the United Nations, Israel , and a host of other countries recently pointed out to Congress that U.S.-Iran diplomacy has been merely a series of 'one-night stands': "Past talks have suffered....because they have been a series of one-night stands, meetings that took place over one day, where one side or the other, either Iran or the United States , had a proposal, and the other side rejected it. They went away and then spent another six to eight months negotiating a resumption."

Will Congress Kill Talks?

Hardliners on all sides--in Iran , the United States , and in other countries--have sabotaged promising opportunities for diplomacy before. This time, the Senate was on the verge of passing a far-reaching Iran sanctions package that could well have undermined the talks last weekend--if it wasn't blocked by Senator Rand Paul (KY).

As early as this week, Congress is expected to vote on this sanctions bill, along with dangerous resolutions that would lower the threshold for war with Iran , and endorse ultimatums that would make diplomacy all but impossible.

With another round of talks scheduled in a month, there is great potential, but also great risk of Congress sabotaging the talks. It's a crucial time for advocates of a diplomatic resolution to the U.S.-Iran crisis mobilize, and build the political space necessary for the United States and Iran to reject impossible demands that would kill the talks, and to keep talking.
Here in Minnesota, we have postcards and petitions for anyone interested in signing or participating in further efforts to take this message to Representatives Colin Peterson, Eric Paulsen and Michele Bachmann. We have thanked Betty McCollum and Keith Ellison as being among the 21 House reps who have signed Barbara Lee's Resolution for diplomacy not war. (Coincidentally on April 9, 2012, Congresswoman McCollum received a letter calling out wasteful Pentagon spending from women state legislators in Minnesota.)
We have also requested Senator Franken to hold a town hall or panel discussion on these issues and we understand his office is considering doing so. By the way, Sen. Franken has thankfully not signed the Graham-Lieberman-Casey Senate Resolution 380.

Despite Klobuchar's having aligned herself with the Lieberman-Graham-McCain pro-war side, we still need to deliver the petition signatures that have already been collected for her. (Perhaps the delivery will be combined with a protest outside her office?) More public protest and citizen input might make Amy Klobuchar feel more constrained from promoting war and from thus exhibiting her "unshakable bond" with the pro-war Likud faction that currently governs Israel. The hypocrisy of her stump speeches and campaign positions regarding child safety issues is jaw dropping considering her callousness to the deaths of thousands of Iraqi, Afghan and now potentially Iranian children but it is also reminiscent of Madeleine Albright's response that US sanctions on Iraq (in the late 90's) that took the lives of an estimated half million children "was worth it."
Anyone in Minnesota interested in participating or helping with the "No War on Iran" efforts, can contact me through my old campaign e-mail Coleen@coleenrowley.com.
REAL LIFE. REAL NEWS. REAL VOICES.
Help us tell more of the stories that matter from voices that too often remain unheard.