Barbara Nessim's work may seem playful and even innocuous, but in fact, that's what makes her endless combinations of colors and lines so dangerous.
Since the 1960s Nessim has been at the front lines of both illustration and feminism, crafting androgynous superstars who straddle the line between art and ad, masculine and feminine. Never one to be particularly bothered with boundaries or conventions, Nessim preferred working to categorizing, filling a lifetime up with artwork as technologically innovative as it was politically (and aesthetically) bold. Nessim created images for mainstream publications like Rolling Stone, Time and New York Magazine, filling their covers and pages with gender-bending heroines that were, like their maker, far ahead of their time.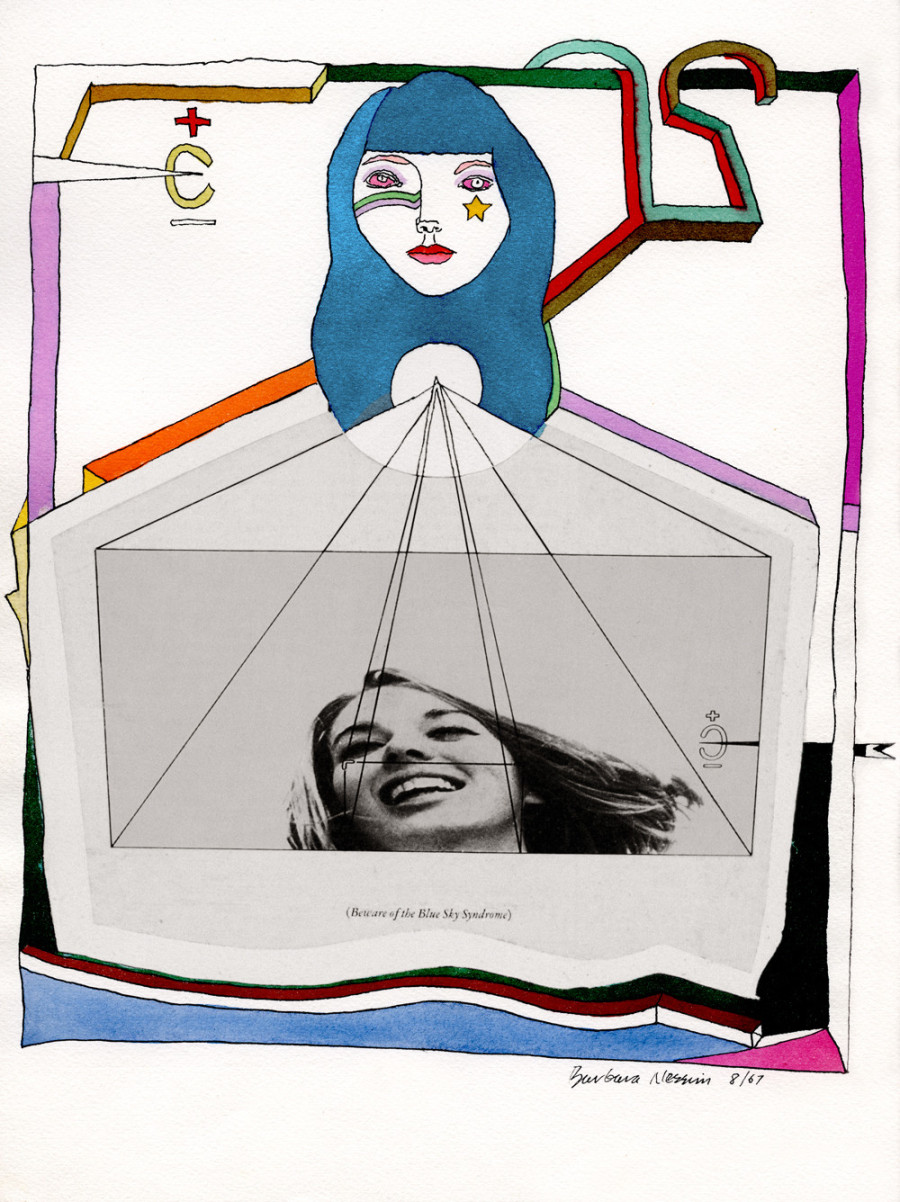 Barbara Nessim. Beware of the Blue Sky Syndrome, 1967. Pen and ink, watercolor, collage. Courtesy of the artist.
"Most artists instinctively respond to the times they live in," Nessim explained in an interview with The Huffington Post last year. "I was not aware, in the early days, that I drew a preponderance of women. A man I knew pointed this out to me. I was stunned. I looked around at all my work hanging in my one room studio apartment and I had to agree. I'll always remember that moment."
Nessim's lifetime of work is currently on view in a retrospective titled "Barbara Nessim: An Artful Life," now showing at the Bard Graduate Center. The show features 50 years of images that, to contemporary eyes, appear both stylish and subversive, a testament to and rebellion against the "Mad Men" era from whence they came. Nessim's 1963 work, "Superman Carrying Girl with Green Shoes," features a heteronormative depiction of a male superhero holding a woman's nude form in his grip -- yet both figures' heads are chopped off, leaving a surreal aftertaste to the conventional (and sexist) trope. Her 1971 "Fire Engine Heel" transforms a women's garment into a Paul Klee-style weapon, complete with fiery flames and floating geometric shapes.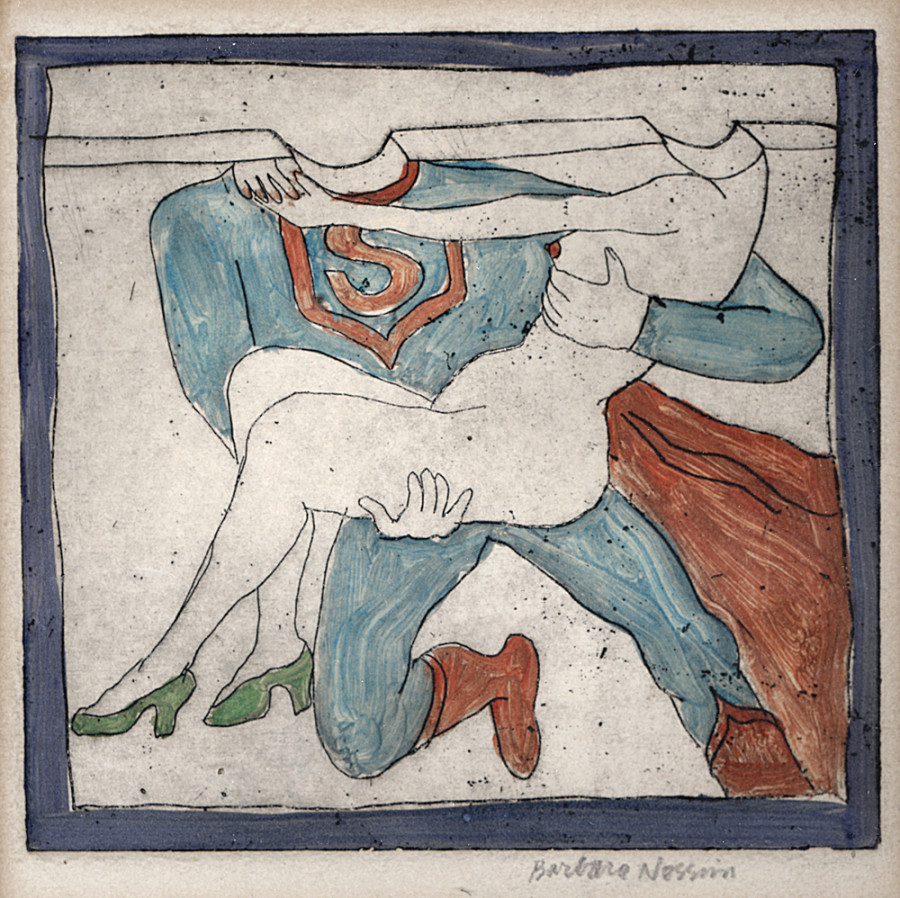 Barbara Nessim. Superman Carrying Girl with Green Shoes, from the series Coney Island in the Winter, 1963. Monotype etching; hand-colored with oil. Victoria & Albert Museum, E.11-2013.
What makes Nessim so endlessly compelling -- both in her work and in her life -- is her combination of hard work and nonchalance that yields revolutionary results almost incidentally. Nessim wanted to create art, and so she kept creating, without thinking too much about the climate and expectations for women at the time -- both of which she ended up altering. "Somehow, in the '60s through to '90s, and perhaps even beyond that time, there is a popular belief that artist should be starving and even suffering. I never had that thought."
"I always felt that if you do something you love, you should find a way to get paid for it. That is one reason I became an illustrator. I could always do work on my own and if I was lucky enough to sell a painting and make some extra money that was good fortune. Illustration didn't come naturally to me -- I worked very hard to understand how to make my illustration work more 'commercial' and acceptable. My natural inclination and ability is towards the fine arts, which I continue to do and always have done throughout the years."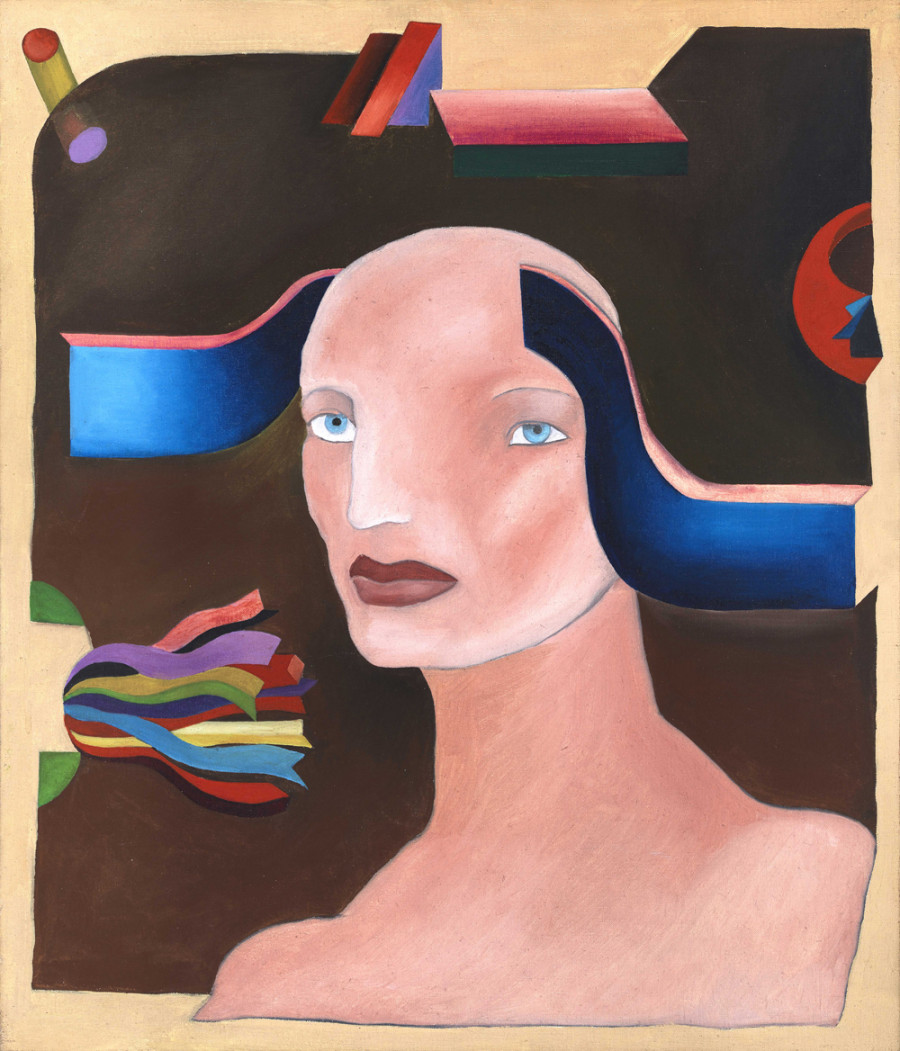 Barbara Nessim. Woman Thinking Blue at a Party, 1966. Oil on canvas. Courtesy of the artist.
Today, visions of Nessim's artistic influence are often coupled with two facts: first, that she shared an apartment with author and activist Gloria Steinem. And second, that Nessim was one of the earliest illustrators, male or female, to create work digitally. "The first time I started working on the computer I knew this was important," she told HuffPost. "The more I learned about it I knew we were in for a big change. This change was not just in art but also in all areas of work and life... I taught myself, by reading the manual, how to use the primitive shapes provided by the computer program, to make art. At that moment, I knew that computers were a radically important shift from the 'norm', which would be life altering and completely change the way we were all working and doing things. Instinctively people don't like change. It took more than 20 long years for it to mature and for people not to consider it a 'fad.'"
Nessim's exhibition, which was on view at London's Victoria & Albert Museum last year, features 150 of her works, ranging from recent sketchbook creations to her early digital explorations. The three-floor retrospective is now on view at the Bard Graduate Center in New York, where they will live until January 11, 2015. And the best part is, although Nessim is over 50 years into her artistic practice, she doesn't seem to be slowing down. "Since I love what I'm doing, why should I stop at any age?" she told TimeOut New York. "There is nothing else I'd rather do."
Calling all HuffPost superfans!
Sign up for membership to become a founding member and help shape HuffPost's next chapter
BEFORE YOU GO