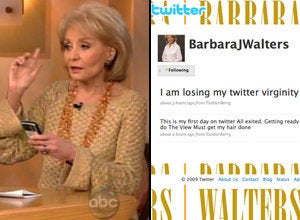 Barbara Walters has lost her "Twitter virginity."
On "The View" Monday, Walters announced that she's the latest media personality to embrace the service, tweeting at twitter.com/barbarajwalters.
Walters had tweeted before the show, saying, "This is my first day on twitter All exited. Getting ready to do The View Must get my hair done."
Then, on-air, she demonstrated using Twitter on her BlackBerry (through an application called TwitterBerry) and announced, "I am losing my twitter virginity."
Whoopi Goldberg is now the only co-host of "The View" who does not use Twitter, and she ended Monday's segment by begging Twitter founders to shut down a fake @whoopigoldberg account.
"People at Twitter, I've written you, I've begged you," Whoopi pleaded, "someone's signing me up and I didn't want it done. Please take it down 'cause it's not me!"