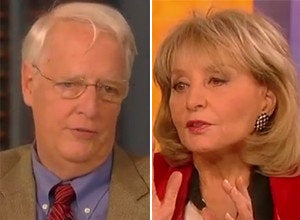 Barbara Walters icily discussed her history of miscarriages during a segment on "The View" that literally caused co-host Whoopi Goldberg's jaw to drop.
The show was hosting Joe McGinniss, author of a controversial new book on Sarah Palin. Walters was clearly not a big fan of the book. She brought up what she considered to be "the worst thing" about it: the suggestion, which McGinniss discusses, that Palin's youngest son may not actually be hers. In his reply, McGinniss accidentally went down a very awkward path.
"Barbara, you've been pregnant, haven't you?" he asked. "You've been in labor." As Walters started to answer, Goldberg looked amazed, and turned to the equally stunned crowd. "No, I haven't [been in labor]," Walters answered. "Do you want to get into my life?"
"I would ask a different question, Joe," Elisabeth Hasselbeck said.
"Just because you've brought it up, I've had three miscarriages but I know what it's like to be pregnant," Walters said. (This is a well-known fact about her life.)
McGinniss seemed fairly unfazed, but Sherri Shepherd put a deft cap on the conversation. "If you write a book on Barbara, you better live next door to her," she said. "You don't know this subject at all."
(For what it's worth, McGinniss said he didn't think Palin had faked her pregnancy in 2008. But he still felt it was "responsible" to cover the issue because thousands of people thought she had.)
WATCH:
Popular in the Community