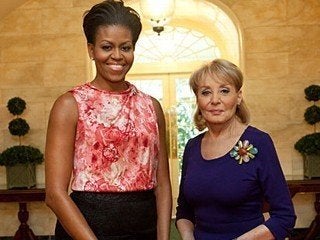 Barbara Walters selected Michelle Obama as her most fascinating person of the year.
Their interview took place December 1 at the White House.
"First Lady Michelle Obama is shaping up to be much more than the sum of her parts," Walters said.
The First Lady described the last year as "a whirlwind," and said that her biggest goal as First Lady is to lead a conversation on the health of America's children.
Mrs. Obama -- who wore a sleeveless dress for the interview -- demurred when Walters asked about her arms, but said that her exercise routine grew partly out of "revenge" against her husband.
"I'm married to a man that has worked out all of his life and regardless of how busy he is he finds the time to work out," she told Walters. "There was a point at which I got a little resentful of that."
Asked if she has any guilty pleasures, Mrs. Obama said she indulges in "really bad TV."
The First Lady added that she still has "pinch me" moments even nine months after moving into the White House.
"There are moments when you're driving up to the White House at night," Mrs. Obama said, "and the white lights are shining on this beautiful home, and you pull up to it, and somebody opens up the door and says, "Welcome home.' Those are the times when you think, 'Really? Wow? OK. Here we go.'"
Popular in the Community