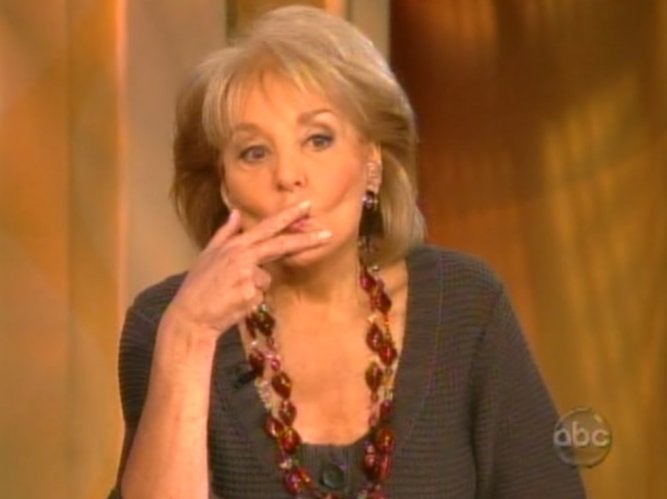 Barbara Walters, who last week announced that she had an affair with Senator Edward Brooke in the 1970s (the announcement will air on Oprah tomorrow) and whose book, Audition, is published this week, has given several interviews lately to hype her book.

Among the worst was the high-handed disrespect of Frank McGee, the anchor of "Today" when she was emerging as a well-regarded reporter on a program that had previously designated its female contributors Today Girls. Mr. McGee went to NBC management and demanded that she not be allowed to ask any questions of serious newsmakers but be relegated to the "girlie interviews."

"I always had this policy: work hard, don't whine," Ms. Walters said. "This was one of the few times I had the gumption to say: After what I've done, you can't do this to me."

Begrudgingly NBC agreed to allow Ms. Walters to ask the fourth question after Mr. McGee had had the first three.

That restriction led her to do interviews outside the "Today" set, and she went to China with President Richard M. Nixon in 1972. (Mr. McGee's comment: "China's not far enough.") Later she memorably moved herself center stage during the Mideast peace talks between Anwar Sadat and Menachem Begin, "the most interesting time of my career," she said.

By then she was at ABC News after a bitter parting from "Today." She said, "Unlike Katie, there were no going-away parties for me," connecting her departure to become the first woman on an evening newscast to the current situation of CBS's Katie Couric.
The Carter interview also reveals that Barbara Walters and Edward Brooke have corresponded about her announcement of their affair, and that he sent her a "very nice note."

Her display of equanimity includes Rosie O'Donnell, a panelist last season on Walters' weekday ABC chat show, "The View," who routinely picked fights with her fellow panelists and the world beyond.

"We had our ups and downs," Walters said, "but I have enormous affection for Rosie, and I think she's a great talent."
...

Growing up, she found her insecurity was made all the worse by her older sister, Jackie, who was mentally disabled. In that less enlightened era, Jackie's condition had a spillover effect on Barbara, stigmatizing both of them in the eyes of other kids.

"It was a lonely, isolated childhood," Walters said.

The complicated feelings that churned long after her sister's death in 1985 inspired "Audition."
Related
Popular in the Community