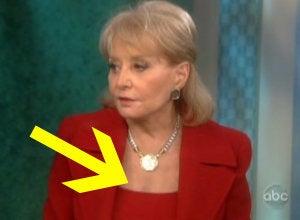 Barbara Walters returned to TV Tuesday as "The View" marked the premiere of its 14th season.
With one exception — President Obama's July appearance on the program — Walters had been absent from "The View" since her heart surgery in May.
Walters said she plans to discuss the surgery more on Wednesday, but she showed off her surprisingly difficult-to-notice scar on the show Tuesday morning.
"If you want to see my scar, you are looking at it," Walters said.
"I don't see it," Sherri Shepherd said.
"Do you have makeup on it?" Joy Behar asked.
"I thought that was cleavage!" Whoopi Goldberg added.
Even Elisabeth Hasselbeck, who was sitting next to Barbara, was unable to see the scar, which Barbara said had little makeup on it but was difficult to see even without makeup.
PHOTO: