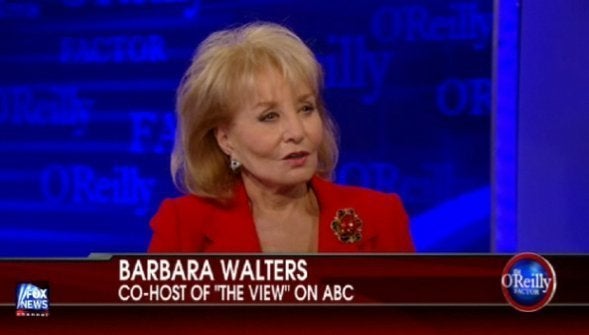 Barbara Walters appeared on "The O'Reilly Factor" Wednesday night to promote her "10 Most Fascinating People" special on ABC, which was set to air Wednesday night as well.
Walters told Bill O'Reilly that he was so jealous of his Fox News colleague, Glenn Beck, who was named to her list.
"Doesn't this just run down your whole show, picking him?" O'Reilly said of the Beck choice.
Walters, who described Beck as a "pussycat," told O'Reilly, "You are so jealous."
"You know, you're absolutely right, I am so envious," O'Reilly said.
Walters said that Beck is fascinating because of his rapid burst into American consciousness.
"Two years ago, we didn't know who this guy was," Walters said. "Has a terrible childhood, mother commits suicide, he's a drunk, he's on drugs, pulls himself together...and is now, in spite of your jealousy, one of the biggest voices on television in a time period not as good as yours, Bill."
Walters added that in person, Beck was "really very sweet."
Popular in the Community