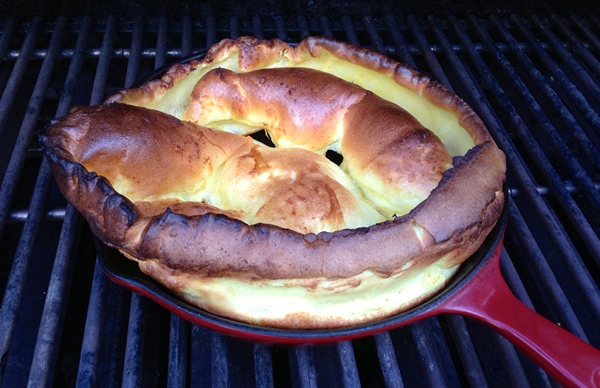 "Barbecue: It's not just for breakfast anymore." I found this line in The Kansas City Barbecue Society Cookbook, and it serves as a reminder that while most of us grill for lunch or dinner, breakfast is a damn fine excuse to light your grill, too.
If you think fried or baked eggs are good, wait until you try them infused with wood smoke. If you like bacon sizzling from the frying pan, wait until you try it hot off the grill. (Added advantage here -- you keep the spattering fat off your stove.) If you cherish peace and quiet, try a grill session at the break of dawn.
So how do you grill for breakfast? Let me count the ways:
You grill toast over a charcoal or wood fire. (Hey, the grill was the original toaster. Think Italian bruschetta -- bread "burned" over a wood fire.) Garlic may be a bit rude for breakfast, but you can certainly rub the hot toast with a cut ripe pear or peach and butter.
Indirect grill Dutch pancakes, tossing a handful of apple or cherry chips on the coals for an unexpected whiff of wood smoke.
Try shirred eggs on the grill. Crack eggs into a buttered skillet and top with heavy cream, grated Parmesan cheese, fresh herbs, and homemade bread crumbs. Crumble prosciutto "bacon" (fried ham) on top as an optional ingredient.
Hot smoke a center-cut salmon fillet at 225 degrees for 1 1/2 hours, or until it flakes easily when pressed with a fork. Serve with cream cheese and bagels toasted on the grill.
Assemble fruit kebabs on bamboo skewers using pineapple chunks, peaches, or nectarines. Brush with unsweetened coconut milk and dust with cinnamon sugar. Grill lightly, turning as needed.
Dust a one-pound sausage chub with your favorite barbecue rub (add a little finely ground coffee to the rub for that connection to morning) and indirect grill using medium heat (300 degrees) until the internal temperature is 160 degrees. Slice and serve with eggs or French toast.
If you love firing up the grill to make breakfast, share your photos and recipes on the Barbecue Board and make us hungry at daybreak.
CHECK OUT THESE BOOKS BY STEVEN RAICHLEN: