Even though I have dug a path through the snow to my grills, I am already planning my agenda for spring. So many new foods to try! So many new techniques to test! If you're like me and love cooking outdoors because everything tastes better when cooked over open flame, here is a list of New Year's Resolutions for you. What are your culinary plans for 2011?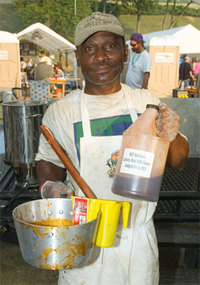 1) I resolve to make all my own barbecue sauces, spice rubs, marinades, and salad dressings from now on. I will stop wasting money on sweetened catsup with more preservatives and additives than food. I'm a grownup. I will make my own sauces that taste exactly as I like them and when people ask me for the recipe, I will say "It's a secret." Then I will give them a bottle with my own personal label. I will start by learning about the different kind of sauces and click the links for recipes.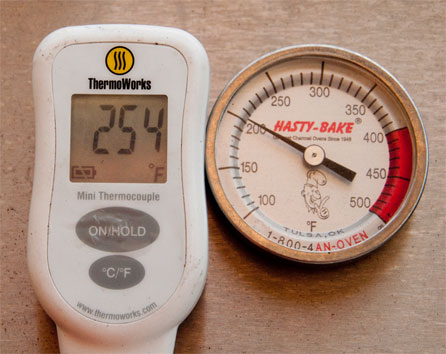 2) I resolve to buy two good digital thermometers, one for my grill/smoker/oven and one for my food. I will outgrow my teenage macho attitudes and wake up to the fact that cooking is all about temperature control, and without good thermometers I have no idea what I am doing and cannot even dream of upping my game. I will understand that the idea that I can measure temp by holding my hand over the grill and counting "onethousandone, onethousandtwo" is like trying to measure how fast my car is going by putting my hand out the window. I will begin by putting duct tape over the worthless thermometer that the grill manufacturer inserted in the lid of my cooker because bimetal dial thermometers are often off as much as 50°F.
Then I resolve to stop poking meat, my hand, or my nose to decide when dinner is done so I will never again have to apologize for serving overcooked food or risk the lives of my guests by serving undercooked food. I will start by reading this Buying Guide to Thermometers.
3) I resolve to master 2-zone setup. I will learn how to set up my grill so there is a hot direct-heat zone and a warm indirect-heat zone. This is probably the single most important technique an outdoor cook can learn. I will start by reading this article on 2-zone cooking.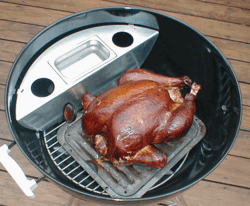 4) I resolve to skip the custom made Italian suits, the breast implants, and the fancy red sports car. I will either buy a smoker or learn how to make my grill into a smoker because the delicate, whispy, seductive scent of hardwood smoke is a potent pheromone. I'll save a ton of money, and I might just get lucky. Click here for a buying guide to smokers or click here to learn how to set up your gas grill for smoking, or your charcoal grill for smoking. If I have a trusty ol' Weber Kettle, I will buy the amazing and inexpensive Smokenator (shown here).
5) I resolve to master the backyard cook's canon: Ribs, steak, grilled chicken, salmon, burgers, and hot dogs. This means I will learn to place these dishes on the table dishes properly dark brown on the exterior (which means no carbonization), and properly done on the interior (which means tender and juicy).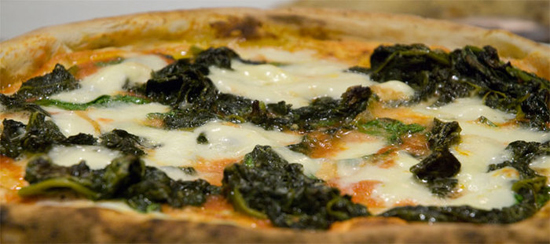 6) I resolve to overcome my fear of flour and master four simple dough recipes: Pizza dough, a simple crusty rustic bread loaf, an all purpose pie dough for desserts and pot pies, and a cookie dough. I will begin by mastering pizza on the grill knowing full well that once I have, I will never be able to go out for pizza again, and certainly will never be satisfied by carryout or delivery pizza.
7) I resolve to keep my knives sharp. I will never again smush a tomato again by trying to slice it. I will keep an inexpensive knife sharpener and a honing steel around the house, but I will do as professional chefs do, and twice a year at least, I resolve to take my most important kitchen tools to a sharpener for a good true edge. Better still, I'm gonna splurge on a good electric sharpener. If I'm going to whack a finger off, I want it to come off cleanly.
Get More Meathead
Read more recipes, techniques, tips, product reviews, and reports from Meathead's kitchen and grill deck at
AmazingRibs.com
8) I resolve to read ingredient and nutrition labels.
In the early 1800s the French gastronome Jean Anthelme Brillat-Savarin knew whereof he spoke when he said "Tell me what you eat, and I will tell you who you are." I hereby resolve to be made up more of meat, bread, pasta, veggies, fruits, nuts, and grains, than anti flocculators, buffering agents, anticaking agents, antioxidants, Blue No. 1, sulfur dioxide, EDTA, BHA, BHT, formaldehyde, propylene glycol, ammonia, methylchloroisothiazolinone, or 2-bromo-2-nitropropane-1,3-diol. Here are authoritative guides to
nutrition labels
and to
ingredient labels
.
9) I resolve to grow things I can eat. I will start with fresh herbs on my window sill, even if I live in a condo, and if I have room on my balcony, back yard, or even front yard, I will grow veggies. I will start by reading this article on herbs and spices.
10) I resolve to grill veggies and fruits like carrots and pineapple because everything is better from the grill. I will start with this marinara sauce on the grill recipe.
11) I will love my veggies so much that I will go one day a week without meat. I know that too much of anything is bad, and that goes for veggies, but it just might be healthy and economic for me to cut back a bit on the saturated fats, it might save me a few bucks, and it might force me to learn to cook veggies. I will check out the website of Meatless Monday. This is not a site run by vegan zealots. It is run by the Johns Hopkins Bloomberg School of Public Health and it makes sense, even to a Meathead.
12) Before I go meatless on Monday, I resolve to make Sustainable Sunday a ritual. Every week I will gather friends or family around me for a Sunday feast that I will cook from scratch. For this meal I will seek out fresh, local, sustainable foods, at the farmer's market on Saturday. Here's a database of practically every farmer's market in the US.
All text and photos are Copyright (c) 2011 By Meathead, and all rights are reserved
For more of Meathead's writing, photos, and recipes, please visit his website AmazingRibs.com
Calling all HuffPost superfans!
Sign up for membership to become a founding member and help shape HuffPost's next chapter