The Barbi Twins have once again lent their fame and faces to support the animal welfare cause. This time, Shane and Sia Barbi appear on the new poster for the documentary, Earthlings.
The 2007 documentary chronicles the day-to-day practices of some of the largest industries in the world, all of which rely entirely on animals for profit.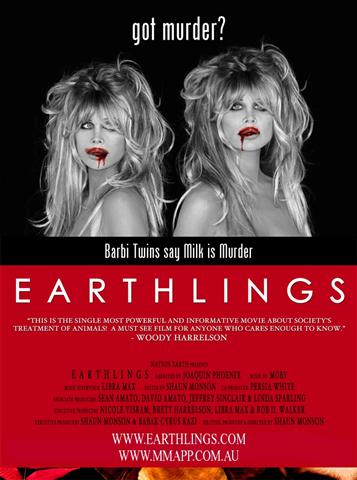 MMAPP, an entertainment management company based in Australia, is behind the Earthlings poster which precedes the movie's first screening in the country on August 7, 2010. Though the Barbi Twins live in the U.S., they'll be the poster children for Earthlings' nationwide distribution deal in Australia and New Zealand.
Shane and Sia want the public to know that not only meat is murder, but that milk is, too. "Everyone has the right to eat and drink what they want, but it should no longer be your right when what you eat and drink feels the same pain we feel," said Shane, referring to the atrocities of the dairy industry covered in the documentary.
"Earthlings reminds us that animals feel the same pain and emotions we feel. The movie teaches us that we should respect animals, not exploit them," added Sia.
Earthlings is directed by Shaun Monson, and narrated by Joaquin Phoenix with music by Moby.

REAL LIFE. REAL NEWS. REAL VOICES.
Help us tell more of the stories that matter from voices that too often remain unheard.