Barbie's about to get medieval on you, and she's got the armor to prove it.
The man behind the Kickstarter campaign, Jim Rodda, said this may be a first for the iconic American doll, which has drawn criticism over the years for her unrealistic proportions and a "princess" image that some say is anti-feminist. Sales of Barbie declined 13 percent at the end of last year, compared to 2012.
"Barbie has had many occupations over her long and storied career," Rodda wrote in the description of his Kickstarter. "Astronaut, veterinarian, pinup, and princess more times than I can count."
"She has not, to my knowledge, [dressed up as] as Brienne of Tarth until now," referring to a female knight in HBO's "Game of Thrones."
Rodda told The Huffington Post he set out with the simple goal of making "cool armor" for Barbie, but he realized in the process that doing so could promote a version of Barbie that's more gender neutral.
"People have certain expectations for Barbie," Rodda told HuffPost over the phone. "I don't want to stray too far from that. I didn't want to make a suit of armor that's 100 percent historically accurate and would work in battle. I wanted to make something that Barbie would be pleased to show up in. It's got to be fashionable."
Rodda has no actual affiliation with Mattel, the company that makes Barbie dolls. And Mattel itself did not respond to The Huffington Post's request for comment.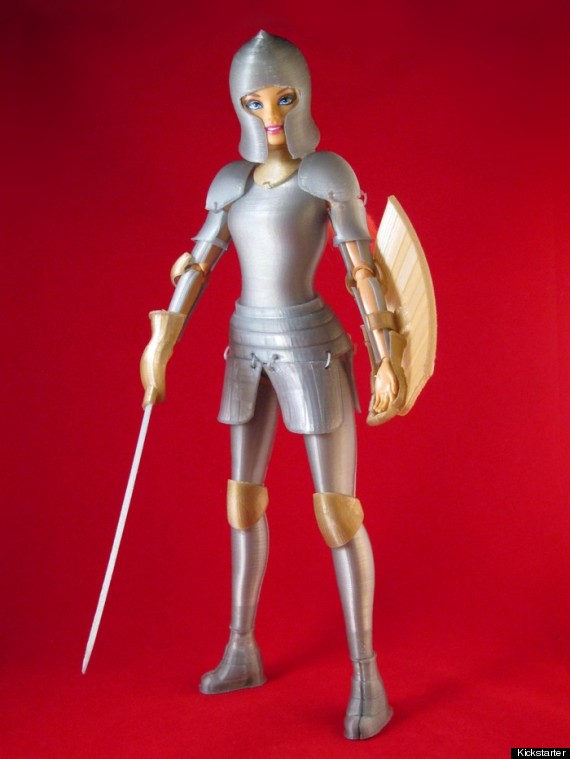 Rodda hopes to reach his $5,000 Kickstarter goal by the April 12 deadline.
Rodda's campaign follows in the footsteps of "Normal Barbie," a 3-D printed doll whose proportions mirror the average measurements of a 19-year-old woman. The campaign has raised more than $400,000 on CrowdtiltOpen.
Depending on the success of this Barbie armor, Rodda told HuffPost that he may one day design armor for Barbie's more realistic counterpart.
Support HuffPost
The Stakes Have Never Been Higher
Related
Popular in the Community