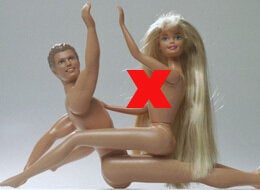 Barbies just got a whole lot creepier thanks to revelations about the doll's designer Jack Ryan in Jerry Oppenheimer's new book "Toy Monster: The Big, Bad World of Mattel." Ryan died in 1991.
According to the New York Post's Page Six:
Staging orgies at his Bel-Air mansion, Ryan, whose wives included Zsa Zsa Gabor, surrounded himself with busty Barbie clones, including Gwen Florea, who was the "voice of Barbie" in a line of talking dolls. The book quotes her: "He once said to me he loved me being tall so he could stick his nose in my boobs when he hugged me."

Ryan's friend, Stephen Gnass, confides to the author: "When Jack talked about creating Barbie . . . it was like listening to somebody talk about a sexual episode, almost like listening to a sexual pervert . . ." Ryan took calls at Mattel from a madam and patronized "high-class call girls to streetwalkers," including a "very thin and child-like" hooker. The book claims that Ryan "somehow rationalized that he was the only man in her life" until he was diagnosed with gonorrhea.