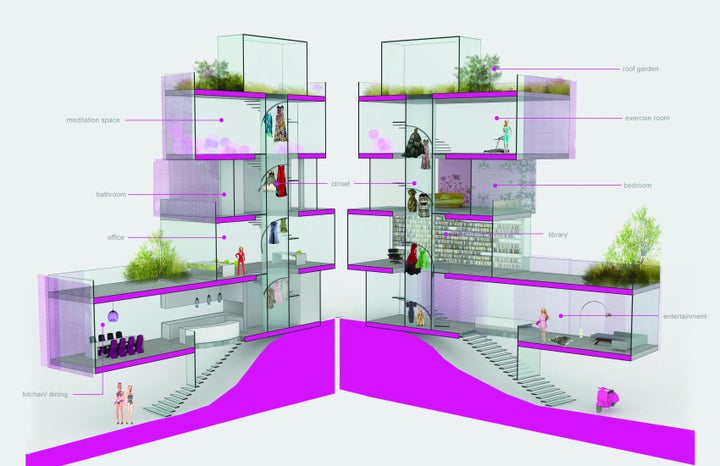 With a collection of hot pink sports cars and her endless wardrobe, Barbie is a far cry from a sustainability role model.
But now it looks like she may be getting an eco-friendly dream house, after Mattel and the American Institute of Architects (AIA) unveiled the winning entry of the AIA Architect Barbie® Dream House™ Design Competition.
Decked out with solar panels, operable shading and bamboo flooring, this dream house also comes with a low-flow toilet (which in real life could save about 4,000 gallons of water per year) and sink fixtures, all made from locally sourced materials.
Barbie also gets a 1,500-square-foot entertaining space and open chef's kitchen, a separate library and client-meeting room, a full-floor "inspiration room," a greenhouse on the roof, and a landscaped garden for her pets.
Recent Harvard graduates Ting Li and Maja Paklar both won the most public votes for their collaborative effort in designing the dream house.
The AIA and Mattel teamed up for the design competition in honor of "Architect Barbie," the newest addition to the career-themed "I Can Be" series, hitting stores August 15.
Mattel has no plans to turn the blueprint into either a dollhouse or a real mansion, but experts say the house would sell for around $3.5 million if a life-sized version were built. According to Mother Nature Network, Mattel will instead make a $1,000 donation in their names to the Charter High School for Architecture and Design in Philadelphia.
"The intent of the partnership with Mattel to promote the launch of Architect Barbie was to engage and inspire young girls to experience the world of architecture and the range of possibilities that design thinking offers," said AIA President, Clark Manus, FAIA.
The competition comes only a month after Barbie got dumped by Ken in a Greenpeace International campaign to raise awareness of Mattel's packaging, supplied in part by Asia Pulp Paper, which reportedly sources materials from Indonesia's depleting rainforest.
Related
Popular in the Community