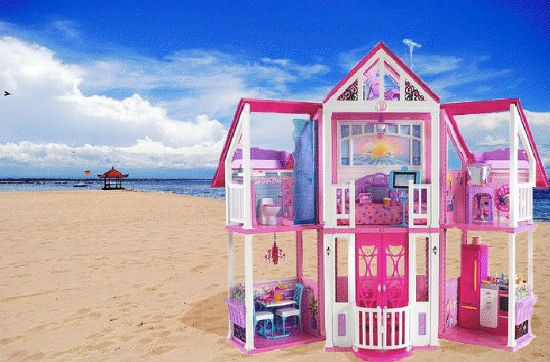 Beach at Grand Mirage-BALI taken by Donald Man, adapted by Movoto
Every couple of years there's a dustup over Barbie's image and how it affects our society. The most recent example is 21-year-old Valeria Lukyanova, whose claim to fame is that she's a real-life Barbie doll.

The jury's still out on whether Lukyanova, a native of Ukraine, is the real deal, as many suggest the precariously balanced woman uses photo editing software in the scantily clad image she posted online, or that she used plastic surgery to sculpt her body.

As long as Barbie remains a prominent cultural icon this topic will continue to rear its head, but it got me thinking about another Barbie icon that's not nearly as controversial -- the Barbie Dream House.

The first Barbie Dream House appeared in 1960, a year after the "teen-age fashion queen" was introduced to the American public. Unlike its popular image today, the first Barbie Dream House was a glorified studio apartment made almost entirely from cardboard

Since then Mattel has produced a variety of Barbie houses that have varied in size. Among the most memorable is the 1979 Barbie Dream House. This six-room mega-dollhouse sat 4 feet long by 3 feet high and came with a plethora of accessories, including a refrigerator, microwave/oven range, living room sofa, chairs, end table and vanity.

It also came with a hefty price tag at just shy of $110. That'd be about $350 in 2012 dollars.

Needless to say, Barbie had come a long way from her cardboard furniture.

Or had she?

Recently, I asked the chief economist at Movoto, an online real estate brokerage in San Mateo, to figure out how much a real-life Barbie Dream House would cost. What he came back with shocked me, but not because the fictional house would be worth millions, or that it would be giant mansion.

In fact, Barbie's dream house, if anything, would be modest -- extremely modest.

Using Movoto's access to multiple real estate sources, the brokerage estimated a real-life Barbie Dream House located in Malibu, Calif., would cost about $107,000. Why such a small price tag? Barbie's dream house would have a laughably small 126-square-foot footprint.

No, really.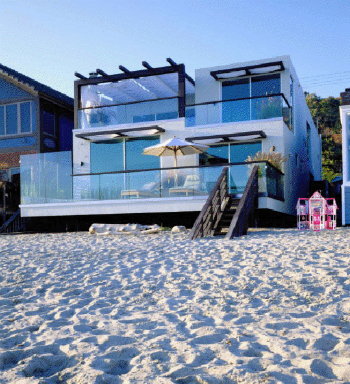 Original photo taken by Kate Gale, adapted by Movoto
Size Matters in Real Estate

When deciding on a home to value, there are a lot of Barbie abodes to choose from. Movoto picked the Barbie Malibu Dream House because it came with a location, and because the American icon is linked to the Golden State.

At $130 the doll house has three stories, six rooms, a sundeck and an elevator. When said and done, Movoto estimated the toy sits at about 3.5 square feet.

The next hurdle was scaling the house. Luckily, that's not much of a problem. Barbie dolls are made to playscale, or one-sixth the size of a person. With this in hand, we were able to figure out the doll house's actual size -- about 126 square feet.

It's Small and Cheap

But that's only half the story. Remember, my original mission was to figure out the dream home's cost.

Movoto tackled this question from two fronts. To come up with the $107,000 figure Movoto estimated the median price per square foot of a house in Malibu was $854 and then multiplied this by the house's supposed real-life dimension.

The other way to tackle the questions was to find a home that resembles a Barbie Dream House. But there's bad news: Barbie's dream house probably doesn't exist, at least not in the configuration Mattel created. It would more likely be a dream condo -- a fancy condo, but a condo, nonetheless.

Using Movoto's access to multiple listing sites, the brokerage located several houses that fit the spirit of Barbie's Dream House. This meant one-bedroom, one-bath houses in Malibu. The price range on these three properties ranged between $395,000 and $1 million.

Here are the properties:
● 26668 Seagull Way
● 23901 Civic Center Way
● 22548 Pacific Coast Highway

So, there it is. A real-life Barbie Dream House might not turn anyone's head. But for a budding career woman who loves the beach, she's not doing bad.