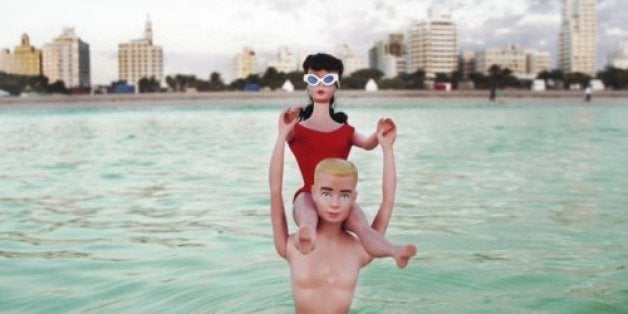 Friends lounge poolside, showing off carefully styled hair and colorful one-piece swimsuits. Though they're kicking back, their poses are rigid, and they lean at uncomfortable angles. Come to think of it, their proportions are off, too; their legs stretch on and on, and their necks are implausibly long and slender. This isn't a photo of real-life bombshells, or even a carefully retouched image of impossibly beautiful models -- it's a picture of two vintage Barbie dolls, the original standard-makers of unobtainable beauty.
Photographer David Parise has been capturing images of Barbies since the doll's 50th anniversary six years ago. "I was in a bookstore and saw a retrospective on her and I noticed the vintage clothing on the early '60s dolls," he told The Huffington Post. "I worked in the garment industry for many years and there is a real quality in the clothing that doesn't exist in the newer dolls. I thought they would look great with Miami as a backdrop with the Art Deco Hotels and the beautiful beaches."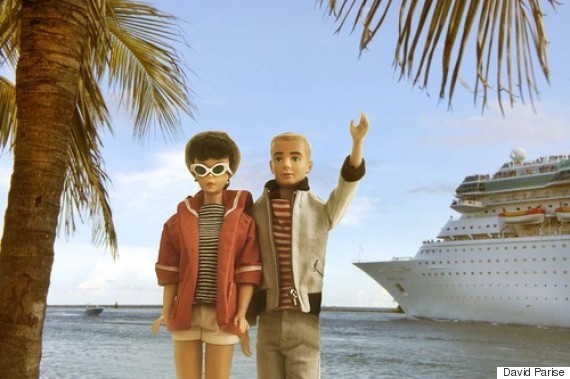 Parise has always been a photography hobbyist and has long wanted to expand his interest to capturing images of miniatures. He particularly admires the work of Michael Paul Smith, who uses models to construct tiny towns of yore, than he then photographs. But unlike Smith, Parise approaches his work with levity. "All of us loved the glamorous and innocent fun lifestyle of the '60s or at least what we imagined it to be," he writes on his website. "I, like many, are nostalgic for those simpler times. "
It'd be natural to extrapolate an air of sarcasm in this last remark, as many viewers of Parise's work have. He has stories about gallery show attendees remarking on the meaning on his work -- "something about the plastic society we live in," he says. "But really I just love to make people laugh and feel nostalgic. I have no serious message!"
REAL LIFE. REAL NEWS. REAL VOICES.
Help us tell more of the stories that matter from voices that too often remain unheard.
BEFORE YOU GO
PHOTO GALLERY
These Amazing Before-And-After Drawings Show The Real Value Of Practice