An armless bodybuilder in Phoenix can't bench press even a single pound, but few people in any sport can match her for inner strength.
Barbie Thomas, 37, lost her arms when she was two and climbed upon a transformer near home. As she climbed up, she grabbed on the wires and the electricity bolted through her body and burned her arms all the way through the bone.
Although her limbs had to be amputated at the shoulders, Thomas adapted to her situation almost intuitively.
"After I lost my arms, my mom was frantic about what was going to happen to me," Thomas told The Huffington Post. "But I put my legs out to hug her like I had already decided what I was going to do.
"I think it happened young enough that it was easier for me to adapt."
Adapt she did. She does almost everything a person with two arms can do, including driving, cooking and writing emails.
BARBIE THOMAS: ARMLESS BODYBUILDER (Story continues below)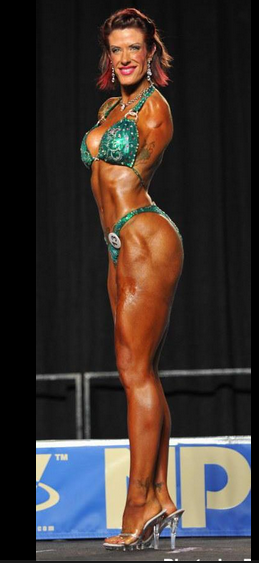 Barbie Thomas
As a teenager, she competed on her high school swim team and participated in dance and soccer. Starting in 2000, she started training as a bodybuilder in hopes of becoming a champion.
"When I first decided I wanted to compete, I talked with an organizer who told me I'd never win," she said. "When someone says I can't do something, it lights a fire under me."
There have been times when Thomas has won -- but that was when she was the only one competing. Her greatest victory came in March 2012, when she came in fifth out of six competitors.
"That was the first time I finished ahead of another person," she said.
This year, she admits competing has been harder for her, in part, because she separated from her husband last October. Still, she hopes to finish higher in future competitions and is working on a routine that will surely wow judges: A complete flip.
"I want to add that, but I haven't done that in competition because I freak out when I'm on new surfaces," she said.
When Thomas isn't training, she is a stay-at-home mom who takes care of two teenage boys, ages 13 and 17. On the outside, it might seem that having a mom who has managed to do so much despite her physical limitations would basically inspire her boys to at least do chores around the house.
"They're teenage boys. I still have a hard time getting them to do chores," she laughed.
In addition to bodybuilder, Thomas dabbles in modeling and hopes to stretch her talents into acting, noting that many limbless people are in demand for Hollywood movies because they can be used in dismemberment scenes.
"I was actually up for an acting job when Steven Spielberg was making the film, 'A.I.'" she said. "They wanted me to be a robot but I was pregnant with my second child and I don't think they wanted a pregnant robot."
Thomas is also moving into motivational speaking and hopes what she has accomplished on a personal level inspires others to reach for their goals.
"I don't want people to feel sorry for me," she said. "I feel like God had a plan."
Related
Popular in the Community