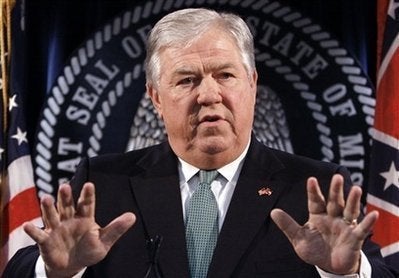 Governor Haley Barbour said on Sunday that he could not "just say flatly no" about a run for the Republican presidential nomination in 2012. But he stressed that both he and his wife would be greatly "surprised" if he ultimately chose to throw his hat in the ring.
Speaking to CBS's "Face the Nation," the Mississippi Republican left just enough of a window open on the presidential front to fuel speculation that he might mount a bid.
"I don't have any plan to. I don't have any intention to," he told Bob Schieffer. "I'm not going to give any thought to running for anything until after the 2010 election. I'd be very surprised if I ended up running for president, but I can't just say flatly no. But I would be very surprised. My wife would be even more surprised."
Barbour, who has taken over the chair of the Republican Governor's Association after Gov. Mark Sanford's resignation from that post, has been increasingly discussed as a GOP hopeful for 2012. And with other potential nominees suffering either from political or ethical miscues, his name has been bandied about even more in recent weeks.
The Mississippi Republican's resume of fiscal and social conservatism would seem naturally appealing to the GOP base. That said, Democrats who are already looking towards the next presidential election say they would love a Barbour candidacy. Not only is he another white, aging politician from the South, but he's a long-time Republican hand with connections to some of the GOP's most nefarious figures, including Jack Abramoff and George W. Bush.
On NBC's "Meet the Press," another potential GOP candidate, former Massachusetts Gov. Mitt Romney, dismissed questions about mounting another run at the White House in 2012. "That is way behind my horizon at this point, thinking about 2012," he said.
Popular in the Community