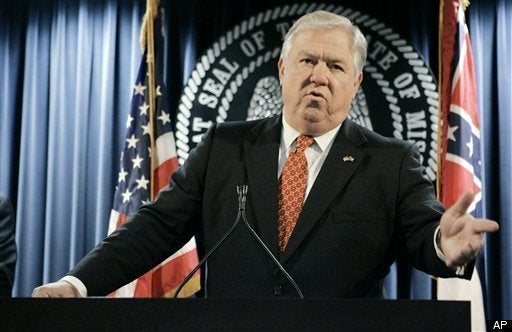 WASHINGTON -- He is the antithesis of President Barack Obama: a short portly white conservative from a small town in the Deep South. But for that very reason -- among many others -- Mississippi Gov. Haley Barbour is running hard (if undeclared) for the 2012 Republican presidential nomination. And he, not Sarah Palin, is the big winner in last night's election returns.
Barbour, a former head of the Republican National Committee and a veteran pol of 30 years standing, is now chair of the GOP's governors' association and, in that role, has spent the last year wining, dining and advising the party gubernatorial candidates who swept to victory last night in one of the biggest electoral waves in years.
Publicly, Barbour deflects questions about his goals but friends have no doubt. "He's had dinner with and raised money for and gotten to know all of the governors," said his friend Julia Reed, the prominent New Orleans writer and daughter of Southern GOP founding father Clarke Reed. "Sure, that was for the RGA, but he's also been serious about running for a long time."
And the candidates who won last night could be crucial to him, just as a phalanx of governors was to then-governor George W. Bush of Texas in 2000. The new governors in key places include: Terry Branstad of Iowa, an old Barbour ally from the Bush One days; Nikki Haley in South Carolina (even though she was brought to prominence by Palin, Haley was careful this morning to declare her independence for 2012); John Kasich in Ohio (another long-time ally from his days in Congress); Tom Corbett in Pennsylvania; Scott Walker in Wisconsin; Rick Snyder in Michigan; Nathan Deal (another Hill buddy); and Rick Scott in Florida.
Of course there are likely to be other governor (and former governor) candidates. The possibilities include: Mitt Romney, Tim Pawlenty, Chris Christie, Mitch Daniels, Bobby Jindal and -- of course -- Sarah Palin. But in terms of access to and friendships with the powers that be in the states and big money in Texas, Washington and elsewhere (he's worked with Karl Rove for decades), Barbour has to be considered a leading candidate of the professional class.
He gets generally good marks for his handling of Mississippi's crises in Katrina and the BP oil spill and has the widest circle of contacts in what remains the homebase of the post-Reagan GOP -- the South.
Whether his status as perhaps the party's preeminent insider will be a calling card or a millstone in 2012 is the right question. But Barbour seems intent on finding out the answer.
Popular in the Community