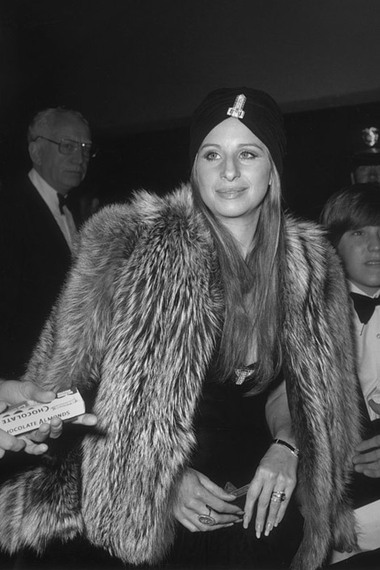 When I read that Barbra Streisand's new album comes out on August 26th and she's going on tour at age 74, I just had to pay tribute. Not because I am such a fan of her music--I am in awe of her voice, just not her repertoire. But I am a huge fan of her: her fearlessness, her humor, her originality, her style.
I still remember my parents coming home from the Blue Angel, a nightclub in Manhattan, in 1962, exclaiming about this "ordinary-looking" girl with the extraordinary voice. They went there to celebrate their wedding anniversary. I was a small child, but I recall the story because they told it so many times in the years that followed as Ms. Streisand's star ascended: how she was like a little street urchin, wearing "ratty second-hand clothes," who came from nowhere (Flatbush, Brooklyn), transfixing the audience with the power of her voice. My mother said she felt like she discovered Babs!
At that time, popular culture primarily celebrated women with "regular features" --in other words, non-ethnic looking women. Yes, there were exceptions. Lena Horne was a noted African-American chanteuse and beauty. The Italian film star Sophia Loren, who exuded (and exudes!) exoticism and sensuality, was nevertheless encouraged to "refine" her long nose.
Then there were the top models of the day, Jean Shrimpton and Twiggy, both of them doe-eyed Brits with button noses.
Barbra was something else. A home-grown talent from the outer boroughs who had the chutzpah to seize the spotlight with no concessions. With her raffish style and aquiline schnozz, she broke the beauty barrier.
In 1969, my mother was working in New York for fashion designer Arnold Scaasi when he was hired to create Streisand's wardrobe for the movie On a Clear Day You Can See Forever. Mom was a hybrid wardrobe assistant/professional shopper who was thrilled to be associated with the by-then famous singer. That same year, Barbra was nominated for an Academy Award for Funny Girl. My mother and I watched the Academy Awards together when she shocked the fashion world (and me!) with her Scaasi-designed black, bell-bottomed pantsuit, which appeared sheer on television and so revealed her derriere. She made no apologies.
The photo above shows Streisand in 1973 at the premiere of The Way We Were and she couldn't look more retro-cool--with her turban, long hair, and fur jacket. Having been a teenager in the '70s, I know that certain styles probably shouldn't be repeated if you wore them in the first go-round: tie-dye, oversize bellbottoms, polyester shirts with long, pointy collars, roller-disco anything. But aspects of the free-wheeling '70s continue to inspire fashion designers, year in and year out, and some things do stand the test of time.
Shop Apprécier for some of my current favorite offerings in honor of the divine and brilliant Babs.