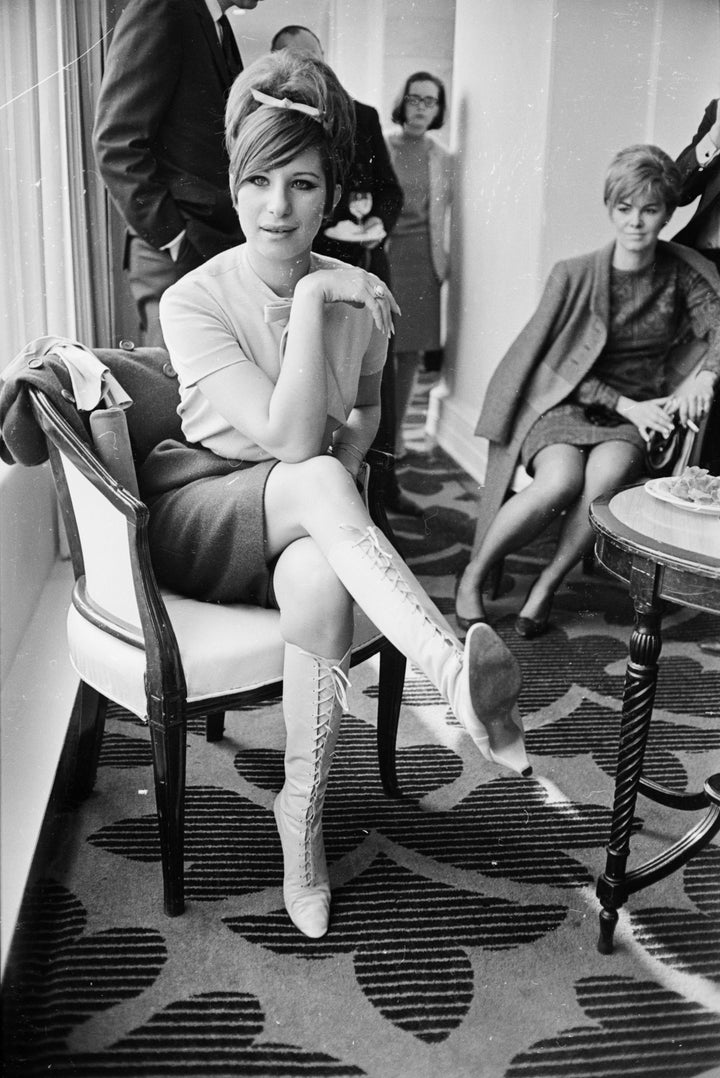 For those of us over 50, it's hard to believe that Barbra Streisand's first hit single, "People," was 48 years ago. Her first album, The Barbra Streisand Album, was 49 years ago. Her first TV special was in 1965. Her Broadway debut was 50 years ago. Good God. As William Goldman put it in his book Adventures In The Screen Trade, "There is no area of popular performing where she isn't it. " That was in 1983, but it pretty much remains so today. At 70, she could still sell out Madison Square Garden in an hour if she announced another concert. If she makes a movie, it will make money even if it is Little Fockers. Every time she makes a new album, it charts. Is there anyone else who has done that, for so long? Name them.
She was an ugly duckling from Brooklyn with a big nose whose talent was so undeniable that Broadway producer David Merrick said to a casting director, "I told you, I don't want any ugly girls in my shows -- but look at them, they're all over her! Now I'll never get rid of her!"
There is almost no one who has had a show business career comparable to Streisand's. Frank Sinatra didn't direct movies. July Garland didn't make it to 50. Clint Eastwood has had a career this long, and both acts and directs -- but does he sing? He tried once in Paint Your Wagon, and sounded like an auto mechanic. Streisand holds the record for the most top-ten albums of any female recording artist -- 32 since 1963. She has released over 50 albums and had 13 TV specials. She has won two Oscars, eight Grammys, five Emmys and God knows how many other awards. She has directed three films, one of which, The Prince Of Tides, was nominated for Best Picture. Who else has done all this? One can get exhausted trying to catalogue it all.
As an actress, she was nominated for a Tony Award at 19 for her first Broadway show, I Can Get It For You Wholesale. Her starring Broadway role in Funny Girl had jaded New York theatergoers shimmying on their bellies like reptiles. She won an Oscar for her first film, Funny Girl, and was nominated again for The Way We Were. She moved from musicals to comedy to drama with ease. She convincingly played a prostitute in both The Owl And The Pussycat and Nuts. She made A Star Is Born, which critics dismissed and it still made a fortune and won her a songwriting Oscar for Evergreen. Her films got her a Lifetime Achievement Award from the American Film Institute. Should I keep going?
Her charitable organizations have raised millions of dollars to support candidates and causes. She has spoken out for gay rights, women's rights, the environment and anything else that interests her. She has earned the wrath of the right wing because they disagree with her, and has been called every name in the book by people who must surely know that they will never equal her successes. It can't be done.
Conservative writers have trashed her, telling her to "shut up and sing," as if their expertise in anything was superior to hers. She has been called difficult, an egomaniac, a perfectionist, a diva, and insert derogatory term for a woman here. Through it all, she has maintained dignity and poise, has never been caught in a tabloid scandal, has maintained the same friendships and professional relationships for many years, has no reported drug or alcohol problems, and has, by all accounts, a stable second marriage.
Currently, she is developing a new film of Gypsy, the classic musical, where she will play Mama Rose, the "King Lear" of musical roles. Even though she is 20 years older than the actresses who usually play the role, the smart money says that she can pull it off. She has had very few failures in a career of countless successes.
All of her fans have favorite Streisand moments. My favorite recording is of Harold Arlen's "I Never Has Seen Snow," from her TV special Barbra Streisand... and Other Musical Instruments, an amazing vocal. I love her version of "The Man That Got Away" from her first concert in the 90s, which to me equals Judy Garland's version. My favorite of her films is probably What's Up, Doc? where she shows a comic screen presence equal to anything Lucille Ball or Carole Lombard ever did. Sure, there have been plenty of things she did that were not to my taste, but there were things I have done that were not to my taste.
Why should we care? Because the next time that some writer or pundit trashes Streisand, just take a step back and say, "OK, laughing boy, and just what have you done?"
Jim David's first novel, You'll Be Swell, is available on Amazon and many other online outlets.
Popular in the Community