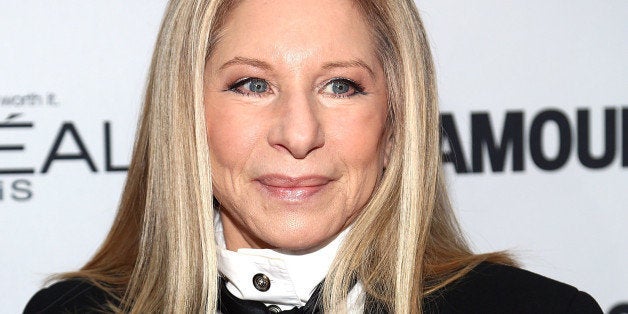 In Mother Jones this week, David Corn reports that Sen. James Inhofe (R-Oklahoma) told him several years ago that Barbra Streisand was behind a vast conspiracy to fool us into believing that climate change is real. At first, Inhofe's claim seems ridiculous, even alarming. The senator may chair the Senate Environment and Public Works Committee when the Republicans take control of the Senate, for goodness' sake! However, upon reflection, Inhofe's conspiracy theory is not as preposterous as it appears.
It would take a creative genius to execute a hoax on such a grand scale. Barbra Streisand is a talented individual and has proven herself to be a consummate artist of stage, screen and music. She is also a known perfectionist who works tirelessly on every creative element in her work. Who else but the creative and thorough Streisand would be able to cover every conceivable detail in order to trick so many people so convincingly in so many ways?
Her motivation? Barbra Streisand is 72 years old. By anyone's standards, the woman looks terrific for her age. Whenever I see her singing or answering questions in an interview, I think, "Wow, she looks amazing! I hope I age as gracefully!" However, Sen. Inhofe's theory has made me realize that, in fact, Ms. Streisand is just as average-looking as the rest of us. She is bamboozling us into thinking climate change is genuine in order for her much more elaborate plan to work: She wants to make us believe that she looks younger and prettier than she is in reality.
It is all about the lighting. When Barbra Streisand directs a film, she carefully lights a scene with a gorgeous glow. She films herself in the most flattering light possible. Take The Mirror Has Two Faces, for example. The moment a scene turns romantic, Barbra is bathed in a fantastic, warm, perfectly hued light. When Jeff Bridges looks adoringly at her nerdy, college-professor character, Barbra looks wildly glamorous and dewy. It appears effortless, but achieving this lighting technique is an art form. Who else would be concerned about climate change but someone obsessed with lighting? If the Earth's climate heated up, the sun's rays would be harsher. The effect would be harmful to our perception of an individual's beauty. Barbra Streisand is tricking us into believing that she looks dazzling in unflattering, climate-changed lighting when, in fact, she is standing in the original, flattering sun. Why doesn't she simply get plastic surgery to look younger, like everyone else in Hollywood? She does not want to take the chance of a nose job ruining the sound of her singing voice. So she must fool us all into thinking there is climate change in order to keep us believing that she looks ravishing naturally.
The woman is a mastermind. In addition to this complicated scheme of hers, she holds a certain power that she could unleash at any time. Barbra Streisand has a huge gay fan base. If she wanted, she could get those gay fans to do just about anything. If she said the word, she could get vast amounts of gays to sin like crazy to anger God enough to cause actual climate change in the forms of hurricanes, tornadoes, etc. (Disclaimer: I am one of those gay Streisand fans, so I can attest -- I would willingly sin if she encouraged it!) Sen. Inhofe is educated in the Bible and has used scripture when discussing climate. He must be aware of impending danger if Streisand does not get her way. There is untapped, lustful, immoral homosexuality that she could compel into action. He has not gone too public with his theories about her deceitful plans, in fear of the harm she might inflict. She is friends with the Clintons, so who knows what other crazy, liberal designs she has planned to hoodwink America?!
Some may say that Sen. Inhofe is envious. He is 80 years old and does not look nearly as good as Ms. Streisand. She may be crafty, but he has smarts. He has waited patiently for years to get where he is. Now that he is so close to having Senate power over environmental issues, Barbra better watch out!
I am gay, so I was required to worship La Streisand when I signed up for my Gay Card. But now that Sen. Inhofe has opened my eyes to her devilry, I am disappointed in my diva. I feel safer knowing that the senator may take over the Environment and Public Works Committee. You never know what Liza Minnelli might have up her sleeve, but I am sure that our eagle-eyed senator will expose any more trickery, and I, for one, will sleep better at night.
Popular in the Community