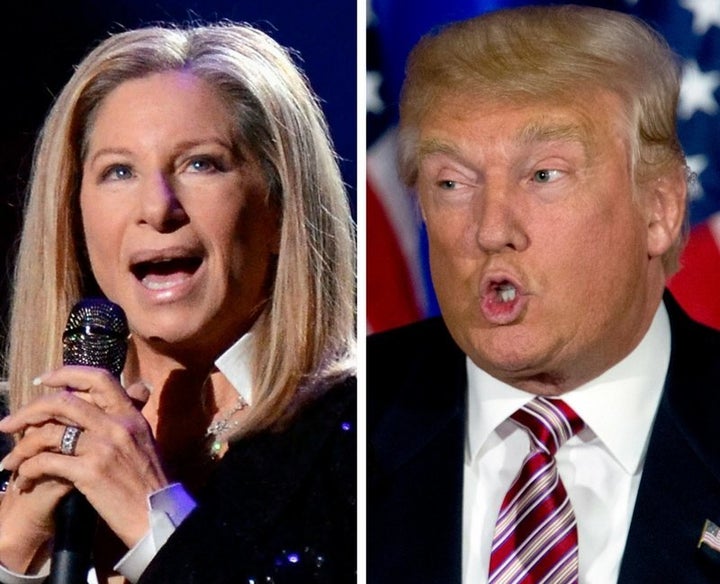 Barbra Streisand got political at her Los Angeles concert on Tuesday night, voicing her support for the future "President Clinton" and repeatedly ripping into the Republican nominee for president, Donald Drumpf Trump. 
Calling this year's election a "doozy," the legendary singer urged her fans to vote for a candidate "who doesn't believe climate change is a hoax." Streisand also got another dig in at Trump after bringing mentalist Lior Suchard to the stage. 
"The only person whose mind he can't read is Donald Trump's, because he doesn't have one," Streisand said. "He's putting his foot in his mouth every day now, so I'm so happy."
Babs didn't stop there, sneaking in another Donald diss before singing her hit song "People." No matter "what the color of your skin or where you were born — Cuba, China, Malaysia, Madagascar — our genetic makeup is 99.9 percent identical to every person on the face of the earth," Streisand said. "The other 0.1 percent is Donald Trump." 
Streisand penned a blog for The Huffington Post a few months ago, calling the GOP candidate "terrifying" and "a joke that isn't funny." In a 2015 interview with The Hollywood Reporter, she slammed his lack of experience and foul mouth. 
"When I listen to the things he says, I think, 'This thing can't be happening,'" the 74-year-old said. "But it is happening, so I encourage women — we're 52 percent of the population — we have to get out and vote. We need a woman's sensibility. We do. And we need people who make common sense, people who've had experience, people who are articulate."
We couldn't have said it better ourselves. 
The Huffington Post receives a percentage from the purchase of tickets bought via a link on this page.
REAL LIFE. REAL NEWS. REAL VOICES.
Help us tell more of the stories that matter from voices that too often remain unheard.
BEFORE YOU GO
PHOTO GALLERY
Babies who hate Trump