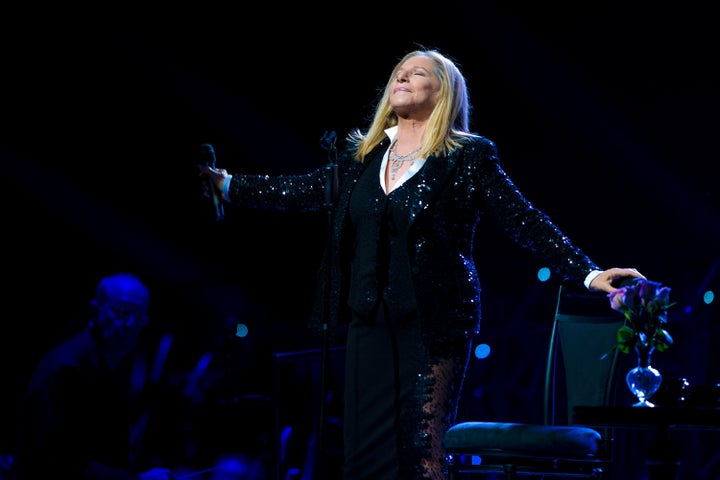 Barbra Streisand used an appearance at the newly opened Barclays Center in Brooklyn, New York on Thursday evening to ding Republican presidential candidate Mitt Romney.
"He's a good actor," Streisand said at the show about Romney. "[He's] a chameleon. It's great."
"I love Big Bird and I hope no one tells Romney how to get to Sesame Street ... or to Pennsylvania Avenue," she quipped.
Streisand has been an outspoken support of Barack Obama throughout the presidential race.
"Thank God Obama's pulling ahead because it's a clear choice, you know, in my opinion," Streisand told the AP. "If you want to survive as a planet, recognize that there is climate change and you want to protect your food and your air and your water from pesticides, chemicals, you want to focus on education and young people and giving health care to the public -– there's no choice."
In a blog posted on Huffington Post, Streisand wrote that electing Romney would be akin to reelecting George W. Bush.
"Unlike Mitt Romney, President Obama believes we need to invest in education, energy, innovation and infrastructure and reform our tax system to create good jobs, grow our economy and pay down the debt in a reasoned way," she wrote. "He believes in an inclusive country where all people deserve equal protection and treatment under the law, as well as equal opportunity, whether they are gay, straight, black, brown, white, religious, atheist, old or young."
Additional reporting by Danny Shea.
PHOTO GALLERY
Barbra Streisand Over The Years
REAL LIFE. REAL NEWS. REAL VOICES.
Help us tell more of the stories that matter from voices that too often remain unheard.
BEFORE YOU GO