Streisand said she'd heard backstage that she was the only woman to win a Golden Globe in the best director category, receiving the award in 1984 for her film, "Yentl."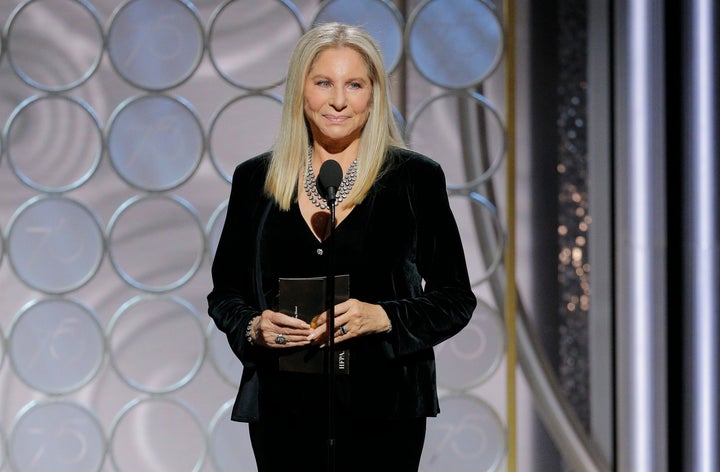 "I'm the only woman to get the best director award [at the Golden Globes]. You know that was 1984 ― that was 34 years ago," the singer said, her voice rising.
"Folks, time's up!" she said, as the audience loudly cheered. 
"We need more women directors and more women to be nominated for best director. These are so many films out there that are so good directed by women," Streisand added, as the camera panned out to show many in the room nodding.
Only men were in the running for best director at this year's Golden Globes ceremony, which actress Natalie Portman took note of earlier in the show as she helped announce the winner in that category.  
Streisand later lamented the "terrible fact" she'd found out at the awards show, and posted about it on Twitter. 
"Here's a terrible fact. There has not been a single woman who has won the Golden Globe for Best Director since I was fortunate enough to win it for Yentl in 1984," the singer tweeted. "That's 34 years ago! Not right!" 
She then recognized female directors she thought deserved to be nominated this year: 
The Oscars didn't "want to see a woman director," she said in an interview with director Robert Rodriguez at the Tribeca Film Festival in 2017. 
"I must have been more hurt than I thought," Streisand said. "Because I didn't want to direct for years." 
Despite her spot-on criticism of the Oscars and the Golden Globes, Streisand said Sunday she was "proud" of her peers and the changes she was beginning to see Hollywood. 
"I'm very proud to stand in a room with people who speak out against gender inequality, sexual harassment and the pettiness that has poisoned our politics," she said before announcing the winner in the Best Picture, Drama, category. "And I'm proud that our industry, faced with uncomfortable truths, has vowed to change the ways we do business." 
BEFORE YOU GO