Did you know that more women die of heart disease annually than men? That heart disease kills more women than not just breast cancer but all cancers combined? Cardiovascular disease is, in fact, the No. 1 killer of women. Yet most of us don't know these astounding facts.
Furthermore, only 24 percent of participants in all heart disease-related medical studies are women. Let's face it: The vast majority of heart disease diagnoses and treatments have been developed by men, for men.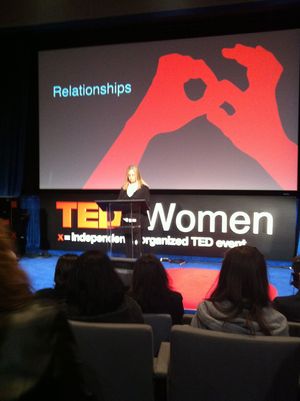 "What's wrong with this picture?" asked Barbra Streisand, a surprise speaker at TEDxWomen, a fantastic event hosted simultaneously in New York and Los Angeles.
"The enormous gender inequality," Barbra answered in response to her own question. "An old boys' club still exists in the medical industry. I have chosen to speak out on this injustice."
Barbra then implored us all to get involved. "We need a breast cancer-style campaign to raise awareness of, direct more research funds towards, and discover treatments for heart disease among women."
Women's hearts are physiologically different than men's, Barbra explained. Women tend to have blockages in the arteries surrounding the heart as well as within the heart's chambers. So why should we expect male treatments to work on women?
What's more, she added, symptoms of heart disease among women differ dramatically from the male version we're used to seeing in the media: gripping the heart, gasping for breath and toppling over. Women tend to experience nausea, shortness of breath, jaw and neck pain and other less obvious symptoms. Their doctors often misdiagnose them, tell them they're having a panic attack and send them home to rest. That's part of why female mortality rates for heart disease are so high: It doesn't get detected or treated as accurately and rapidly as it does in men.
I was delighted to hear Barbra Streisand's talk [view here] about this critical women's health issue because I learned all that she shared yesterday and more back in 2005. At that time, I had the honor of working with heart disease survivor Pamela Serure on her memoir, Take it to Heart. The book combines the dramatic story of Pamela's own experience with medical advice from top cardiovascular doctors and profiles of numerous other women who have confronted heart disease.
Pamela in no way fit the stereotype of the heart disease patient. A lifelong yoga addict and juice faster, she was always underweight, a non-smoker and a healthy eater. But her genetics, fast-paced lifestyle and probably also the glucose spikes caused by her frequent juice fasting combined to form a deadly enemy: cardiovascular disease necessitating triple bypass surgery when Pamela was only 47 years old.
Fortunately, Pamela found excellent treatment for her heart disease and is still going strong. Not only that, but she felt a calling to take up the cause of alerting other women to this brutal yet underappreciated killer. Together with her partner, Carole Isenberg, she founded Events of the Heart, a non-profit dedicated to using the creative arts to bring education, awareness, and treatments to women to ensure their healthy hearts.
2) Ask your doctor to test your cardiovascular health during your next check-up.
3) Eat a proper diet that is low in fat, high in vegetables and whole grains.
5) Take time to de-stress. Consider yoga and meditation.
6) Right now, today: Tell your girlfriends that they're at risk. One out of every two of you will experience cardiovascular disease in your lifetime. Help spread the word.
As Pamela writes in the paperback version of her book, which is titled Dear Heart: "We cannot go deaf, dumb, and blind to heart disease because it's intimidating, frightening, and pervasive. The numbers are still growing, and more women are having heart attacks at young ages. The only way to shrink the numbers is by building awareness of the disease, identifying the symptoms, getting regular check-ups, and making better choices about exercising and eating right. The heart is the organ of courage and love. It is the organ of poetry and passion. Being heart savvy is the best face-lift in town -- not to mention the longest lasting."
- Jane Fonda gave a rousing call for making the most of life after 60, which she calls "the Third Act."
- Tiffany Shlain inspired us to recognize our interdependence with her talk based on her award-winning documentary, "Connected."
- Shamila Kohestani moved me to tears with her tale of overcoming the male-dominated culture of Afghanistan to found the first women's national soccer team.
- Two brave young women, Shayna Welcher and Ivy Navarrete, both former gang members, talked about having their lives transformed by going to work for the non-profit gang member rehabilitation restaurant Homegirl Café.
- Three of the 18 and under Google Science Fair winners -- all girls -- blew us away with their intelligence and poise.