Wherever my travels take me, I always seek out local markets for local goodies and at the very top of my marvelous market list is bustling La Boqueria in Barcelona. If I had to choose only one spot to visit in Barcelona, it would be this impressive must-see locale for perusing, shopping and lots of food sampling.
La Boqueria Market is famously known throughout Spain and is perhaps the best indoor market in all of Europe. Through thick and thin, it has been going strong since opening in 1836 and it's easy to find as it's located on well-known Las Ramblas Boulevard. The diverse and sinfully stocked stalls will surely seduce you as much as it did for me. I sampled everything from local produce and an intermingling choice of international foods. What I saw: Fruits, vegetables, fresh fish, live king crabs, butcher stands, spices, candies, sweets, flower stands and tapas bars. I also came across a few gruesome-looking pigs' heads, too. Food stands are plentiful with seafood paella, the most popular and must-have fare to be had.
There are two Tapas Bars: El Quim and Pinotxo. Both are usually beyond busy and waiting for a seat is par for the course, so I suggest arriving early to beat the congestion and crowds. (Afterwards, try the delicious grilled octopus and lobster at the food stands.)
A tidbit of history: Las Ramblas Boulevard's alias is Ramla de Flors, and during the 19th century, it was the only location in Barcelona where flowers were sold. I have a weakness for fresh blooms and stopped at floral stands with flower-filled buckets dotting the car-free boulevard; they are as popular today as in past centuries. Without a doubt, the tree-lined boulevard, with its center pedestrian walkway is Barcelona's biggest draw. Outlandish and informal street performers entertain passers-by who drop coins in turned-up hats. Souvenir shopping is done at the fun-to-stop-at-kiosks selling books, magazines, Spanish and international newspapers, and postcards.
I walked the length of Las Ramblas leading to the water's edge where I discovered the Ibiza ferry. I didn't set time aside for Ibiza on this trip, but if you combine Barcelona with the party hot spot island, depending on the ferry operator, the journey takes between 7 to 10 hours.
How to find La Boqueria? Head for Las Ramblas and it's easy to stumble upon. Just look for the American Dunkin' Donuts and the market is its direct neighbor slightly set back. If you have an iPad, purchase a Barcelona app and it will be easy breezy. Tip: I lost myself for an easy 3 hours among the market's colorful stalls, including time out for a Tapas Bar lunch, so be sure to set aside a whole morning or afternoon for an in-depth perusal. And be sure to have plenty of Euros in your pocket.
How I got to Barcelona: I flew from Brussels to Barcelona's El Prat Airport on a carnival-like Easy Jet flight. (Don't ask how I wound up on this airline.) When I arrived at the Barcelona Airport, I rented a car, which I had arranged through my favorite car rental company, Auto Europe, based in Portland, Maine. I drove the mere 8 miles (12 km) southwest to Barcelona's city center. The only place to park was an underground garage. After Barcelona, I drove across the Pyrenees into the south of France. But for travelers just visiting Barcelona, I highly suggest taking the brief and easy train ride from the airport or take a cab. There isn't a need for a car in Barcelona.

My time spent in Barcelona: Two full days and one night.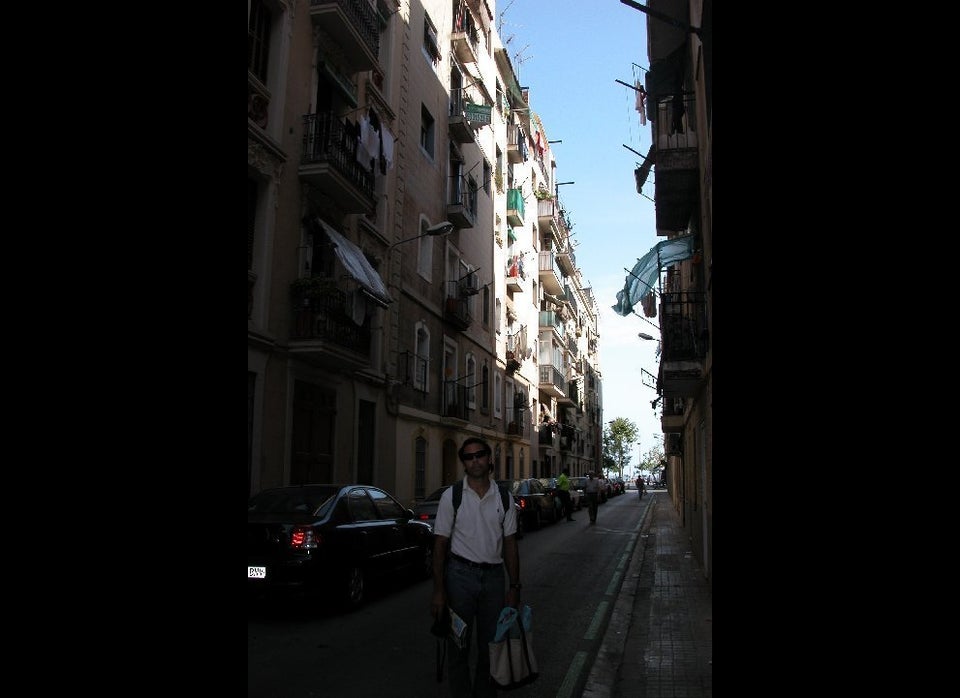 Related