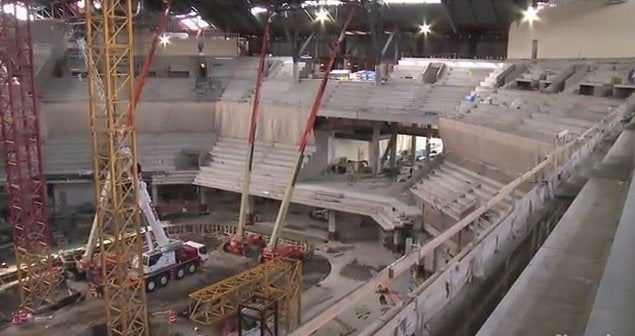 I'd never heard of Samuel I. Schwartz before this morning's coffee and The New York Times.
But, Samuel I. Schwartz, I'm blowing a kiss your way.

Schwartz, a former traffic commissioner under New York City Mayor Koch, has weighed in for a green, practical alternative for the fans going to the new 18,000 seat Barclays Center stadium, home to the Brooklyn Nets: public transportation.
I care, because I live in a nearby Brooklyn neighborhood, Park Slope, a 10-minute walk from Barclays Center. And the arena promises to spring into action this autumn, boasting a Madison Square Garden-like schedule of 200 annual events (that's an average of three per week) including such blockbusters as Barbra Streisand and Disney on Ice.
I'm coming down with a case of anticipatory road rage from being stuck in stadium traffic.

Brooklyn's Challenge: Balancing the Intimate Rhythms of Urban Life with Rapidly Growing Tourism
Stadium traffic planning may sound like a parochial issue, but it's not. At stake are issues of mass transit, corporate citizenship and balancing the intimate rhythms of urban community life with the mass market exigencies of servicing urban tourism.
In plain English, Brooklyn risks being overrun with tourists. It's already nearly impossible to walk across the Brooklyn Bridge on a nice Saturday afternoon without giving directions five times or being hit by two high-speed bikers.
Schwartz's recommendation regarding traffic congestion around the Barclays Center? To solve the anticipated parking crunch, the stadium should make it even harder to park and halve the number of on-site parking spots to about 650 slots.
"We will scare drivers away from the arena," said Schwartz, as reported by Times reporter Joseph Berger. "My message to New Yorkers is, 'Don't even think of driving to the Barclays arena.'" Music to my ears.
Public transit for stadium-goers makes sense. Barclays behemoth is located literally a half block from Atlantic Avenue Terminal, one of the city's biggest transportation hubs, offering riders an alphabet soup of bus, subway and train options, including the B,D,N,Q , R, 2,3,4 and 5, plus the LIRR, the Long Island Railroad.
But though the proposed plan may reduce the anticipated migraine-inducing traffic jams, it's not a thorough solution.
Flatbush Avenue (a main artery connecting much of Brooklyn to the rest of the world via the Manhattan and Brooklyn Bridges, as well as the busy Brooklyn-Queens Expressway) will still be glutted with stadium-goers who are arriving, departing, dropping off passengers and seeking parking. And, it's magical thinking to say that they'll be able to access local parking garages in the nearby neighborhoods of Park Slope, Prospect Heights and Fort Greene without clogging residential streets.

Solving the Barclays Center traffic snarl will take more than just a reduction of parking slots. It will take positive action for behavioral change: a sustained public education campaign discouraging driving while promoting public transportation.
And now's the perfect time to launch such a campaign -- before the Barclays Center opens its doors for the inaugural Jay-Z concert on September 28, 2012.

Seven Ideas for Barclays Center
At the risk of telling a Russian billionaire what to do (Mikhail Prokhorov owns half the Nets team), here are seven ways the Barclays Center could endorse green, community-friendly mass transit. And each of these steps could be accomplished in the four months remaining prior to opening day:
Let Barclays Center become the nation's "green transportation arena," one that actively embraces mass transit.
Promote the consumer and environmental benefits of mass transit to would-be drivers, stressing that the New York City mass transit system is above all safe, but also faster and cheaper than driving. Target the markets in Queens, Long Island and the tristate area, where everyone has cars.
Don't contract with more Brooklyn parking garages, because having the possibility of a parking spot just encourages drivers.
Reinstate the offer of free Metrocards (rescinded in May), or offer ticket packages that include reduced rate Metro cards.
Ensure safe bike paths to and from the stadium, and have a big Bike Share station.
Recognize community concerns about scarcity: Enable local residents to reserve parking spots near their homes.
Plant trees and support community gardens to mitigate the air pollution that thrice-weekly traffic will bring to the neighborhood, in spite of the above. Asthma's already a public health problem in Brooklyn.
A Shot at Responsive Corporate Citizenship
The multi-year saga of Forest City Ratner's Atlantic Yards development, of which the stadium is a cornerstone, is strewn with a litany of community complaints: Eminent domain seizure of homes and beloved watering holes. Lack of transparency in dealings between government officials and developers. "Bait and switch" salesmanship whereby jobs promised never materialized. The David-and-Goliath fight (in this story, David lost) was so bitter it gave birth to a documentary film, the Battle for Brooklyn, and numerous law suits.
But Barclays Center is opening soon. One of the remaining hanging chads is traffic; resolving it in a creative way could be a game-changer in stadium-community relations.
Mr. Schwartz is on the right track. Let's hope the powers-that-be, from New York State officials to Mayor Bloomberg to Brooklyn Borough President Markowitz hear him, and do as much today to promote a smart unraveling of the Barclays Center traffic snarl as they did in past years to help make this stadium a reality.
Meanwhile, remember Samuel I. Schwartz's words: "Don't even think of driving to the Barclays arena."
REAL LIFE. REAL NEWS. REAL VOICES.
Help us tell more of the stories that matter from voices that too often remain unheard.