As paramedics worked to save the life of a young woman who had overdosed on pills, a police officer found a letter in her room that helped explain why she had tried to take her life.
Dated March 20, the letter was from Bard College, a small liberal arts school up the Hudson River from Poughkeepsie, New York, where the woman -- who asked to be called Allison to protect her identity -- was a senior. It delivered devastating news: The student whom Allison claimed had raped her several weeks earlier would be allowed to stay on campus and take classes, even though Bard had determined that he had violated the school's sexual assault policy.
The decision seemed to clearly contradict school policy at the time, which dictated that students who are determined to have sexually assaulted another student are to be suspended, at minimum.
Bard's determination meant Allison would almost certainly encounter her alleged assailant on the small campus of just 2,300 students. She said her anxiety about that likelihood was part of what drove her to attempt to end her life on March 26.
The officer didn't forget the letter, or Allison. As she recovered in the hospital, he asked if she wanted his department to investigate. With the urging of friends and support from her parents, Allison agreed to a police investigation. A week later, on April 24, the Dutchess County Sheriff's Department arrested the student, Sam Ketchum, on a felony rape charge.
Ketchum was indicted by a grand jury in June and pleaded not guilty. He claims his sexual encounter with Allison was consensual. He is currently out on bond, awaiting trial.
Many rape victims believe that taking their case to colleges can yield a quicker path to justice than going to law enforcement, since a college can discipline a student after finding a "preponderance of evidence" that a sexual assault has occurred. To win a conviction in a criminal case requires a far higher burden of proof, which is part of the reason why only a minority of sexual assault cases involving acquaintances lead to arrest, let alone a conviction.
Allison's experience runs counter to this narrative: Her college failed to follow its own discipline policy and initially discouraged her from going to police, she claims in a federal civil rights complaint filed against Bard with the Department of Education last month.
Local police didn't cast doubt on Allison's claims, something many assault victims fear will happen if they approach law enforcement. Rather, they took proactive steps to investigate.
Allison said she "felt believed" when she spoke with the Dutchess County officer.
"It's definitely awkward and uncomfortable when you're with a middle-aged man telling him all the specifics of being assaulted," she said. "But he kept telling me, 'You didn't do anything wrong, it's not your fault.'"
Bard has denied any wrongdoing and said it never discourages victims from going to police. Mark Primoff, a spokesman for the college, declined to comment on the specifics of Allison's case, citing federal privacy law, and would not make any officials or administrators available for interviews.
There is no consensus among advocacy groups on what a victim should do after a sexual assault. Justice Department research shows that a vast majority of campus rape cases are never reported to police. Many student victims instead choose to report assaults to their universities, which are obligated to investigate the incidents under Title IX, the gender equity law.
Some critics of this approach say sexual assault cases are too serious for colleges to handle. They have called on Congress to block colleges from adjudicating sexual violence cases at all or to require law enforcement to be involved in every situation. But advocates for assault victims say it would be dangerous to close off a path that many victims feel more comfortable taking.
Joanne Archambault, a retired San Diego police sergeant who supervised sex crimes investigations for a decade and later founded End Violence Against Women International, said all reporting options should remain available to student victims. But she cautioned that, as Allison's case shows, victims shouldn't expect their university to handle their cases more competently than police.
"A lot of victims believe what this young lady believed: The university is going to be easier and gentler," Archambault said. "I haven't found that to be the case at all."

On the evening of Feb. 7, Allison attended a party off campus. Ketchum was also there, and according to Allison, showed up uninvited at her house afterwards and sexually assaulted her.
The next afternoon, she exchanged text messages with Ketchum. "I wasn't down with everything physically and you didn't listen to my boundaries," she wrote.
"I am sorry about that," Ketchum replied, according to copies of the text messages Allison provided to The Huffington Post, which were verified by people who witnessed her receiving them. Ketchum acknowledged in the exchange that he had overstepped Allison's stated boundaries: "It wasn't part of the deal ... You said that clearly at the start."
"Sam you followed me home and took advantage I am really trying to figure out what to do here," Allison said.
"Dude, I did not follow u home," he replied.

Michael Pollok, Ketchum's attorney, said the exchange should not be considered an admission to committing sexual assault, because his client did not know that was what Allison considered it. In the texts, Ketchum apologized when Allison accused him of ignoring her "boundaries" and told her he "wasn't expecting sex" when he went to her house, but Pollok said his client didn't know what those "boundaries" were.
Allison didn't think initially that police could do much with her case. Her main objective, she said, was to get Ketchum removed from the tight-knit campus for the rest of the semester until she graduated. Allison said she trusted the college to handle the matter appropriately, having worked for the school's student-staffed crisis hotline.
She called and emailed the school's Title IX office on Feb. 9, the first day she could. Tamara Stafford, the Title IX coordinator, invited Allison in to talk two days later. Allison and her roommate, who accompanied her to the meeting, both recall Stafford discouraging her from going to the police. Stafford told Allison her report would "not get very far" with authorities, according to the roommate, whose name HuffPost is withholding to protect Allison's identity.
In her federal complaint, which has not been made public, Allison claims Stafford asked her and her roommate to sign a nondisclosure statement, promising not to discuss the case with anyone on campus. The roommate confirmed this as well. Yet the college has repeatedly said this nondisclosure statement does not exist and was never signed.
After that meeting, Bard interviewed Ketchum, a 22-year-old who had no previous criminal history. No witnesses were interviewed and no hearing was held, according to Allison's complaint. Legal experts have said the failure to speak to witnesses is a sign of a problematic campus investigation.
In her complaint, Allison claims that when she went to the student health center three weeks after the alleged assault, a nurse refused her request for a test for sexually transmitted diseases. "The nurse would not even let me pee into a cup" for a routine STD test, Allison wrote in a Feb. 27 email to Stafford. She says the nurse told her the test might interfere with a rape kit if she were to seek one from police -- even though enough time had already passed that a rape test would have been useless.
A few days later, Stafford suggested Allison go to the police and have a rape kit administered. Allison said she was baffled. At first, she felt she was being discouraged from talking to police, and now, weeks after the window had closed for a rape test to be effective, Stafford was inexplicably suggesting that she submit to the painful, invasive procedure.
The worst part came on March 20, when Allison received a letter from Bard saying it had determined that Ketchum had violated sexual assault policy. His punishment consisted of an order not to contact Allison, mandated counseling on alcohol use and "effective consent," and social probation -- meaning any additional conduct violations at Bard would "result in more severe sanctioning."
Allison was distraught. Bard's sexual assault policy explicitly stated that violations would be met with a minimum sanction of suspension.
"It's literally what happens if you get found drinking in your room," Allison fumed. She said Stafford told her she could appeal the penalty if she had more evidence. Allison responded: "What do I need to prove to you besides he raped me to remove him from school?"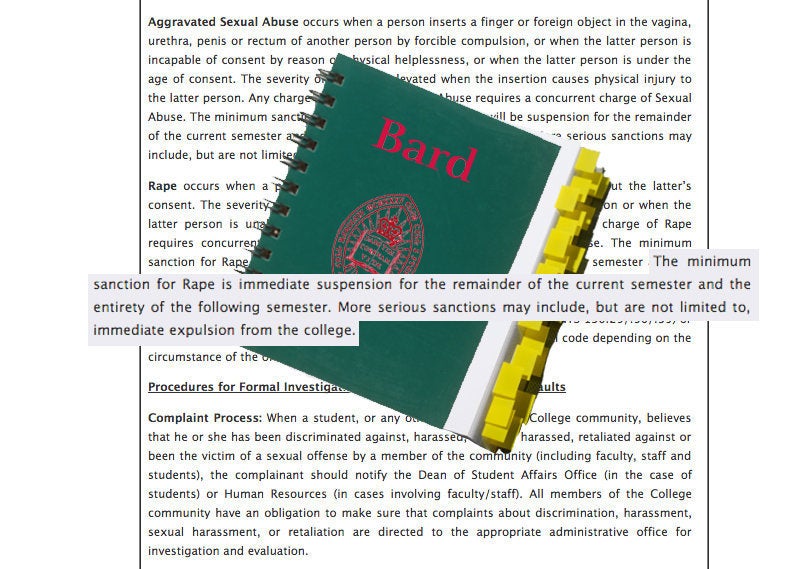 Allison's friends knew she was upset about the decision, but they didn't know the full extent. Her friends describe her as reserved, someone who doesn't wear her feelings on her sleeve. Then, on March 26, a housemate found Allison unresponsive in her room. She immediately called an ambulance.
While Allison was recovering, the officer who had found the letter asked her friends if she would want the police to investigate the sexual assault allegation. Her friends, who had separately confronted a dean about what they saw as a lax punishment and were rebuffed, urged Allison to work with the cops. She agreed.
As the police began to investigate, Allison also appealed Bard's sanction decision. Four days after she filed the appeal, the Dutchess County Sheriff's Office arrested Ketchum.
The police's approach to her case was starkly different from Bard's, Allison said. "Nobody deserves to have this happen to them," she recalled one officer saying. Dutchess County officers declined to speak about the case, since the trial has not yet taken place.
After news of Ketchum's arrest spread, Bard College President Leon Botstein emailed the student body in late April insisting that the college had followed all federal regulations. "Unlike other institutions, [Bard] has never been found to be negligent in [handling sexual assault cases]," Botstein wrote.

Both Ketchum and Allison received letters from Botstein on May 1 saying he'd only just seen the "materials" from the initial investigation and was going to impose a more severe sanction accordingly. Ketchum was immediately suspended, until at least spring 2016.
"The case was reviewed [on appeal] and more appropriate sanctions were imposed," Bard said in a statement to HuffPost. "The initial response of probation was found inadequate and the college suspended the student in accordance with college guidelines."
Botstein's assertion that he did not see the investigation materials until after the appeal is inconsistent with what school policy dictated at the time. According to the policy, the college president is supposed to have an opportunity to review the results of an investigation before punishment is levied.
A group of students met with administrators in mid-May and pressed them on this apparent discrepancy, according to audio of the meeting obtained by HuffPost. They were told that the process had changed.
Primoff, the Bard spokesman, declined to comment about what changes were made to the sexual assault policy and when, except to say the school regularly reviews its policies to ensure they're in compliance with federal regulations and was doing so at the time the changes were made.
He added that Bard always tells assault victims they have a right to report to police, despite Allison's claim that administrators discouraged her from doing so.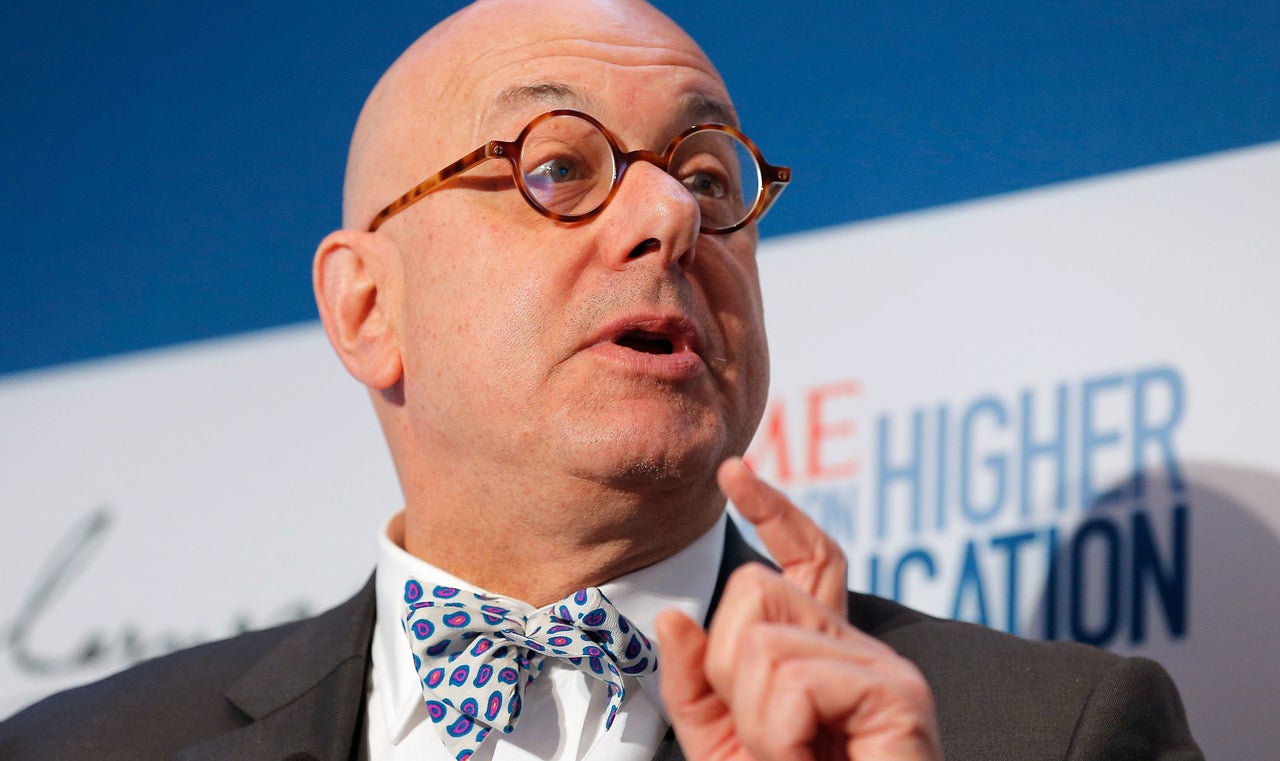 The roommate who accompanied Allison to her meeting with Stafford said she hopes Bard administrators now recognize that they must treat sexual assault cases as seriously as any other violent criminal offense.
"The lack of transparency and inordinately lengthy process almost cost my friend her life," she said, "and that should certainly be a teaching moment to not only Bard, but all academic institutions."
Ketchum has pleaded not guilty. Pollok is seeking to either dismiss or reduce the felony sexual assault charges against his client, citing a polygraph test that found Ketchum was telling the truth when he said he stopped having sexual contact with Allison after she requested.
The attorney told HuffPost that Bard never found his client guilty of engaging in "non-consensual sex," despite the fact that the sanction letter said the school investigated a report of "non-consensual sexual intercourse" and determined the sexual assault policy was violated.
Archambault, the former police sergeant, said she doesn't understand how a college could concede that someone committed nonconsensual sexual intercourse, yet hand down only probation as a punishment.
Allison isn't sure what advice she'd give to other sexual assault victims. The arrest was speedy, and accomplished her goal of getting her alleged assailant off campus. But the criminal case has extended for months without resolution.
"Definitely, for a while, for the last bit of the semester I would say just go to police," she said. "Now that the trial's dragging on and hasn't started yet, and all this going on and on and on, maybe I can see how someone might not want to do that for their mental health."
Support HuffPost
The Stakes Have Never Been Higher
Related
Popular in the Community