Kick up your heels! It's that time of year once again, and fashion decisions must be made: "To bare or not to bare -- that is the question!" Of course, we are talking legs! In colder weather, it is a breeze to skirt the bare leg question with a tremendous assortment of patterns and styles to choose from in stockings and opaques.
Now that the warmer weather is upon us, it is not as simple to make those pre-tan gams looks glam. There was a time when sheer stockings were de rigueur and no one would dream of going out with limbs bare. Then came our legacy of liberation, burning of bras and girdles, and into the fire went the hose. We've been left wondering how to get a leg up on this gammy subject. Last fall we did a post about how Kate Middleton and her sister Pippa were bringing back the look of sheer stockings and their lady-like preferences. This year we decided to delve further into the subject, so we went looking at luncheons, cocktail parties, and on the streets -- everywhere that stylish women gather -- to gather our own answers. What did we discover? Well, the answer seems to be split right down the middle, and it generally runs with the age factor: younger women prefer the bare-leg look. But of course there are exceptions. Personally, we try to avoid sheer stockings for everything but funerals. Our preferred option is always textured or patterned hose, like these tan fishnets, pin dots and don't you just love the bows? Our favorite stocking shop is Bloomingdale's, which we've found to offer the best price range and selection.
A LITTLE PATTERN AND TEXTURE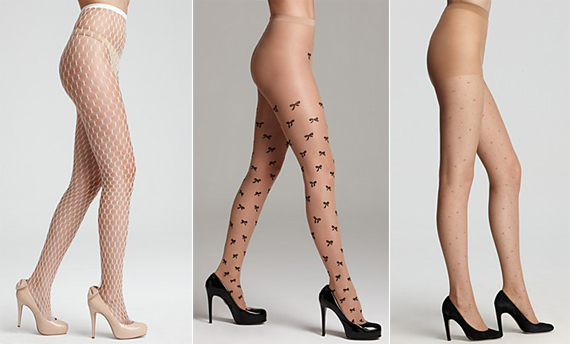 If sheer stockings are your preference, (and for most women in the corporate world, stockings are still the order of the day) we recommend our favorite sheers from Bloomingdale's. The high cut leg or the sheer-to-the waist options are so much more flattering than the shorts top, and wouldn't you feel oh so sexy in these thigh-highs.
SHEER BLISS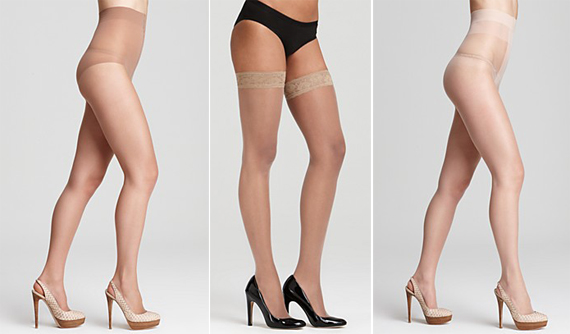 And our long-legged opinion of stockings and sandals is a total no-no. It is simply not a good look reminding one of a sweet but clueless elderly relation, showing up at the family reunion picnic.
STOCKINGS WITH SANDALS: NOT A GOOD LOOK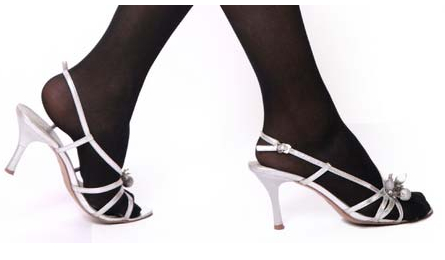 How about stockings with open toed shoes? Hmmmm, still not a great look to have a slip-cover on your big toe, but decidedly less awkward than showing hose with sandals. To the rescue, several lines have created a toe-less stocking for open-toed shoes like the Pretty Polly Open Toes.
OFF YOUR TOES!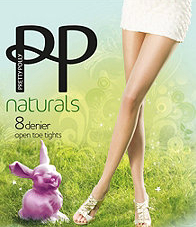 If you are waiting for the tan, here are our favorite products which work amazingly well to camouflage the winter whites. We never travel without our Michael Kors Leg Shine, which smells divine. The application is a snap and it works on arms as well.
BRILLIANT BRONZERS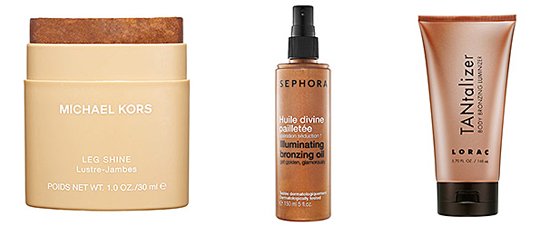 We understand the impatient types who can't wait for (or try to avoid) the sun, and we think you'll find that these self-tanners do a beautiful job. If you haven't tried one lately, you will be surprised at how easy they are to apply. Just follow the instructions for the best results.
SUPER SELF-TANNERS


Stockings, bare legs, bronzers, tanners -- we would love to hear from you on the subject. Please let us know where and how you stand: "Dare to bare or not to bare?"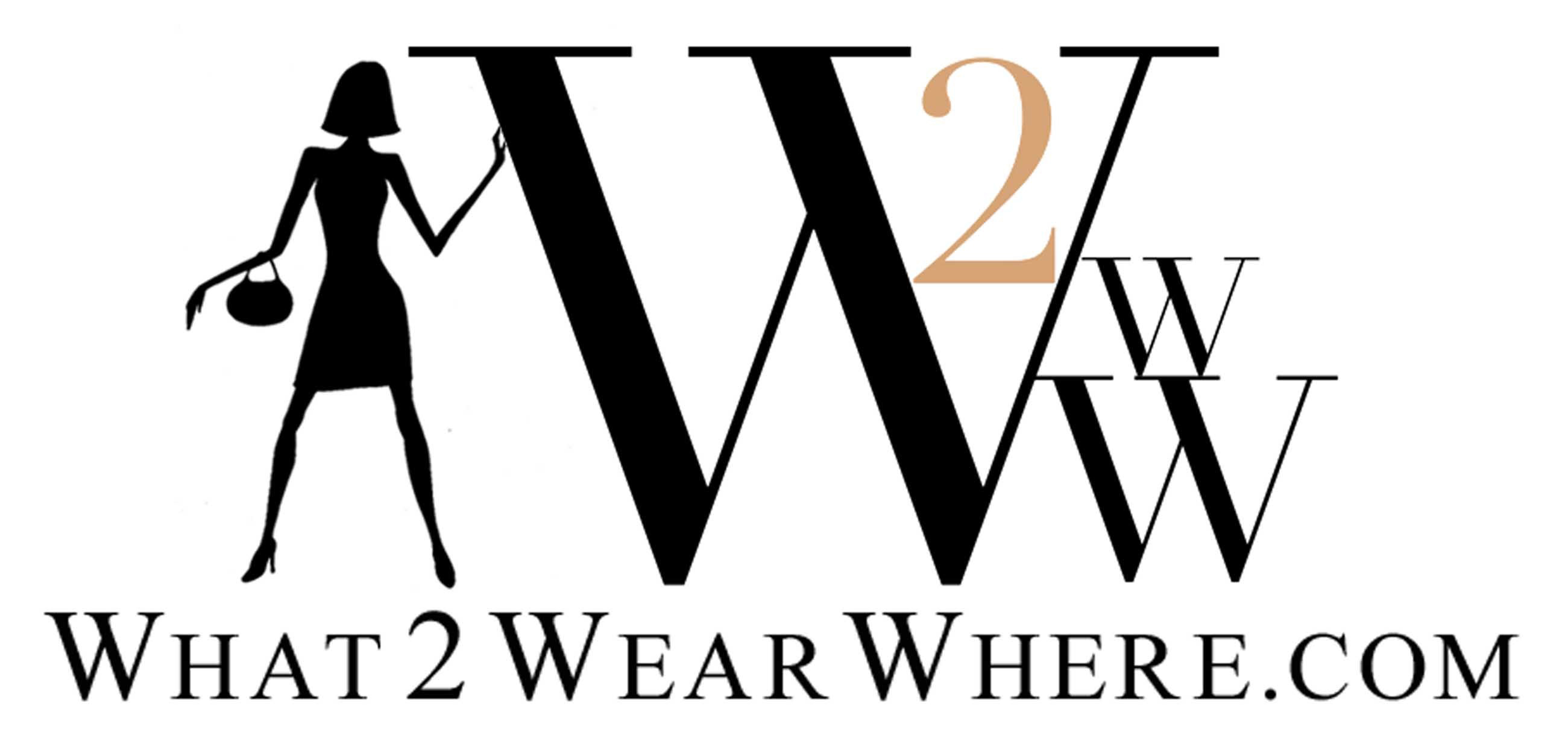 Related