Currently playing at New World Stages in New York, the off-Broadway musical "Bare" focuses on a pair of gay teens at a Catholic boarding school whose relationship ultimately ends in tragedy.
Fortunately, for one of the show's stars, the journey hasn't been nearly as devastating. In an odd twist of fate, Casey Garvin plays the part of Zack, an all-American jock who taunts his deeply closeted teammate Jason (played by Jason Hite) and eager-to-be-out nerd Peter (Taylor Trensch) throughout the show. Offstage, it's a much different story: not only is Garvin openly gay, but the 20-year-old New Jersey native also came out to friends and family after listening to a 2007 cast recording of "Bare" from an earlier off-Broadway production, years before he was even cast.
The button-handsome Garvin -- who names Hugh Jackman as the performer whose career he'd most like to emulate -- is just one of the many standouts in a diverse cast that also includes Elizabeth Judd, Barrett Wilbert Weed and Missi Pyle ("Big Fish," "Charlie and the Chocolate Factory"). Collectively, they find dramatic nuance in a pop-rock score by Damon Intrabartolo, Jon Hartmere and Lynne Shankel, but never lose sight of the show's heart.
Garvin took time to speak to HuffPost Gay Voices about "Bare" and his own experiences with bullying, as well as how the show helped him come out. Here's what he had to say:
The Huffington Post: Even before you got cast in the show, you had a very personal journey with "Bare." What was that like?

Casey Garvin: I loved the pop opera. I downloaded it the day after Christmas a few years ago, and I laid on my bed, listened to it straight through and sobbed at the end. There was something that just clicked in my mind -- I went from being confused and unsure about my own sexuality to confirming in my mind that yes, I was gay and that it might be OK. This show obviously gives such a strong message and it just really resonated with me. That's one of the reasons I wanted to do this show so badly; I loved the story, I loved the characters, I loved the music -- it clicked.
Up until that point, I had considered myself a Jason character -- not wanting to tell anyone, wanting to stay in the closet and hoping that I would just wake up one day and suddenly be straight. Two days after finding this show, I started dating a boy and I became the Peter to his Jason, and wanting to tell everyone about us and how cool this was, and he was the exact opposite.
I think it was Valentine's Day that same year … I told my mom I was going to this boy's house. I gave her information about the show and she listened to the music, and we were able to talk about it. That was my way of coming out to her.
So whatever happened to that first boyfriend?
We're still in contact and still good friends, and he actually came to the show a few weeks ago, which brought [my journey with "Bare"] back full circle.
Just knowing that he was there and remembering the good times that we had together was great … the fact that we're still good friends is great, too.
Were you ever bullied in high school?
I was -- not so much in high school, because I went to a private school. I left the school district I was in for high school because I felt like I was bullied mentally and verbally.
I remember a few boys my freshman year telling me I was a "faggot" and "such a homo" because I was dancing and really into theater. Afterwards, it kind of died down because I held my own and felt more confident in myself as a person. However, had I gone to the public high school in my New Jersey hometown, I probably wouldn't have even pursued theater because I would've been miserable, and tormented into [maintaining] a specific front and fitting in.
Ironically, though, you play the bully in this production ...
Playing this part has let me see the "jockey" side of me … I get to play someone that I'm not. I think it's made me a bit more able to accept my sexuality offstage. I put that masculine, jockey boy onstage and I don't have to put up a front in real life. It's therapeutic, if you will.
It's fun … as any actor would say, it's always the most fun to play someone who's not yourself. I'm a very gentle puppy dog in real life, so it's fun to access that angry, conceited, cocky side of me and live in that moment for a few hours.
There's been a lot of talk about the legacy of the show, specifically the original 2004 production which starred Broadway veteran Michael Arden. Do you find that most people who are coming to the show are experiencing it for the first time, or are they all devoted fans?
There's a definite, smaller group who knew the show and were big fans of the score beforehand who are coming. But I think a lot of people are coming to it fresh. It's a fresh take on the show -- it's the same in the structure, but it's a lot different in the way we've taken it, specifically because it's a book musical [as opposed to a pop opera] now. But I think audiences should see it fresh before comparing it to the original production. Most of the feedback has been positive, which has been great.
Finally, what do you see as the show's ultimate message for the audience?
There are so many … to quote the show, I'd say, "You're not alone." Whether you're gay, straight, adopted, having some issues with drugs … there's always someone you can talk to. No one is alone. You should surround yourself with people you love.
"Bare" is currently playing at New York's New World Stages. For more information, click here.
Check out a slideshow of photos from "Bare" below: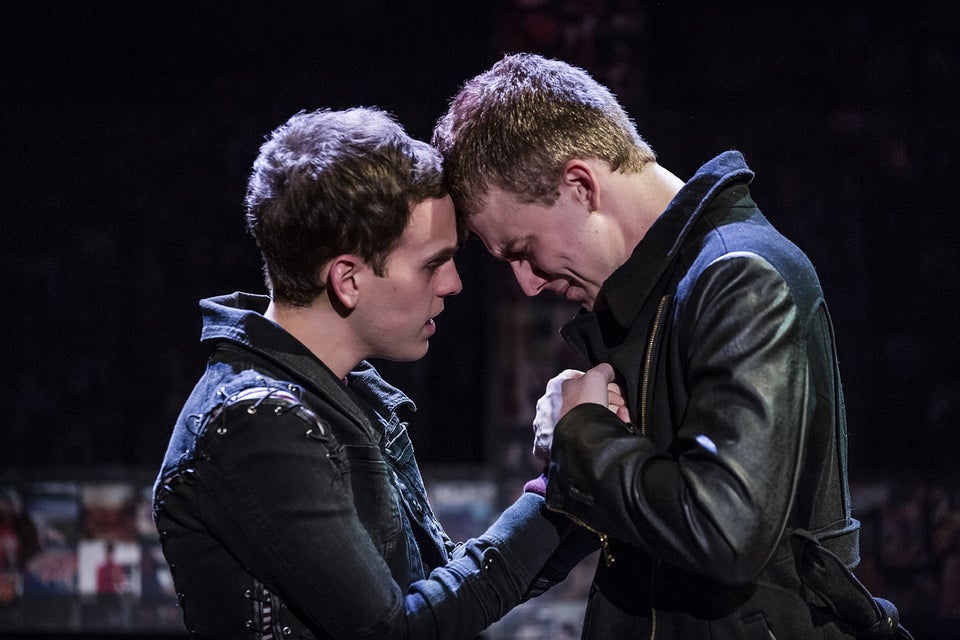 "Bare" The Musical
Popular in the Community